Recently, when Kodak (EK) shares slid below the two dollar mark, I began accumulating them. In general, I am not a fan of this company or their product line, but I believe their patent portfolio, plus their hard assets are worth more than their currently low market cap. Given the market's recent interest in patent portfolios and the fact that Nortel (OTCPK:NRTLQ) just sold their portfolio for $4.5 billion, Kodak shares could certainly rise above two dollars.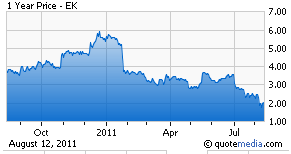 Kodak stated on July 20th that it might put more than a thousand digital imaging patents on the block—about 10 percent of their entire patent asset base. "Given recent trends in the marketplace for intellectual property, we believe the time is right to explore smart, opportunistic alternatives for our digital imaging patent portfolio." The press release also implied the initiation of new patent infringement lawsuits:
Kodak will continue to pursue its successful patent licensing program as well as all litigation related to its digital imaging technology.
On August 1st, the role of Kodak's patents in its long-term strategy became even clearer. In another statement, Kodak said that its board had "adopted a Net Operating Loss (NOL) Shareholder Rights Agreement…" That was intended, in part, "to maximize the company's ability to explore strategic alternatives related to its digital imaging patent portfolios."
On August 2nd, the Wall Street Journal reported that an important Kodak IP asset was being offered for sale by Kodak. This particular patent, for previewing photographs, is at the center of a lawsuit against Apple (AAPL) and Research in Motion (RIMM). Securing a patent already being used in a lawsuit against Apple and RIM might be beneficial to companies such as Google (GOOG). I would not be surprised to see Google involved in the bidding for Kodak patents. Google's patent portfolio is extremely weak, and they are currently doing everything they can to bolster its size and strength.
Given the fact that Kodak has been victorious in recent patent infringement cases, and they have ongoing litigation that could generate significant revenue, I believe their patent portfolio could prove to be worth more than investors current valuation. Kodak's CEO estimated that the patent infringements in the Apple and Rim case are valued at about $1 billion.
We could be entering a "patent bubble era", and I expect Kodak to benefit.