By G C Mays
According to the World Agricultural Supply and Demand Estimates report, U.S. production estimates for the 2011/12 season were lowered by 30 million bushels. Export estimates were also lowered amid Russian wheat re-entering the market after wild fires caused the Russian government to ban exports a year ago. Ending U.S. stocks are virtually unchanged.
Global Supplies
Estimates of global wheat supplies are 11.4 million tons higher than the previous month due to a spike in production estimates and adjustments to beginning stocks. Production increases totaled 10.4 million tons and came primarily from the former Soviet Union, which added 7.1 million tons due to favorable weather for its spring wheat crop and a better than expected harvest of its winter wheat crop. The European Union added 1.4 million tons as the wheat harvest in France revealed that the dry spring weather did not hurt yields as much as was originally expected. India added 1.9 million tons while China chipped in an extra 1.5 million. Countries reporting a decline in production estimates include the US whose estimate fell by less than a million tons and Argentina which cut estimates by 1.5 million tons due to a smaller increase in planted acreage than predicted at the outset.
Consumption
Global wheat consumption is being shaped by higher wheat supplies and lower supplies of corn as hog and poultry producers struggle to fill their feed requirements. Corn is the usual feed choice for most livestock because it promotes the most weight gain. Wheat is often substituted if the price is right. Global wheat feed use estimates are raised by 4.9 million tons as China, Canada, The European Union, South Korea, and the United States have all increased their wheat feed requirements.
The 188.9 million ton estimate of global ending stocks is higher than last month but still below the ending stock estimate for the 2010/11 season of 191.7 million tons. The global wheat stocks-to-use ratio begins its third straight year of decline and has generally declined for most of the past decade. A lower stocks-to-use ratio generally translates into higher prices for wheat which in turn provides additional incentive to maximize yield and increase quality by purchasing the type of fertilizer best suited to meet those goals.
click to enlarge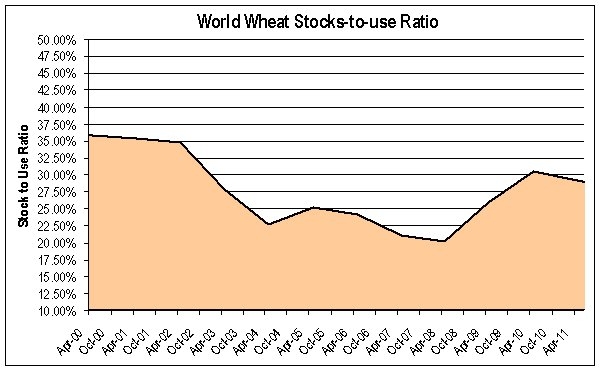 Source: The Mays Report
Wheat needs both nitrogen and potash to maximize growth and quality. Nitrogen influences the growth and color of the plant while potash improves taste, color, texture, and resistance to disease. This need combined with increasing demand bode well for leading nitrogen fertilizer producers like CF Industries (NYSE:CF) as well as potash producers such as Mosaic (NYSE:MOS), Potash (NYSE:POT), Agrium (NYSE:AGU) and Intrepid Potash (NYSE:IPI). However, with Intrepid Potash being the exception, many of these stocks are selling at or near their 2007 highs so I would proceed with caution in the near term as these stocks are just as volatile as the wheat, corn and soybean futures contracts they loosely track.
Wheat futures have recently traded sharply higher and barring a strengthening of the dollar or a collapse of global demand I see wheat prices volatile and elevated for the foreseeable future.
Disclosure: I have no positions in any stocks mentioned, and no plans to initiate any positions within the next 72 hours.