In case you did not notice, the market tanked recently, and data center-related stocks were no exception to the rule. All stocks we follow now trade lower, compared to the end of July.
Has market volatility created a buying opportunity? Hard to say, without knowing if this correction is just a hiccup or the start of a real downtrend for the whole stock market, which any stock could hardly resist. The question we will try to answer is an easier one: Has any data center-related stock been hit more than its fundamentals probably deserved in this downturn?
A quick look at how sector stocks behaved recently reveals declines ranging from 46% to 2% (data from end of July to August 11).
[Click all to enlarge]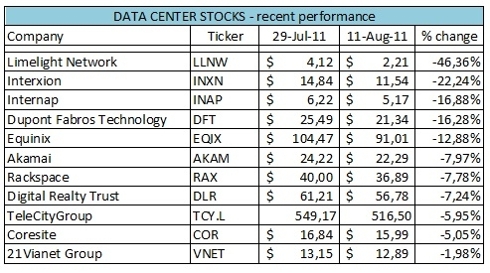 LLNW is by far the "winner" of the group, having lost about half of its value recently after a disappointing earnings report and issuing soft guidance. The company is rumored to have the sign "for sale" as Dan Rayburn discussed on Seeking Alpha, but there is little doubt that it could only be considered a falling knife right now. While it may be wise to stay away from it, the stock can also be considered at this level a bet for a rebound, even if you do not believe it could be a buyout target.
INXN comes second in this sad category, having lost about 22% to date. Recently announced results by its peers, EQIX as far as its European operations, and Telecity (OTC:TLCTF), were quite strong. The company is due to release earnings next Wednesday, and this could be a nice candidate for having been beaten by Mr. Market more than deserved. Unless it becomes the only European network neutral data center provider to disappoint with its Q2 release, we expect good numbers to be announced next week.
INAP is also lower more than 15%, after announcing Q2 results that did not impress the Street. Management seems to be supporting the view that the market might be wrong on the company's valuation, as CEO Eric Cooney recently bought 53,000 shares in the open market. However, as Ben Kolada from the 451 Group recently wrote, the company might not be the favored takeover target it looked a few months ago, when a buying spree hit several stocks in the sector, like Navisite (NASDAQ:NAVI), Terremark and Savvis (NASDAQ:SVVS).
DFT is the worst performer among data center REITs. There are, however, good reasons for this behavior, as the company recently announced that Yahoo (NASDAQ:YHOO) was not renewing one of its leases with the company, with the market reacting negatively to this news alone.
Here is also a look at the recent downtrends in the sector, divided by category, and including each company's market cap: Another interesting datum to consider, as companies with similar business models may have very different sizes, which could or could not make them targets for potential acquisitions.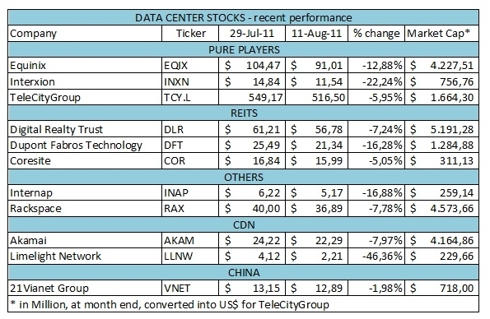 Disclosure: I am long EQIX, may initiate a long position in LLNW, INXN, INAP over the next 72 hours.