In doing some further research into the so-called "lost decade" for stocks I wrote about recently, I ran across a very simple strategy that would have done far better than investing in the S&P 500.
Given the recent sharp plunge in stock prices, a $10,000 investment in the SPY S&P 500 ETF made in July 2000 would be worth about $97,00 as of Thursday August 11 even accounting for dividends.
But what if you made some slight adjustments to your asset allocation?
Here's a chart showing a broader market cap allocation strategy would have performed, with that same $10,000 worth more like $16,000.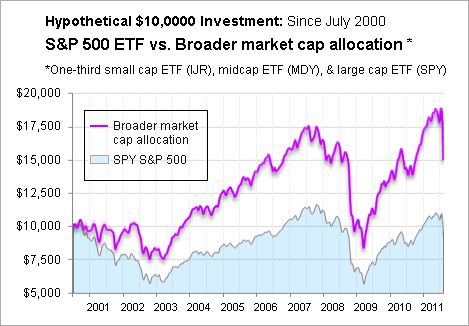 This represents splitting your $10,000 investment into three ETFs, the SPY S&P 500 ETF, the S&P Mid Cap 400 ETF (NYSEARCA:MDY) and the and S&P 600 Small Cap ETF (NYSEARCA:IJR)
It was certainly a wild ride back in 2008, but what a difference in performance overall!
Here's how each individual ETF performed. There's not a lot of difference between the small and mid cap stocks, but both outshined the large caps.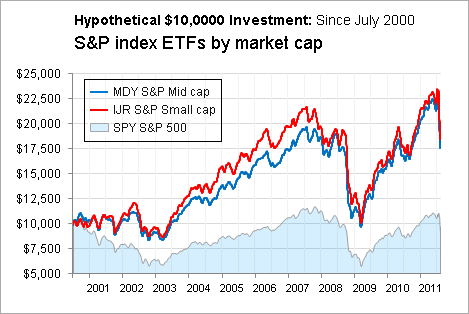 There's a subtle dynamic here that's worth noting. The stocks in these indexes back in 2000 are not the same stocks in those indexes today. Small and rapidly growing companies might enter the small cap category, move to the mid cap category and then perhaps make their way into the S&P 500.
So what you're seeing here may be the impact of what happens when smaller stocks get bigger. They may grow, but just not as rapidly. If the most rapid growth for a company tends to play out before the stock enters the S&P 500, that's an argument for emphasizing smaller stocks in a growth-oriented portfolio.
True, those small cap and mid cap stocks do fall more rapidly in bear markets, but they offer great opportunities when you want to be greedy while others are fearful.
Disclosure: I have no positions in any stocks mentioned, and no plans to initiate any positions within the next 72 hours.