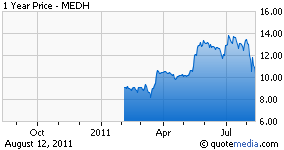 For background on MedQuist (OTCPK:MEDH), see my article published on Seeking Alpha dated May 20, 2011.
MEDH stock is down 18% so far in August which is no big surprise since the Russell 2000 index has declined 15% during the same time period.
That the stock is down significantly due to market action may be a reason to buy, but not a good enough reason, in my opinion.
I like it here because:
Transcend (TRCR), another pure-play and competitor of MedQuist, reported earnings last week and its organic revenues increased 8% year over year.
Nuance Communication (NASDAQ:NUAN) is comparable but not a pure-play transcription company. It reported results Tuesday night and its healthcare segment, which is a direct competitor of MedQuist, reported organic revenue growth of 12% Y/Y.
What's impressive is that Nuance's healthcare segment's organic revenue growth has followed this trajectory:
Q1-11= 3%; Q2-11= 6% and Q3-11= 12.
While I (obviously) have no idea how Medquist fared in Q2-11, these data points are encouraging for MEDH's earnings prospects. MEDH shares are trading at a 50%-plus discount to TRCR and NUAN and therefore I think they are deeply undervalued.
Unless MedQuist is marching to the tune of its own drummer, I believe that it too must be experiencing healthy fundamentals and when it reports earnings next week, most probably it will surprise to the upside. You just have to connect the dots.
Disclosure:
I am long MEDH.