By Mike Moody
According to Bloomberg, some container ships are refusing business:
BW Maritime, a Singapore-based owner of 15 supertankers, said it is declining cargoes as a glut of the vessels causes rents to plunge, joining rival Frontline Ltd. (NYSE:FRO) in refusing charters.

"This is being done on a case-by-case basis rather than systematically, but we do feel that the current market levels are dangerously low," Chief Executive Officer Andreas Sohmen-Pao said by e-mail today. "We are not chartering vessels when we feel that the rates are insufficient to cover the operational risk of moving them."

Frontline, the world's largest operator, has some ships "drifting around" because rates are too low, Jens Martin Jensen, Singapore-based CEO of the company's management unit, said July 27.
No doubt analysts covering the industry closely are well aware of this, but this is the first headline I have seen. Regardless of my complete ignorance of supertanker freight rates, market pricing seems to be reflecting the cargo pricing problem. The poor relative price performance warns a relative strength investor to stay away.
Bloomberg has a tanker index comprised of six companies in the industry, which has dropped sharply this year.
[Click to enlarge]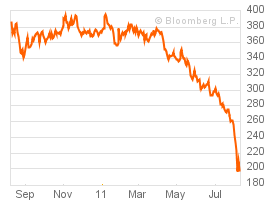 Relative strength is based on price performance, which is why the knowledge contained in prices is so important. Supertankers have been relatively weak this year, clearly an area to avoid — and now we know it's because of extraordinarily low rents.
Upgrades & Downgrades History
| Date | Research Firm | Action | From | To |
| --- | --- | --- | --- | --- |
| Aug 10, 2011 | FBR Capital | Downgrade | Outperform | Mkt Perform |
| Jan 12, 2011 | Dahlman Rose | Downgrade | Buy | Hold |
| Jan 11, 2010 | Jefferies & Co | Upgrade | Underperform | Buy |
Source: Yahoo Finance
Oops! Wait a minute. Above is a clip of the 2011 opinion changes for Frontline Ltd., one of the companies mentioned in the Bloomberg article and included in the tanker index. Three different firms are carrying current opinions ranging from hold to buy on FRO. A couple of the firms have downgraded FRO this year, but none of them have suggested actually avoiding the stock. Just maybe the information contained in the relative price action is more accurate than the opinions of analysts covering the industry.