Over the past few days, the economic environment has turned quite sour. Equity and Treasury market swings have been remarkable these past few trading sessions, although the Dow (NYSEARCA:DIA) was pretty close to breaking even for the week as of this writing. This type of situation makes consumers and investors uneasy, especially with the similarity that the sell-off displayed compared with that of the financial crisis in 2008.
However, there are material differences between now and then. For starters, there is no credit crisis, nor will there be one. While inter-banking funding rates have drifted higher in recent weeks, they are still historically low. Fears over sovereign debt and the overall banking system in Europe have made banks uneasy, thus increasing the cost of funding. Secondly, with the Fed sitting at 0% financing conditions are cheap and easy to come by, especially with the banking system flush with excess reserves. While it is tough to see "black swan" events before they occur, one can attempt to hedge against such occurrences. By diversifying your portfolio with consumer staples, the downside risk is going to be limited. In this analysis, I hope to touch on a few different companies that would serve as ideal investments in this uncertain economic environment.
Wal-Mart (NYSE:
WMT
) is the largest retailer in North America. Products are typically priced at a discount allowing a wide range of consumers to purchases the merchandise. The company has produced enormous revenues, even during the most recent economic downturn. Their 4th quarter results from the past few years have been tremendous. Wal-Mart has tremendous global exposure, with a large presence in emerging markets.
The stock has gotten hammered in recent months, down almost 12% since February, while the P/E ratio is at an all-time low. Personally, I like nothing more than picking up a company trading at an extremely low price-to-earnings ratio, especially a company that produces consistently strong results. The stock has basically traded in an upward trend for some time. It looks like it is a strong buy, however I recommend waiting until it closes above $50.40. That is the 61.8% retracement from the high in 2008. Should the stock close above this key level, I see no reason why the price can't reach $60 a share. Even if you are not bullish on the stock price, the company does pay around a 3% dividend yield with 20% growth in the years ahead.
(Click charts to enlarge)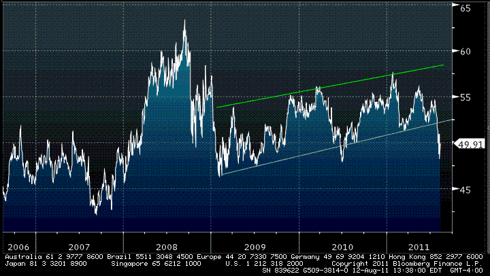 Another consumer staple that will provide some safety amid economic uncertainty is Nestle (
OTCPK:NSRGY
). The company produces everything from water to petcare products. The beverage division brought in close to $21 billion in 2010. While it is known for producing magical chocolate, Nestle also bears many characteristics that make it an excellent addition to any investor's portfolio. The revenue stream has been consistently strong since 1988, while EPS remains at an attractive level.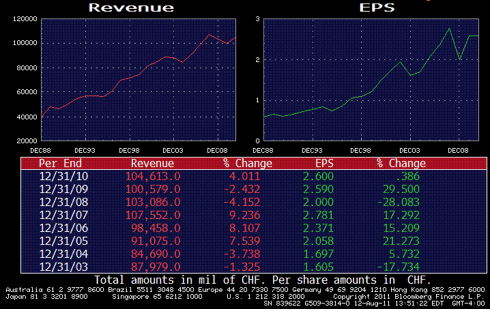 With strong margins and effective inventory management, Nestle separates itself from its competitors. Nestle has a decently leveraged financial position, with sufficient operation income to cover its expenses. The chart below may be difficult to read but it basically plots an improving balance sheet and financial position.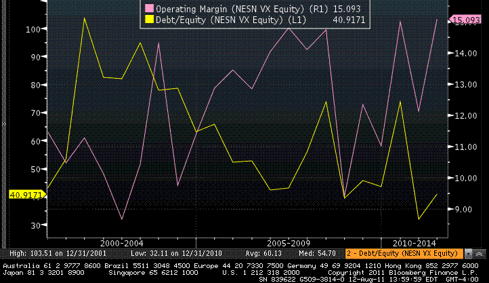 Phillip Morris International is a subsidiary of Altria Group (NYSE:
MO
). The business model is focused on the international development of tobacco products. At the end of 2010, the products were placed in over 150 countries. Given the current economic downturn, consumer staples are always a good idea. The company pays out a solid 6% dividend. After reducing the dividend in 2007 and 2008, Philip Morris has returned to increasing the payouts.
Given the turmoil overseas and poor expectations for growth within the US, prudently diversifying your portfolio is key to maintaining your nest egg. These three companies provide a solid dividend yield, coupled with the strong potential for price appreciation in the near future.
Disclosure: I am long PM.