Apparently, the Federal Reserve cannot print money quite fast enough. On Monday, August 8, the S&P 500 priced in terms of gold finally broke the March 2009 lows.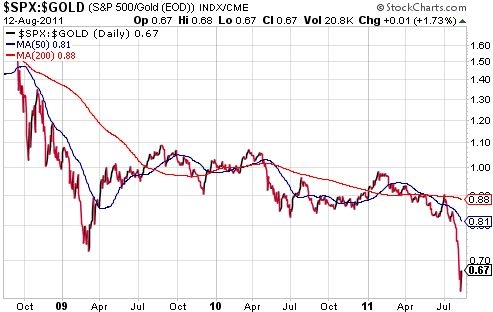 Source:
stockcharts.com
Note that the ratio of the S&P 500 to gold was 0.75 at the end of March 2009. The ratio hit 0.65 on August 8, 2011).
This decline continues an historic decline for the stock market versus gold that goes back at least to 1998 (the data I had available at the time I wrote Priced In Gold, the Stock Market Continues to Struggle.)
Since Chairman Ben Bernanke does not think gold is money – unlike his predecessor Alan Greenspan – this slide in the stock market's value is definitely not keeping him up at night. However, I like to check in on this S&P 500-to-gold ratio to remind me how poorly the stock market has preserved value even when it seems to be skyrocketing on the latest Fed-inspired stimulus. The Fed's inattention to this erosion of relative value makes me even more interested in tracking it.
This latest crash in relative value was exacerbated by a climactic sell-off in the stock market at the same time that gold nearly went parabolic.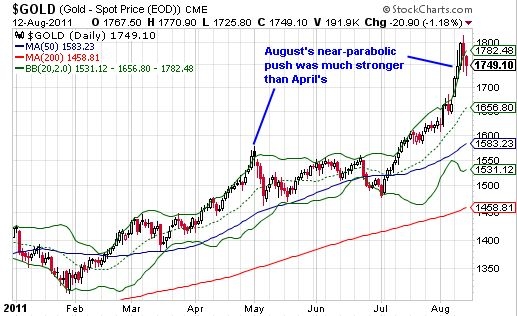 Source:
stockcharts.com
Shortly after this explosive combination, the CME increased margin requirements (by 22%) on gold futures, following the footsteps of the Shanghai Gold Exchange (for more see Bloomberg here). I believe it took seven margin hikes to finally cool silver. I suspect more margin hikes are coming for gold. However, setbacks in gold prices should prove "transitory" – to borrow a term favored by Chairman Ben Bernanke – to the extent that central banks and financial authorities must continue to resort to printing money and related tricks of financial engineering to plug holes in the global economy and financial system.
Be careful out there!

Disclosure: I am long GLD, SLV, GG, PAAS.