I recently had a conversation with a financial advisor who stressed the value of having a simple story when consulting individual investors. He noted that DCFs and detailed corporate analyses are great, but can you deliver a compelling rationale in understandable language to regular people? As I pondered his words, I thought of people like my parents, who really just need a dependable income stream and less of the volatility of recent weeks. Could I create an easy to follow system for the equity portion of their portfolio with a simple rationale to meet their needs? Here is my attempt.
The Rationale
To satisfy the stated requirements, I sought to identify large, well-known firms that consistently paid (and hopefully raised) dividends. These stocks provide more peace-of-mind as investors are familiar with the firms, their products, and their ability to keep paying dividends through good times and bad. The logical starting point was the
Dividend Aristocrats (DA) list
, as these S&P 500 firms have raised their dividends annually for 25+ years. They not only survived the turmoil of the last decade, they increased their payouts. That seems like a pretty simple, compelling reason for income-oriented investors to purchase them.
In general, these firms have strong brands, reasonable payout levels, low betas, and a history of increasing dividends. From a research project I did on dividend policy, I learned that managers of dividend-paying firms seek to avoid dividend cuts at all costs. They know what will happen to their firm's stock price if the dividend is cut. Also, there are typically very few cuts each year in the universe of firms that have been increasing dividends for 7+ years. In my research, we found just 40 dividend cuts from 1997-2010 for non-financial U.S. firms with $500MM+ market cap and at least seven consecutive years of dividend increases prior to the cut. This averages to 3 per year out of a group of around 150 stocks (2%). This doesn't mean it can't happen, but it's a fairly rare occurrence.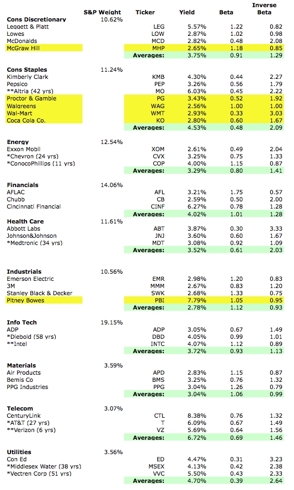 The Stocks
Because of the focus on income, I only accepted DA stocks with a dividend yield over 2.5% (Note: all figures used are from August 12, 2011 closing data from Google Finance) and sorted the stocks by sector (see chart,
click to enlarge
). As there are 10 sectors, my goal was to find 3 stocks in each sector, however, some sectors had more than 3 and others had less than 3. For the latter group, I turned to the
Dividend Champions (DC) list
, which is comparable to the DA list. These stocks have an asterisk (*) and I noted the number of years of dividend growth in parentheses. I also made three "executive decisions" marked by a double-asterisk (**) to add some high-yield, well-known names to the list:
I added Altria (NYSE:MO) to consumer staples because of its high yield and it is only excluded from the DA list because of its spin-offs.
I added Intel (NASDAQ:INTC) to the technology sector because of its leadership position, recent increases in payout, and strong balance sheet.
I added Verizon (NYSE:VZ) to the telecom sector because of its high yield and brand, and it has raised dividends since 1984, just not every year.
To get each sector down to three stocks, I eliminated the highlighted ones; my reasoning is below in a footnote.
[i]
You can certainly make your own choices here; it doesn't change the strategy, just the final yield and beta. I have calculated the average yield, beta, and inverse beta (1/beta) for each sector, which will be used in the strategy section.
The Strategy
To keep the system simple, I decided to avoid sector weightings by market cap (i.e. S&P weightings). Instead, I equal weighted each stock/sector. There are ten sectors, so 10% to each one, and then buy equal dollar amounts of each stock; it doesn't get much simpler than this. Applying the 10% weighting system produced a portfolio dividend yield of 4.01% and a portfolio beta of 0.80, which achieved both of my objectives. We have a good yield of 4% from dependable firms and a portfolio with 20% less sensitivity than the market. In addition, the dividend payouts should keep growing, which will increase the income stream and support the stock price going forward. The portfolio can be rebalanced annually, after significant market moves, or if a stock cuts its dividend (falls off the DA or DC list).
Variations
For comparison, I ran the same yield and beta calculations using the current S&P sector weightings. This "benchmark" portfolio had a yield of 3.78% and a beta of 0.83. So, while one could take the time to precisely divide his/her portfolio funds based on the S&P weightings, the 10% method is not only faster, it also produced a higher yield and lower beta. Given the shift of funds from technology and financials to the higher-yield, lower-beta utilities and telecom sectors, this is not a surprise. There may be some growth opportunities, but the purpose here is income.
For those worried more about volatility, I weighted the 3-stock sectors using the average sector inverse betas. In simple terms, the lower a sector's beta, the more funds get invested in that sector. In this case, utilities, health care, and consumer staples received the highest weightings. This actually raised the dividend yield to 4.15% and lowered the beta to 0.72. So, with a little more work, you can have an income-oriented portfolio with even higher yield and lower volatility.
To raise the yield or lower the risk even more, here are some options to consider.
Use the Dividend Champions and/or Dividend Contenders lists, which have more stocks to choose from.
Include REITs, MLPs, and/or foreign firms; I didn't look at these, though I did see a few on the lists.
Choose the stocks with the highest yields. e.g. Including Pitney Bowes (NYSE:PBI) instead of Stanley Black & Decker (NYSE:SWK) would instantly raise the portfolio dividend yield to 4.18%.
Choose the stocks with lower betas and/or lower dividend payout ratios. A couple of the DA stocks have high payout ratios, which could be concerning.
Final Thoughts
With the current market decline, yields have moved up, creating an opportunity to get a 4% dividend from a portfolio of well-known firms that have consistently raised their payouts for over 25 years. Such a portfolio offers individual investors the security of established firms committed to increasing shareholder payouts, and the rationale for owning these firms is easy to explain and understand. In addition, a quick chart check in Yahoo Finance showed that each of these stocks, with the exception of the utilities and Diebold (NYSE:
DBD
)
[ii]
, has beaten the S&P 500 index over the last 25-year period. While we are focusing on consistent dividends, these firms are also providing solid long-term total returns.

As always, historical data is no guarantee of future performance, but when a firm has acted consistently for 25+ years through numerous recessions, disasters (natural and manmade), and government actions, it sure has a compelling argument! I won't lose sleep over holding these stocks, whereas I can't say the same about the recession, disasters, or the government.

Disclosures
I am long INTC, MO, KMB, COP, AFL, CB, and T.
Endnotes
---
[i]
McGraw Hill
– The publishing market seems challenging right now and it had the lowest yield of the group.
Consumer Staples – There is nothing wrong with any of these firms, I just took the higher yielding ones.
Pitney Bowes
– Produces mailing equipment, but post office is struggling; has a high payout ratio and revenues have declined the last two years. I gave up some yield here, if revenues recover, might be worth a look.
[ii] AT&T and Verizon have had spin-offs, so while their graphs show them underperforming the S&P 500 over this time period, I believe they actually outperformed it when factoring in the spin-off values. In any case, the point is that as a portfolio, this group easily outperformed the S&P 500.


Disclosure: I am long INTC, MO, KMB, COP, AFL, CB, T.