By Relmor Demetrius
Sirius XM Radio (NASDAQ:SIRI) is the king of the dashboard. No other company has a greater presence there. Ford Sync and other automaker gadgets that allow easier access to the internet aren't really designed to benefit any one company. AM/FM radio in the car benefits a large multi-company conglomerate of terrestrial radio stations, but not one company in particular. Sirius XM has much of its success tied directly to the automobile dashboard and the "drive time" consumer. Sirius XM is in over 60% of every vehicle sold in the USA and has deals with every major car manufacturer. This is all great and good for the new car market, but what about all those used cars on the road and on lots with radios in them that are not activated. Can Sirius XM create a "second net" to catch even more subscribers than simply from a new car purchase? Can we start to see proof of success in the Q2 filings?
A few years ago Sirius XM began directing its efforts to what is called Certified Used Car Programs, or CPO's. These are usually from new car dealers themselves. CarMax and other larger companies are also easily targeted, as they are national companies that deal with a large volume of yearly sales. It is a lot easier than attempting to contact individual used car lots and deal with the 'Ringo and Butch Used Car' lot.
Sirius XM has most of its CPO programs up and running now, recently adding a very important GM (NYSE:GM) one that allows all GM dealers in the country who sell used cars access to this trial offer. There is motivation from the dealer to promote the product. It helps sell a used car versus another guy who isn't offering 3 month free satellite radio. Almost everyone likes satellite radio versus terrestrial radio; the difference is who is willing to pay for it. I think we can all agree if it were free, no one would turn it off. So getting people exposed and addicted to it is vital.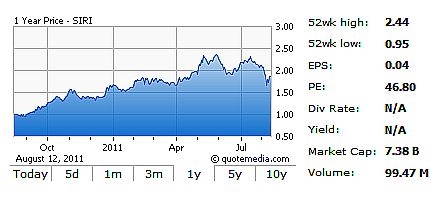 In this "second net" situation, Sirius XM has another way to generate new subscribers, where in the past the only real way was over-the-counter radio purchasers or the smartphone (which is also relatively new and expanding with the recently-added Howard Stern and the NFL to its lineups). Also, this line item does include all internet-only subscribers and smartphone only-subscribers as well. One can also use logic considering how many potential used car promotional trials could be in play right now. A point to consider is that the GM deal would not have any benefit on self-pay numbers as of yet. So we can look forward to Q3 and Q4 for even further possible signs of improvement.
As the used car industry becomes more and more consolidated, Sirius XM gains a big advantage in communicating its product again to those who may have turned it down before, or the consumer who never buys a new car. These dealers will now give a promotional trial with the used car purchase and can activate the radio at the end of this trial. Since this is not a new car situation, there is no initial cost to turn this radio promo on and possibly no revenue sharing that would be required. Some radios have life-long contractual revenue-sharing obligations if that radio were to become a self-pay subscriber (permanent month to month paying customers not on a promotional offer). These CPO subs wouldn't be counted as a promotional subscriber at any point in the process.
CPO subs, in past filings, would have been counted in the "retail" side of the subscriber totals, which has been a negative on subscriber growth for at least as long as since 2008. Basically if Sirius wasn't adding subscribers from new car sales, it just wasn't adding them. After the company's latest filing, this may soon no longer be the case. When I say Sirius isn't adding them, I mean it is adding retail subscribers, yes, but not as fast as it was losing them. The "net additions" on the retail side was negative. Only OEM additions were consistently positive.
Now to focus on this trend to this date, what we have to do is add back information that Sirius XM removed; this stopped us from noting whether the trend is continuing to improve or not. Here is a chart of the missing data and the trend I have been following closely. That's ok. I will fill in the blanks for Q2 2011 and see if retail line item is still causing the company to lose subscribers or not.
| | | | | | | | |
| --- | --- | --- | --- | --- | --- | --- | --- |
| | Q2 2011 | Q3 2010 | Q2 2010 | Q1 2010 | Q4 2009 | Q3 2009 | Q2 2009 |
| | | | | | | | |
| Gross Sub Additions | 2,179,348 | 1,952,054 | 2,020,507 | 1,720,848 | 1,882,590 | 1,606,446 | 1,380,125 |
| Deactivated Subs | -1,727,201 | -1,617,327 | -1,437,258 | 1,549,407 | -1,625,922 | -1,504,151 | -1,566,124 |
| Net Additions | 452,147 | 334,727 | 583,249 | 171,441 | 257,028 | 102,295 | -185,999 |
| | | | | | | | |
| Retail Ads | ? | -188,884 | -142,757 | -305,547 | -200,154 | -309,972 | -301,295 |
| OEM Adds | ? | 529,798 | 709,226 | 460,487 | 442,422 | 407,131 | 123,165 |
| Net Additions | 452,147 | 334,727 | 583,249 | 171,441 | 257,028 | 102,295 | -185,999 |
| | | | | | | | |
| Self Pay Ads | 362,663 | 258,105 | 304,043 | 69,739 | 247,182 | 35,405 | -14,996 |
| Paid Promo Ads | 89,484 | 76,622 | 279,206 | 101,702 | 9,846 | 66,890 | -171,003 |
| Net Additions | 452,147 | 334,727 | 583,249 | 171,441 | 257,028 | 102,295 | -185,999 |
| Monthly Self Churn | 1.9 | 1.90% | 2 | 2 | 2 | 2 | 2 |
| Penetration Rate | 65 | 62 | 60 | 60 | 60 | 58 | 55 |
| Vehicles Sold in Q | 3259046 | | | | | | |
As you can see by this chart, it was trending down anyway, much before this quarter. I had noted in the past that it would be a game changer for Sirius' metrics if it could ever add significant subscribers through the now-removed retail subscriber line item. Was Q2 the first Q this went positive?
Using subscriber OEM deactivations of 1.65 million based on lagging 3 to 6 month average vehicle sales (here is where you use the take rate), I determined that OEM additions for Q2 were around 468,379. This is using 64% penetration rate and 3.25 million cars sold. So if total additions were 452,147, then we know total retail additions were (16,232). Very close and very exciting to see this metric is still improving. This is a guess actually, of course. It could have actually gone positive by a few subs. As you can see it is no longer hindering subscriber growth. The trend more than likely is improving and I have attempted to prove that here.
Now with the coming of Sirius XM 2.0 later this year, retail subscriber growth may accelerate before the new radios even have a chance to be added to the OEM dashboard lineup, which will begin being sold in cars in 2013. With 2.0 adding personalization features, on demand ability, pause, rewind, and replay functions, as well as WI fi and increased channel capabilities, there is now an actual reason for retail customers to update their radios. This should further improve the retail subscriber numbers. Heck, we might even be able to get some OEM radios out that are paying revenue sharing and replace them with 100% revenue sharing free radios. That would help ARPU.
Another factor in retail subs possibly reversing is the decreasing number of retail subscribers turning into OEM subscribers. This was happening a lot from customers who had traditionally used a retail radio, but preferred keeping the OEM-installed radio instead with the free trial attached. When the promotional period ends, a lot of retail subs are simply converting to the OEM side. This is going to start phasing out now as people become twice exposed to the product and are simply converting one OEM sub for another now. New customers exposed only through the OEM side will now stress the original retail subscribers numbers who didn't have the option of an OEM entry to the product.
The major reason why I think, going forward, subscriber totals can even accelerate their current growth is the CPO channel. With GM dealers across the country and most other carmakers offering used car programs as well, Sirius XM has found another way to reach a consumer base that is drive-time oriented.
Disclosure: Long SIRI