What a difference two weeks makes. Back on August 1st, I posted an article providing a review of the major European banks and institutions to watch for the outbreak of a potential global financial contagion. Much has certainly transpired, as many of these institutions have come under extreme stress in the time since. Not only are European policy makers scrambling to pull Spain and Italy back from the brink, but now France is also under fire.
While policy measures in recent days including the ECB purchasing Spanish and Italian government bonds and a short selling ban on financial stocks in France, Italy, Belgium and Spain appear to have provided a sense of calm following several tumultuous days, it's likely that we could see more stress emanating from the region before its all said and done.
The magnitude of the stress on European financial institutions as a whole has been acute in recent weeks. Although the iShares European Financial Sector Index ETF (NASDAQ:EUFN) has bounced in recent days, it remains well below levels of just a few weeks ago.
click on images to enlarge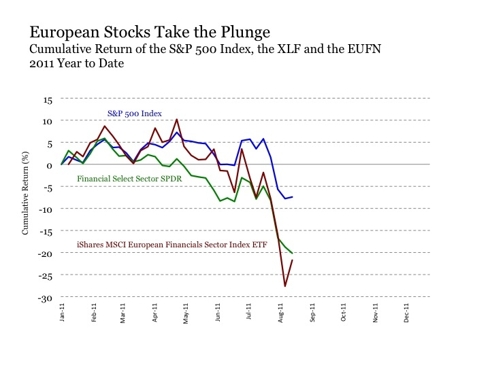 Click to enlarge
The following is a review of the financial institutions across Europe.
Greece, Ireland and Portugal
The stock price performance of the institutions in these countries has deteriorated even further. All are now either trading at less than a dollar per share or are precariously close. The following is price performance since July 29, 2011:
National Bank of Greece (NBG): Down -18% to $1.08
Bank of Ireland (NYSE:IRE): Down -15% to $1.22
Allied Irish Banks (AIB): Down -49% to $0.88
Banco Comercial Portugues: Down -16% to 0.27 euros
Spain, Italy, Belgium and France
As mentioned above, these four countries imposed their own versions of a short sale ban on financial stocks. Given the poor historical track record of short sale bans, the banks in these countries require close attention in the coming weeks. An initial spike higher in these shares was expected starting on Friday as investors closed out short positions. But with the potential for reduced trading volume and increased volatility in the coming days, any bounce in the bank stocks from these countries may ultimately be short lived.
Beginning with Spain, the intervention by the European Central Bank to purchase Spanish government bonds appears to have helped stabilize the share price of the country's two major financial institutions. The fact that both banks have considerable operations outside of the eurozone is also a positive factor for these firms.
Both Santander (STD) and Banco Bilbao Vizcaya Argentaria (NYSE:BBVA) responded well to support at $8 per share to bounce higher. But despite the late week rally, both stocks are down 12% for the month of August.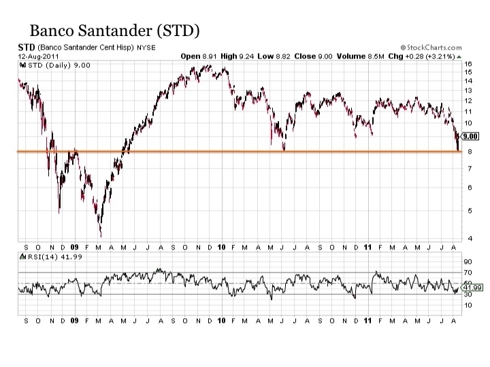 Click to enlarge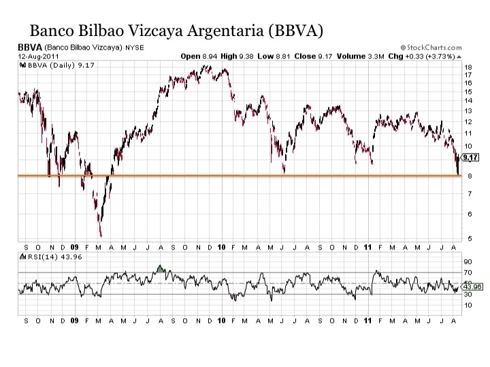 Moving on to Italy, the stock price performance of the two major Italian banks was a bit more disconcerting. The ECB decision to buy Italian government debt did little to stem the downside trend for both UniCredit and Intesa Sanpaolo. For the month of August, UniCredit is down 16%, while Intesa Sanpaolo is down 23%. And while UniCredit continues to hover above its March 2009 lows, the same cannot be said for Intesa Sanpaolo, which has broken support and is at fresh post crisis lows.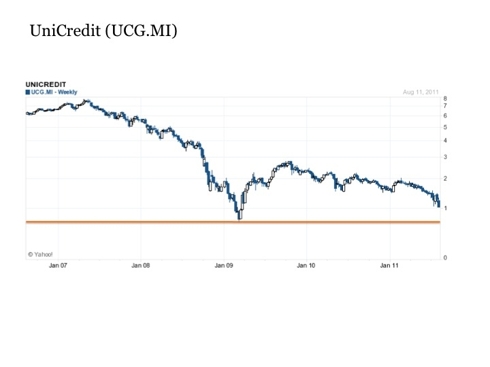 Click to enlarge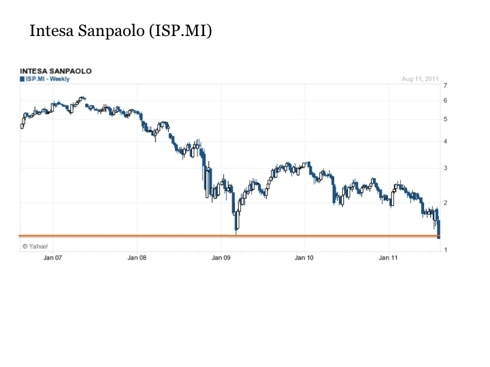 Click to enlarge
Belgium's Dexia remains in a bit of an air pocket. After breaking several support levels, it is currently trying to recover its way back to the 2.15 range. Otherwise, its next support is its March 2009 low at 1.05.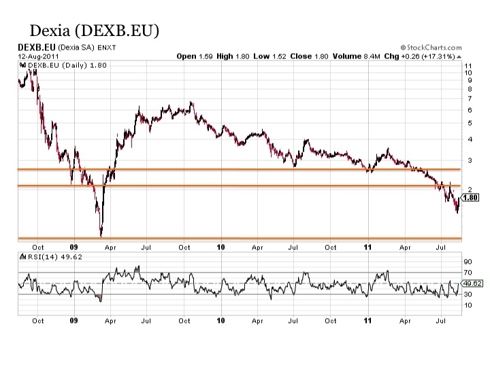 Click to enlarge
France and its banks came under heavy fire in the past week. France's AAA credit rating was considered at risk following the downgrade of the U.S. to AA+ by S&P. Then rumors surfaced midweek that Societe Generale, which is France's second largest bank, was facing financial difficulties and may be on the brink of collapse. While these rumors were generally diffused by the end of the week, Soc Gen's shares are still down -30% since the beginning of the month.
As for the other major French banks, BNP Paribas broke support at 40.00 and is down 18% for August. The drop in Credit Agricole has also been precipitous, as shares are down 24% for the month and the stock briefly pierced its March 2009 support at 5.90 before recovering higher.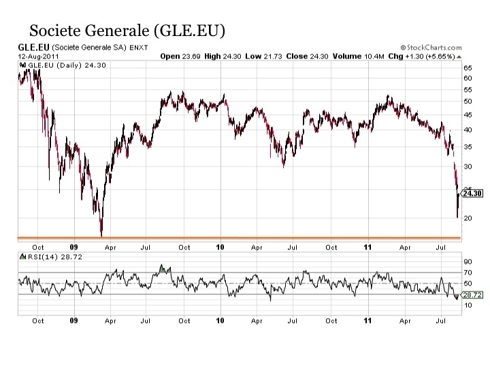 Click to enlarge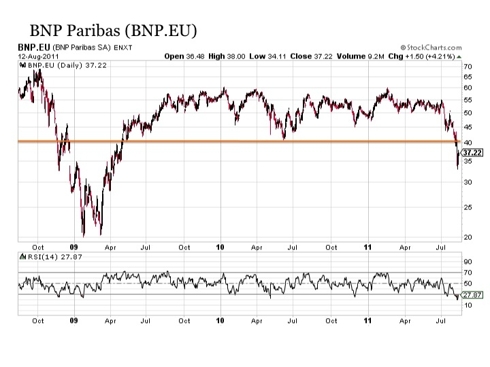 Click to enlarge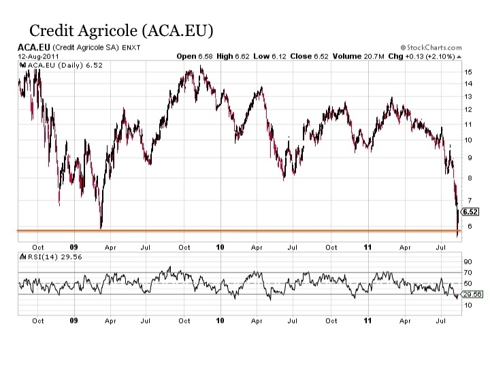 Click to enlarge
Netherlands
ING Group (NYSE:ING) shares have come under pressure in the past few weeks, but the shares have managed to hold support at 8.20. What is troubling, however, is the recently steep decline in the ING preferred shares including the ING Group 7.20%. This suggests that concerns over the threat of a financial contagion and the associated impact on long-term solvency may be coming into question as the eurozone crisis continues to unfold.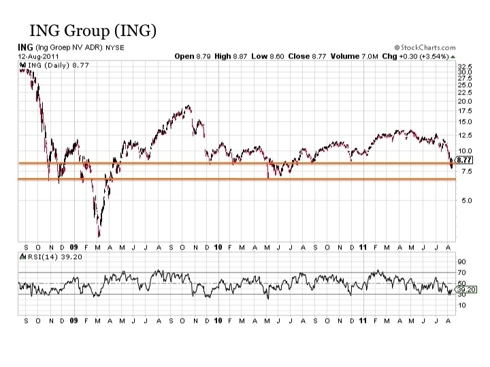 Click to enlarge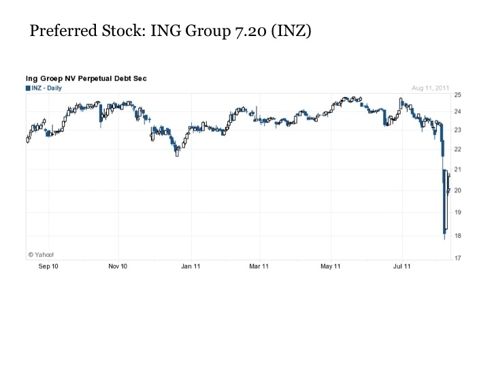 Click to enlarge
Germany
Although Germany is the final pillar of financial stability in an increasingly struggling eurozone, its financial institutions remain under pressure. Deutsche Bank (NYSE:DB) shares are off -22% for August, and its preferred stock including Deutsche Bank Cap VIII 6.375% sold off sharply before recovering late in the week. The situation at Commerzbank appears far more troublesome, as its sizable exposure to Greek debt deeply impacted profitability and has placed additional strain on already struggling shares. After breaking below March 2009, Commerzbank shares are holding at this final support level for now.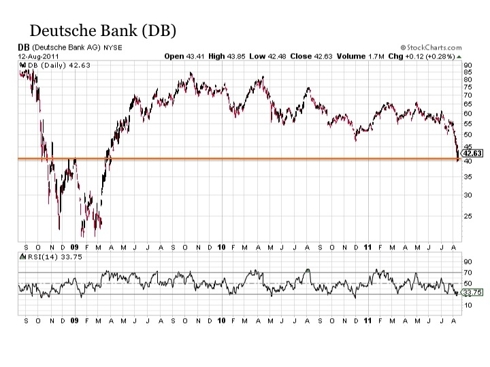 Click to enlarge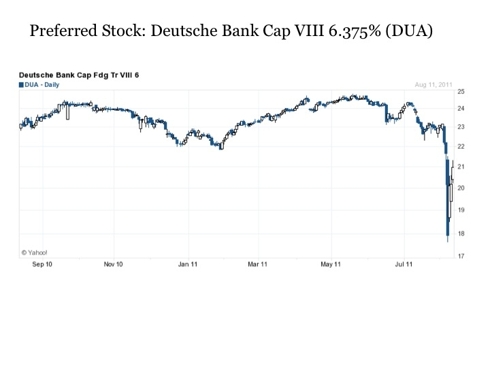 Click to enlarge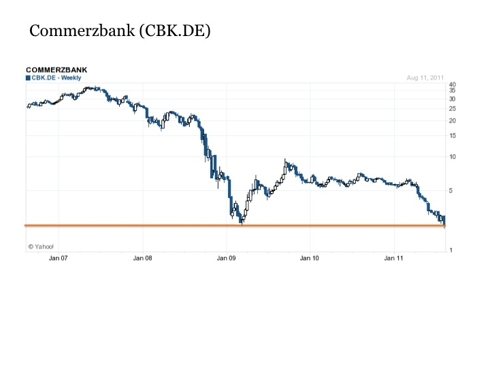 Click to enlarge
United Kingdom
Financial firms in the United Kingdom are dealing with varying level of stress associated with exposures to the troubles in the eurozone. The most stable of the bunch continues to be HSBC (HBC). Although it is down 9% for August, shares continue to hold support at around $41.00 per share. And while HSBC preferred stock including HSBC Holdings 6.20% also came under heavy pressure midweek, they have already recovered most of the lost value.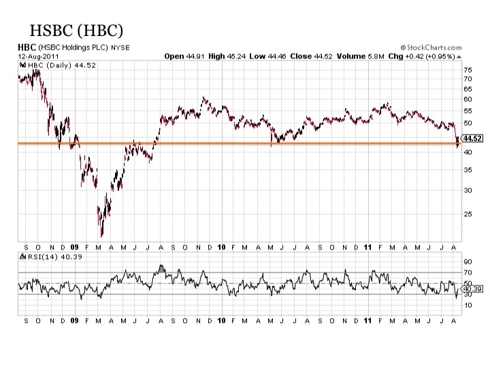 Click to enlarge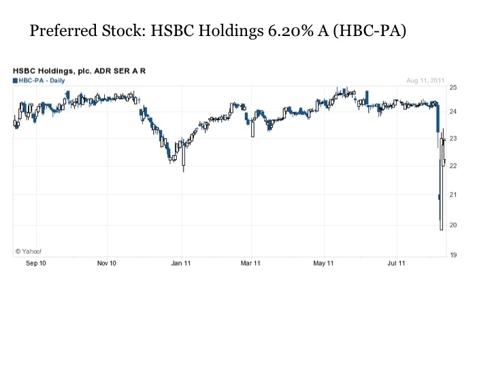 Click to enlarge
Although Barclays (NYSE:BCS) was unable to hold support at the $15.00 per share range, it did respond to support at the $10.50 range and bounced higher. With that being said, Barclays shares are down 18% for August and the recovery in Barclays preferred stocks including the Barclays 6.625% Series 2 has been less impressive.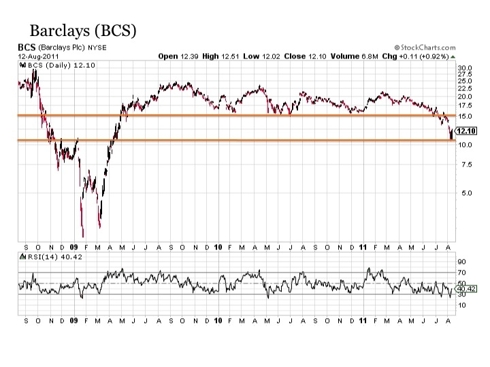 Click to enlarge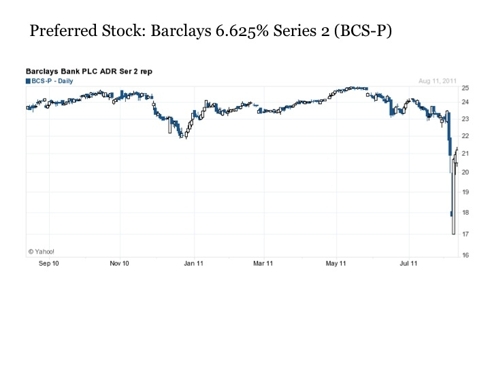 Click to enlarge
As for Lloyds Group (NYSE:LYG) and Royal Bank of Scotland (NYSE:RBS), the situation remains more challenging. Lloyds shares are down 24% for August and recently broke below support at its March 2009 low of $2.05 and dropped as far as $1.92 before recovering to just above support at $2.15 to close the week. As for RBS, shares broke decisively below support at $10.00 per share and are down 27% for August. The next level of support is in the $7.50 range, and shares did respond to these levels to bounce modestly higher to close the week.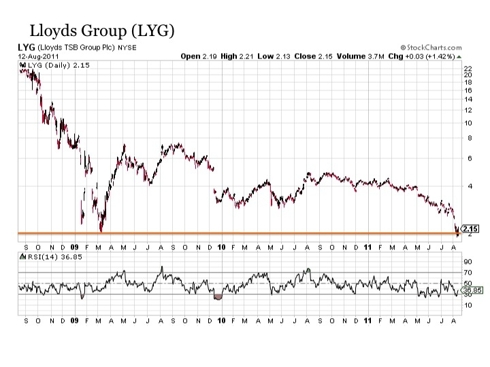 Click to enlarge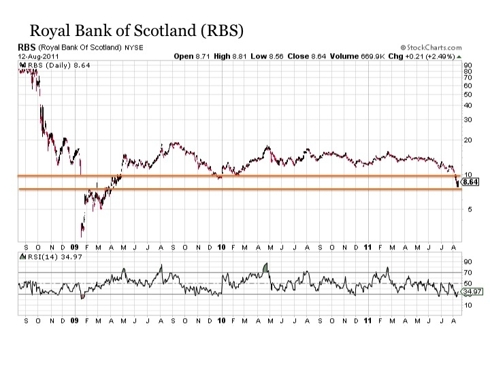 Click to enlarge
Switzerland
Capital has been clamoring to get into safe havens such as Switzerland. And although the country's bank shares have held up relatively better, they have endured their share of stress. Credit Suisse (NYSE:CS), which is down 15% for August, broke support at $35.00 per share and plunged to its next support level at $27.50 before responding to bounce higher to just above $30 per share. And while Credit Suisse preferred stock including Credit Suisse 7.90% came under pressure, the decline was relatively shallow and shares have recovered most of their value at this point.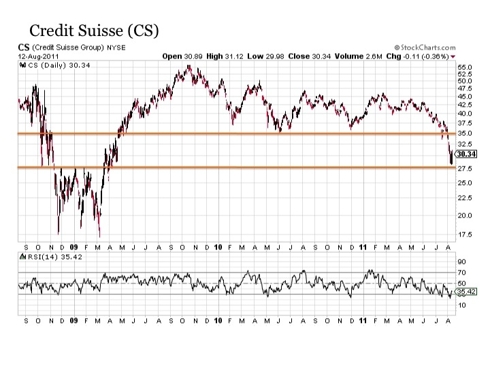 Click to enlarge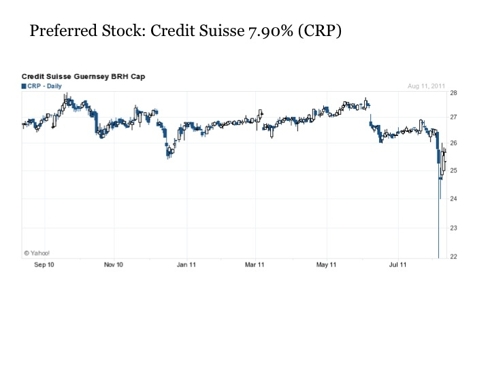 Click to enlarge
As for UBS (NYSE:UBS), this is one of the best performers across the region. While shares are down 10% for August, they are still trading in the range that has been in place since early 2009. And shares remain well above recent 2010 lows in the $12.25 range.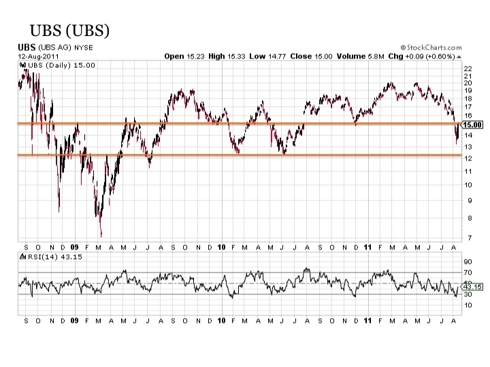 Click to enlarge
Key Takeaways:
The charts above lead to the following key takeaways:
Financial stress has increased dramatically across Europe.

The fact that strain has extended to preferred shares suggests that concerns about financial contagion and the solvency of these institutions is at least in question.

Institutions in Spain, Italy, Belgium and France warrant the closest monitoring in the days ahead.

It is in these countries where the strain appears most acute.

Moreover, each country is operating under a short sale ban on financial stocks, which may have provided immediate relief but may ultimately result in further downside pressure.
Signs of stress are also present in what are considered the more stable markets in the Netherlands, the United Kingdom, Germany and Switzerland.

Switzerland remains the most stable market of the group, followed by Germany.
Looking ahead, European financial share performance will depend a great deal on confidence. If European policy makers can succeed in holding government bond yields below crisis levels in Spain and Italy while also stabilizing the situation in France and other at risk sovereigns, we may see the recent rally sustain itself.
However, if government bond yields make a renewed spike higher and financial institutions across the region begin to break below current support levels, it could quickly spark the next major move to the downside in global stocks.
Stay tuned.
Disclosure: I have no positions in any stocks mentioned, and no plans to initiate any positions within the next 72 hours.