This week, the Federal Housing Finance Agency (FHFA), the U.S. Department of the Treasury and Department of Housing and Urban Development (HUD), has requested ideas for selling single-family real estate owned (REO) properties held by Fannie Mae, Freddie Mac , and the Federal Housing Administration (FHA).
"While the Enterprises will continue to market individual REO properties for sale, FHFA and the Enterprises seek input on possible pooling of REO properties in situations where such pooling, combined with private management, may reduce Enterprise credit losses and help stabilize neighborhoods and home values," said FHFA Acting Director Edward J. DeMarco. "Partnerships involving Enterprise properties may reduce taxpayer losses and meet the Enterprises' responsibility to bring stability and liquidity to housing markets. We seek input on these important questions."

The objective is to help address current and future REO inventory. It will explore alternatives for maximizing value to taxpayers and increasing private investment in the housing market, including approaches that support rental and affordable housing needs.
In our view, housing is one of the major pillars of the economy which requires reorganization for the New Normal. The New Normal in the USA is a shift of economic dynamics caused by the baby boomers moving from a peak driving economic force to an economic drag with reduced spending and getting income from entitlements.
The net result is too many large homes and too many vacation homes. Changes in employment, as well as retirements, have created too many houses in the wrong location. How many homes involved is unprovable by any pundit. I suspect the number is around 10% of all USA housing, considering REO inventories, mortgage delinquencies, unused second homes, and unemployed or retirees who want to move to another location in the country (aka shadow inventory).
My solution is to start destroying inventory starting with the vacant REO's in high unemployment areas until prices stabilize. The distressed market is clearly a drag on home prices. A quote from Mark Fleming, chief economist for CoreLogic:
While there is a consistent and sustained seasonal improvement in prices over the last three months, prices are lower than a year ago due to the decline in prices after the expiration of the tax credit last year. The difference between the overall Home Price Index (HPI) and our index excluding distressed sales indicates that the price declines are more concentrated in the distressed sales market.
Destroying real inventory (and shadow inventory) removes supply. I personally suspect that not too many homes need to be destroyed (clearly well under the 10% mentioned earlier) before a temporary floor is created. As prices stabilize, more inventory likely will come on the market – and the home destruction process might need repeating.
My concept fails to met all objectives of the government which called for approaches that achieve the following objectives:
reduce the REO portfolios of the Enterprises and FHA in a cost-effective manner;
reduce average loan loss severities to the Enterprises and FHA relative to individual distressed property sales;
address property repair and rehabilitation needs;
respond to economic and real estate conditions in specific geographies;
assist in neighborhood and home price stabilization efforts; and
suggest analytic approaches to determine the appropriate disposition strategy for individual properties, whether sale, rental, or, in certain instances, demolition.
Clearly no approach to date has worked. Hopefully the appeal can come up with better ideas how to solve the deteriorating housing price situation.
Economic News This Week:
The Econintersect economic forecast for August 2011 indicated the soft patch will continue – and there will be little growth. All elements of the Econintersect Economic Index as falling, with key indicators at contraction's door.
This week the Weekly Leading Index (WLI) from ECRI slipped back from 2.1% back to 1.7%. This level implies the business conditions six months from now will be approximately the same compared to today. This index has been eroding and in a three month overall downtrend. However, this index was been holding in a tight pattern between 1.6% and 2.1% since the end of June 2011.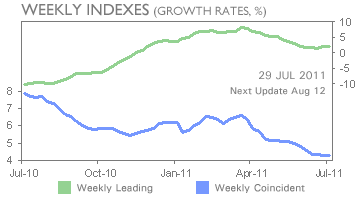 Initial unemployment claims dropped 7,000 (from an upwardly revised 402,000) to 395,000. Historically, claims exceeding 400,000 per week usually occurs when employment gains are less than the workforce growth, resulting in an increasing unemployment rate. However, this "400,000″ is not necessarily magical – and the equilibrium point can occur anywhere between 350,000 and 400,000. The reason is that labor market forces (terminations and hiring) work in concert, and there have been periods of high layoffs and high hiring.
The real gauge – the 4 week moving average – fell 3,250 to 405,000. Because of the noise (week-to-week movements), the 4 week average remains the reliable gauge.

The data released this week confirms the economic soft spot is continuing – except for wholesale sales which is living on another planet. The decline in rail traffic is troubling.
Weekly Economic Release Scorecard:
| | | |
| --- | --- | --- |
| Item | Headline | Analysis |
| Global Markets | | John Lounsbury analyzes the declines in Global Markets |
| July Retail Sales | Up 0.5% | When sales are adjusted for inflation and proper methodology is applied – sales are down |
| June Business Sales | Up 0.4% | Sales are down month-over-month |
| August Michigan Sentiment | Down Sharply | Now at the lowest level since May 1980 |
| June Trade Balance | Growing | Exports suggest softening global economy |
| China Costs | | Waiching Li explains why Chinese products cost more in China than on USA Main Street |
| June JOLTS (BLS) | | This report shows poor expansion dynamics for jobs growth |
| June Wholesale Sales | Expanding | No sign of recession at wholesale level. Inconsistent with most other indicators. |
| July Diesel Fuel Index | | Possibly, this index may be signalling a bottom to the contraction. |
| Sovereign Credit Ratings | | Elliott Morss looks at ratings methodology and suggests where to invest. |
| July Rail Counts | Less Good | Rail traffic is continuing to deteriorate – and foretells a slowing economy |
| Unemployment Rate | | Two methods of deriving unemployment give drastically different results. |
| Home Prices | | Scott Sambucci's shows autumn home price contraction is starting w/o achieving 2010 peak levels. |
| USA | | Frank Li reviews his climb from a Chinese immigrant to his fulfilling the American Dream |
| USA Child Poverty | | Pavlina Tcherneva: USA has worst child poverty of any industrialized country – and offers solutions. |
| PIIGS Crisis | | Dirk Ehnts questions if the IMF understands the EU. |
| USA Debt | | Derryl Hermanutz argues non-debt money can save the economy |
| USA Debt Fraud | | Roger Erickson argues debt is not bad, and current solutions to solve the deficit will kill the economy. |
| Global Depression | | Sanjeev Kulkarni hopes the solution to the terrible global economy is not WW III |
| USA Budget Deficit | | Elliott Morss gives alternatives to Debt Ceiling compromise. |
| $VIX | | Doug Short compares current market volatility to 2008. |
| Oil Prices | | Andrew Butter suggests the market has lost sight of the equilibrium price |
| Recession Odds | | Jeff Miller looks at chance of a recession – and gives investing thoughts. |
| USA's 04Aug Market Selloff | | Shah Gilani says selloff was an inevitable result of investors watching economic fundamentals before earnings. reports |
| USA Debt Downgrade | | David Grandey: how to handle market correction that he believes was induced by debt downgrade. |
Bankruptcies This Week: Palm Harbor Homes
Failed Banks This Week:

Disclosure: I have no positions in any stocks mentioned, and no plans to initiate any positions within the next 72 hours.