Introduction
Palladon Ventures (OTCPK:PLLVF) owns a 19.3% stake in the largest iron mine in the Western United States. The mine, which is referred to as the Iron Mountain project, is scheduled to produce close to 2 MT (million tonnes) of iron ore in 2012 and potentially 4 MT in 2013.
Up until a few weeks ago there was still some uncertainty regarding the project, but this uncertainty has almost entirely been removed. This article will look to illustrate the earnings potential for 2012 and 2013, as well as provide a discounted cash flow analysis of the Iron Mountain project. As the reader will see, by using conventional valuation metrics, Palladon looks extremely cheap.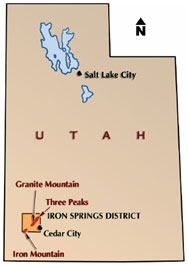 Source PalladonVentures.com, location of Iron Mine
Iron Mountain Project Background
The Iron Mountain project is based in Cedar City, Utah and is operated by CML Metals. The project has several iron ore deposits that have been historically drilled and proved by previous operators. At the moment, only one of these deposits is in NI 43-101 compliance, but CML is committed to drilling and proving these other deposits.
For the purposes of this article I will only be discussing two of the deposits in the Iron Mountain project, Comstock Mountain Lion and Rex. Together these deposits have approximately 148 MT of iron ore, but it is worth noting that additional deposits have been previously drilled and may have significant additional resources that don't currently qualify as being NI 43-101 compliant without further testing. If you're interested in a more detailed discussion of Palladon and the Iron Mountain project, please refer to a previous blog post I wrote on the subject.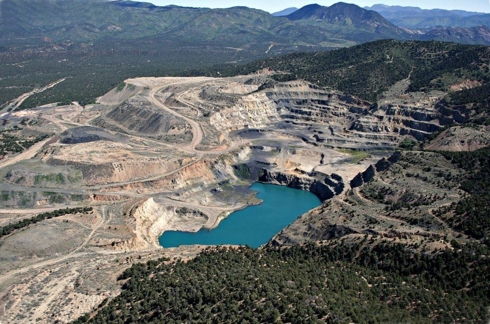 Click to enlarge
Source: CMLMetals.com, image of Iron Mountain project, Cedar City, Utah
The key to the Iron Mountain project is a concentrate facility that is in the process of being built, and is scheduled for completion in late January of 2012. Readers can actually view the construction of the facility by visiting CML's recently constructed website. If readers are interested in a primer on iron ore benefication, please see an article I wrote earlier in the year titled "The Important Factors to Consider When Investing in Iron Ore". The concentrate facility will effectively take low grade ore of about 40%Fe and produce a significantly more valuable high grade ore called concentrate that will be around 67%Fe.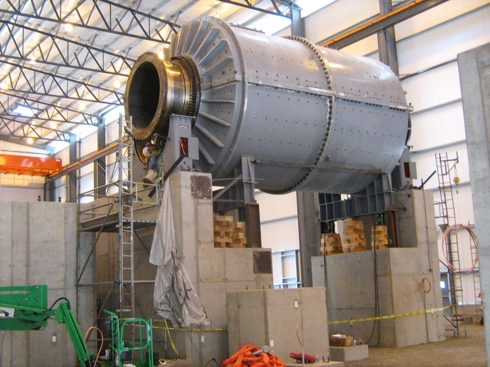 Click to enlarge
Source: CMLMetals.com, Ball mill at Concentrate Facility
Up until a few weeks ago there was a small concern that CML may not be able to generate enough capital to complete the construction of the concentrate facility. The company had entered into a agreement with Credit Suisse to secure a two tranche $65 million dollar loan which would be used to build the facility. The first tranche of $20 million dollars was received this past January, and the second tranche of $25 million was to be given to CML only if it met certain requirements stipulated by the terms of the loan.
On July 28th it was announced that CML had met all requirements set out by Credit Suisse, and the second tranche was secured by CML. This fact effectively de-risks the Iron Mountain project and allows investors to create realistic valuation targets. Additionally, in the July 28th press release, CML provided earnings guidance for 2012 and 2013 based on projected costs and iron ore pricing.
Valuation of Palladon's Stake in the Iron Mountain Project
The first chart below was created using the assumptions outlined in CML's July 28th press release. It should be noted that the more conservative figures from the guidance were used when it came to production and cost per tonne. As you can see from the chart below, using CML's guidance Palladon's stake in the Iron Mountain project would equate to EBIDTA earnings of approximately $.824 per share in 2012, and $1.977 per share in 2013.
Given the current share price of $1.44 Canadian (price at market close on August 11, 2011), Palladon is trading at P/E of 1.7 times its projected 2012 earnings, and a P/E of .7 times its projected 2013 earnings. If one were to apply a conservative P/E multiple of 6 to Palladon's 2012 earnings, then the share price would trade close to $5. Of course, a P/E of 6 would be tremendously cheap given the potential earnings growth in 2013. Not to put too fine a point on it, but a P/E multiple of 6 applied to projected 2013 earnings would create a share price of approximately $12.
[Click to enlarge images]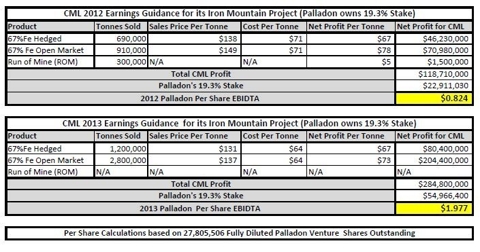 Chart created by James Duade on August 8, 2011
Price to earnings multiples are a nice gauge of the short term potential of the Iron Mountain project, but a discounted cash flow analysis is a better indicator of the long term economic viability of the mine. For those unfamiliar with discounted cash flow, this type of valuation is often used when looking at two competing investments over a finite period of time. Your competing investment, let's hypothetically say it's the S&P 500 for argument's sake, is the discount rate.
Depending on how well you think the competing investment will do, you can adjust the discount rate up or down. In this instance I used two moderately conservative discounts of 10% and 8%. For this valuation the key assumptions were that 6MT of raw ore would be required to produce 4MT of concentrate creating a life of mine of 24.75 years. Additional assumptions were that the cost per tonne would be either $71 or $64. Both of the cost per tonne figures were provided in the July 28th press release from CML. Lastly, the present value of the mine was examined using 5 different iron ore prices ranging from $80 a tonne to $200 a tonne. As a point of reference, the current Platts 62%Fe midpoint IODEX price is $178 (price quote from August 12, 2011).
Chart created by James Duade on August 8, 2011
As you can see from the above chart, the present value of the Iron Mountain project is extremely compelling given Palladon's current share price of $1.44. Even if you were to assume that long term iron ore prices were to average $110 a tonne for the life of the Iron Mountain project, shareholders would still have a present value of $9.80 using a cost per tonne of $71 and a 10% discount rate.
Conclusion
Given the recent positive events surrounding the Iron Mountain project, CML Metals and, by proxy, Palladon Ventures are poised to create significant value for their shareholders. As the above analysis indicates, investors applying either a price to earnings valuation or a discounted cash flow analysis will see that the true value of Palladon is well in excess of its current share price of $1.44.
Investors with a little patience have a tremendous opportunity to take advantage of Palladon's current weak valuation and will likely watch their investment appreciate by several multiples over the next 18-24 months.
Please post comments or questions below.
Disclosure: I am long OTCPK:PLLVF.