Many investors are now craving high yield equities. The interest rate most banks now offer for cash and CDs is near zero and getting lower all the time. Worse yet, U.S. debt now yields historically low rates. As a result, many investors are avoiding the bond markets and the potential depreciation there, and looking for stable large-cap equities that can supplement the fixed income portion of a portfolio, while still providing the opportunity for appreciation.

There are literally thousands of dividend paying equities and funds (of the mutual, closed-end and exchange traded varietals). A prudent idea may be to consider the investment decisions made by one or a few of the more respected investors within the market. Warren Buffett is considered one of the best long-term investors out there and Berkshire Hathaway (NYSE:BRK.B) currently holds several large positions in dividend paying equities. In fact, most of his publicly traded investments have above-average dividends and a history of growing them over time.

Here, I compare the performance of Warren Buffett's higher yielding large investments (ConocoPhillips (NYSE:COP), Johnson & Johnson (NYSE:JNJ), Kraft (KFT), Coca-Cola (NYSE:KO), Procter & Gamble (NYSE:PG), Wal-Mart (NYSE:WMT)), according to Berkshire Hathaway's last 13F filing, with the broader market in terms of the S&P 500 (NYSEARCA:SPY) and Dow Jones Industrial Average (NYSEARCA:DIA). Berkshire also happens to own more than $2 billion worth of each of these equities, indicating a high level of comfort with the future prospects for these investments. Above average yield, here, means a yield above the average yield provided by the DIA (now about 2.5%).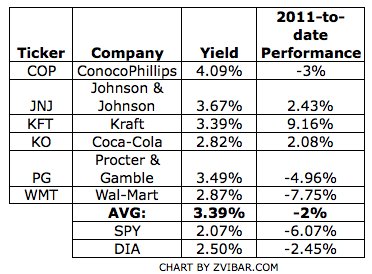 As the chart, above, illustrates, half of Warren Buffett's high yield equity investments went down in share price since the start of the year, and the average equity performance of the six equities mentioned was negative 2 percent. Nonetheless, negative 2 percent is a superior result than the -2.45% the DIA returned and -6.07% that the SPY has returned thus far in 2011. Additionally, the average yield of these equities is superior to either the SPY or DIA.

If the dividends are added into the performance, these six equities are up 1.39%, while the SPY is down 4% and the DIA is about even. While a total return of 1.39% over 7 months is not an ideal equity portfolio performance, such a portfolio would have done a good job of at least retaining its value through this difficult market, and the performance is superior to the S&P 500's 4% total loss since the start of 2011.

Disclosure: I am long KFT.
Disclaimer: This article is intended to be informative and should not be construed as personalized advice as it does not take into account your specific situation or objectives.