I am long C&J Energy Services (NYSE:CJES) in pursuit of capital gains. Presently, the company is in the midst of hyper growth. The company provides hydraulic fracturing services to the energy community. Although not a "household term", the hydraulic fracturing benefits are amazing and will be realized in time. The growth in this name is significant and should offer sizable capital gains. The charts below show the net income and revenue growth per SEC filings.
I believe you will agree that the company is growing at a rapid pace. This could mean that the industry is cyclical. If not, then competitors will be drooling at the mouth and desiring to further expand operations in this sector. The company, CJES, is active on the acquisition front. C&J Energy Services is building quite a name for itself in successfully providing positive well production results in difficult-to-operate geological areas of the U.S.
In my opinion, this stock will move higher. It is not a matter of "if", but "when". I am long this stock with the goal of trading half for a short-term profit when investors recognize the opportunity in hydraulic fracturing and, specifically, C&J Energy Services.
Business Model
C&J Energy Services (CJES) is a rapidly growing company providing premium complex hydraulic fracturing and coiled tubing services. CJES competes with the larger energy service providers. CJES specializes in both conventional and unconventional well completions.
Hydraulic fracturing pumps fluid into a cased well, at a technically determined pressure level, to fracture the production formation. The high-pressure creates the fracture to open up. The end benefit is a successfully fractured horizontal well, which will provide positive oil and natural gas production to the customer.
Hydraulic fracturing encompasses 80% of CJES' revenues. The company also provided coiled tubing and pressure pumping to enhance the development of well production.
Clients and Business Locations
Clients include the well known exploration and development companies. Firms include EOG Resources (NYSE:EOG), EXCO Resources (OTC:EXCOF), Anadarko Petroleum (NYSE:APC), Plains Exploration (NYSE:PXP), Penn Virginia (NYSE:PVR), Petrohawk (NYSE:HK), El Paso (NYSE:EPB), Apache (NYSE:APA) and Chesapeake (NYSE:CHK). These companies hire CJES based upon their technical expertise, available fleet of hydraulic fracturing equipment, and hydraulic fracturing expertise.
Business operations are located in difficult operating locations including South Texas, East Texas/North Louisiana and Western Oklahoma. CJES's fleet of hydraulic fracturing are currently operating in the Eagle Ford Shale of South Texas, the Haynesville Shale of East Texas/North Louisiana and the Granite Wash of Western Oklahoma.
Growth Rates
CJES is growing both organically and thru acquisitions. The latest acquisition was the Total E&S, Inc. purchase on April 28th, 2011. Total E&S is a manufacturer of hydraulic fracturing, coiled tubing, pressure pumping, and related energy service products. The cost benefits and synergies will allow to compete against the larger energy service providers.
Yearly Revenue and Income Changes
Here is a comparison between annual December 31st, 2007 through 2010 income statement changes (page 18, click to enlarge images):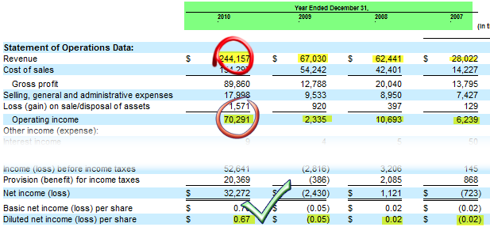 March 31st, 2011 vs. March 31st, 2010
A year-over-year comparison shows an extremely an high growth rate. Here is a comparison between the March 31, 2011 quarter compared to March 31, 2010 data (page 25):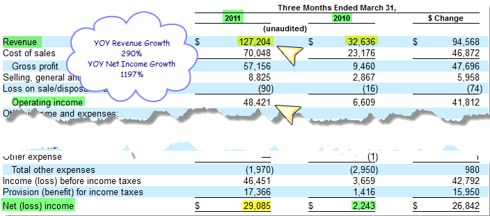 The data is in thousands. The company nor I are claiming this revenue growth is sustainable. The fact that the growth is on the right course is reason enough to explore further.
Ownership
There are 47,586,574 common shares outstanding. CJES has a market capitalization of approximately $1.4-billion. Key shareholders include: Energy Spectrum owns approximately 16.2% of CJES outstanding common stock; and Citigroup/StepStone owns approximately 14.1% of CJES outstanding common stock.
Hydraulic Fracturing Participants and Competitors
| | |
| --- | --- |
| Company Name | Symbol |
| Baker Hughes | BHI |
| C&J Energy Services | CJES |
| Gasfrac Energy Services | OTC:GSFVF |
| Halliburton | HAL |
| Schlumberger | SLB |
| Weatherford | WFT |
Risk Factors
Investors should be very clear of the potential risks. State or federal agencies could impose strict operational injunctions against the hydraulic fracturing industry.
If federal legislation or regulations are imposed, then CJES business model could be adversely impacted.
Disclosure: I am long CJES.