Assets reacted differently to the economic news on Friday; however, to arrive at the broader economic implications, more probing is needed. The equities market will be represented by the SPY, which tracks the S&P 500, and US. crude oil's reaction will be represented by OIL (click to enlarge images). Friday's major market drivers, among others, were retail sales, consumer sentiment, and the news that certain European countries had banned short selling on financial stocks.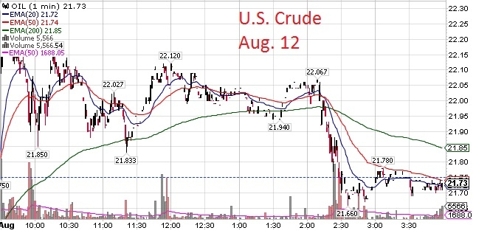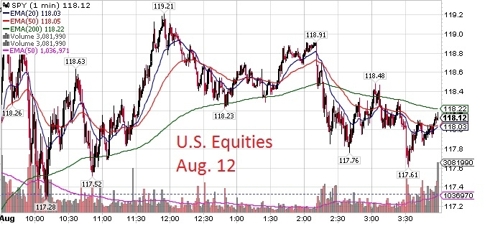 Initially, both markets fell on the unexpectedly low consumer sentiment reading of 54.9 vs. expected 62.5. The number did not have much hope due to the amount of uncertainty and prior poor economic data that signaled a recession; nonetheless, the magnitude of dissonance between reality and expectation hit the markets hard.
Interestingly enough, throughout the day each market decided to interpret the current environment differently based on all present information. SPY had a strong rebound, although on weaker volume, and managed to finish the day higher. Based on the retail number the market believed that the statistical chance of a catastrophic double dip recession had relatively weakened. Alongside that, the barrier created by intervention that had banned financial short selling limited equity losses throughout the eurozone, and subsequently provided key support for US equities as well.
US. crude oil, on the other hand, finished the day lower due to its stronger emphasis on the sentiment number. Oil, which is heavily influenced by sentiment and economic outlook to establish value, saw the sentiment reading as a pessimistic outlook for the future economy.
In order to glean some sort of indication of economic outlook from Friday's session, it seems more relevant to look at crude oil's movement. Equities at this point will move higher on anything that shows that the broader economy doesn't point to an absolute downturn, while it seems that oil's more realistic approach shows that weakness is accepted and, until more concrete evidence leads to a contrary opinion, overreaction to the positive won't be as pronounced.
Disclosure: I have no positions in any stocks mentioned, and no plans to initiate any positions within the next 72 hours.