This article covers our analysis of the big news and price moves in the alternative energy group last week, evaluating them for buy and sell ideas.
The group was extremely volatile last week, with many stocks experiencing multiple 15%-20% daily up and down moves, some in response to major news such as earning reports and others in tandem with the volatility in the overall markets. Overall, the global alternative energy ETF (NYSEARCA:GEX) ended down 0.4% for the week, but that masked a wild week during which the index made 5%-10% moves in three of the five days for a cumulative move of 21.8% during the week.
Sell Renesola Ltd. ADS (NYSE:SOL): SOL is a Chinese manufacturer of mono-crystalline and multi-crystalline wafers for solar power products. Its shares had a wild ride last week. They were down over 20% to the $2.60s by Tuesday morning, before staging a quick 56% rebound to an intraday high of $4.15 on Friday at market-open, finally settling into the $3.50s at market-close.
SOL shares were down after reporting on Tuesday morning that in the June quarter, the company missed earnings by a whopping 14c (2c versus 16c) due to weakness in wafer and module pricing as a result of demand weakening due to European subsidy cuts. Furthermore, the company guided down September quarter gross margins to 6%-8% from 18% in the June quarter and 28% in March quarter, while guiding revenue up to $220-240 million from the $167 million consensus estimate.
Also, most damagingly, it withdrew its guidance for the full year.
While SOL still trades at an inexpensive five times forward 2011 earnings, there is little meaning to that given the rapid decline in gross and operating margins that the company is experiencing. Just last week, for example, analysts lowered their earnings estimates from $1.06 to 68c after the company reported its earnings miss, and their estimate 90 days ago stood at $1.87 for 2011.
In other words, its forward P/E exactly three months ago when it traded in the $8.30s was 4, and now stands at 5 with prices slashed by over one-half to $3.52 at Friday's close. Furthermore, given that the company withdrew forward guidance, and given the difficult pricing environment for solar wafers and modules, it is conceivable that analysts may further revise their estimates downwards, as they have done every month recently.
We believe that the strength we saw last week was mostly a dead cat bounce after cascading drops since price peaked in the $13 range six months ago, and also in part influenced by the strong rebound in other solar names such as LDK Solar Co. Ltd (NYSE:LDK) and Yingli Green Energy (NYSE:YGE).
While it is conceivable that SOL shares may continue their technical rebound towards the 50-day moving average and the top of the down-channel near $5 in the next couple of weeks, it is unlikely to break through those levels unless the fundamental outlook changes. We believe that is unlikely in the short-term, so we would look to sell into this rally, and stand by our earlier expressed conviction that for the avid solar fan, there are better opportunities in the group in companies like LDK and YGE that are actually beating estimates and/or guiding higher.
Buy Yingli Green Energy ADS (YGE): YGE is a Chinese manufacturer engaged in the design, development, marketing, manufacture, installation, and sale of photovoltaic (PV) products, including PV cells, PV modules, and integrated PV systems, as well as poly-silicon ingots, blocks, and wafers. It has rebounded 17% since Monday's close at 30-month lows, after a 30% plunge in the preceding six trading days.
The 30% plunge was in sympathy with the sharp plunges in other solar stocks, but it followed immediately after the company guided up for the June quarter on August 3rd, indicating that PV module shipments for the June quarter are expected to increase 35%-37% sequentially over the March quarter versus previously provided guidance of more than a 30% increase.
Furthermore, it reaffirmed its previously provided gross margin guidance in the low to middle twenties. However, while YGE at a forward P/E of 6 seems cheap, it is likely to face the same pricing and margin pressures as the rest of the industry, so we would not be buyers at this time.
We would still be watching it, looking to pick up shares for a quick trade if shares plunge to the $4 technical support amidst the weakness in solar stocks and the overall market.
Buy LDK Solar Co. Ltd. (LDK): LDK is a Cayman Islands-based Chinese manufacturer of multi-crystalline solar wafers, used to manufacture solar cells and modules. In addition, it also provides wafer processing services to mono-crystalline and multi-crystalline solar cell and module manufacturers. It staged the strongest rebound in the group last week, rising 45% from its lows on Tuesday to an intra-day high of $6.72 on Friday, before settling for the week at 6.30 for a 12.5% gain for the week.
We stand by our buy issued on Tuesday of last week when the stock was trading in the $4.70s (for a return of 33% in four trading days), based on our assessment of its compelling valuation, technical support levels, share buybacks, short interest, and the potential spin-off of its polysilicon division.
At a forward P/E of 4, LDK is still a more attractive buy in the solar space than many of its peers, given its history of routinely beating analyst estimates by 10c-30c every quarter. We would continue to buy it on dips.
A123 Systems Inc. (AONE): AONE manufactures rechargeable lithium-ion batteries and battery systems for transportation, utility and consumer markets. Its shares were up 45% on Thursday on reports that the company had "signed" an extended production contract with General Motors Co. (NYSE:GM) to produce battery packs to be used in future electric vehicles to be sold by GM, building on their existing development contract. According to the company, the contract has the potential for AONE to produce anywhere from thousands to tens of thousands of battery packs per year.
While this seems likely to be a watershed moment with a production contract with GM, the company had previously announced in February that they "were awarded a production contract with a major North American automaker for an electric passenger car that is expected to enter the market during 2013."
Further, AONE's main challenge is reducing its astronomical cash burn of $50-$60 million per quarter, so that they don't further dilute existing shareholders. Until more details come out in terms of size of the deal and its impact on future profitability, it is likely that shares will remain range-bound at best.
Capstone Turbine Corp. (NASDAQ:CPST): CPST manufactures micro-turbine generators with co-generation, resource recovery and secure power applications. The micro-turbines provide power at the site of consumption, and can be fueled by a variety of sources, including natural gas, propane, kerosene, diesel and biodiesel. Its stock was down 12.5% during the week, after the company reported on Tuesday that in its June quarter, it missed revenue estimates, reporting $24.3 million versus the $25.8 million estimate; losses were 3c for the quarter in-line with the estimate of a 3c loss.
CPST has a great product that appeals to a broad market, including energy companies, hotels, hospitals, utilities, office buildings, retail and industrial applications around the world. It has rising orders and backlog, and a revenue growth of 51% year-over-year for the recently reported June quarter.
However, its main challenge is getting to profitability, which seems to be elusive as it has been on the verge of profitability for a few years now. The company is still bleeding cash, having incurred over $33 million in operating losses in the last four quarters on just over $90 million in revenue. We are bullish on the long-term prospects for CPST, but would stay on the sidelines until it is clear that they can be profitable on a consistent basis.
Satcon Technology Corp. (SATC): SATC manufactures utility grade inverters and micro-grid systems used in fuel cell and photo-voltaic power plants. Its shares were among the biggest losers last week in the alternative energy space, down 26.5% for the week after the company reported on Tuesday that in the June quarter, they missed revenue ($45.5 million versus $45.8 million) and earnings (18c loss versus 9c loss) estimates, and provided extremely weak guidance for the September quarter at $45-$52 million in revenue versus the consensus analyst estimates of $61.4 million.
The company blamed market conditions in Europe and Asia, inventory charges, and higher product development costs for their negative performance. With its falling revenue and higher losses, and the negative backdrop on the solar sector, we would steer clear of this stock for now.
Buy JA Solar Holdings Co. Ltd (NASDAQ:JASO): JASO is a Chinese manufacturer of mono-crystalline and multi-crystalline solar cells for solar modules and systems. Its shares were down 3.2% during the week, on the back of a 15.8% fall the prior week. The most recent significant news on the company was on May 10th when the company reported that in its March quarter, it reported 41c in earnings, well ahead of the analyst estimate of 32c, and it reiterated its estimate for total cell and module shipments for 2011 at 2.2 GW. We reiterate our buy on JASO issued earlier last Tuesday when the stock was trading in the $3.30s, based on its compelling valuation at current 2.3 P/E and forward 5 P/E.
Advanced Battery Technologies (OTCPK:ABAT): ABAT manufactures rechargeable polymer lithium-ion batteries for cell phones, laptop computers, PDAs, and digital cameras. Its shares were up 6.6% for the week, and they are down 66.5% YTD. During the week, on Tuesday after the market-close, the company filed to delay its 10-Q for the June quarter. ABAT has reported generating 61c in earnings over the last four quarter, so that it trades at an extremely cheap P/E ratio of 2, while revenue has grown 47%.
However, it is plagued by yet-to-be-proven accusations over inaccuracies over the accuracy and completeness of its filings.
General Note
This article is part of our daily and weekly coverage analyzing the top movers for top buy and sell ideas. You can access the rest of our daily, weekly and quarterly mover series from our author page, and if interested, you can also click on the "Follow" button in the left pane to receive notification of our future articles on this and other topics.
Table (click to enlarge image):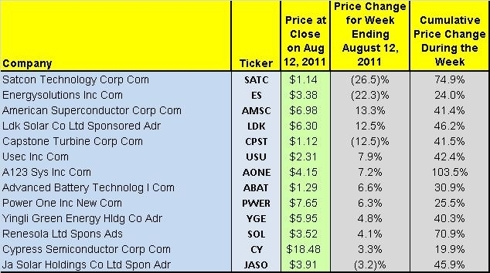 Click to enlarge
Please note that the cumulative price change referred to in the last column of the table above is used here as a measure of volatility to determine big movers in the group. It equals the sum of the absolute value of the change in daily prices. So, for example, if a security had price moves of 2%, -3%, 4%, -6% and 1% during the five days of the week, the cumulative price change during the week would be the sum of the absolute values of the daily price changes, which in this case would be 16%.
Credit: Historical fundamentals including operating metrics and stock ownership information were derived using SEC filings data, I-Metrix® by Edgar Online®, Zacks Investment Research, Thomson Reuters and Briefing.com. The information and data is believed to be accurate, but no guarantees or representations are made.
Disclosure: I have no positions in any stocks mentioned, and no plans to initiate any positions within the next 72 hours.
Disclaimer: Material presented here is for informational purposes only. Nothing in this article should be taken as a solicitation to purchase or sell securities. Before buying or selling any stock you should do your own research and reach your own conclusion. Further, these are our 'opinions' and we may be wrong. We may have positions in securities mentioned in this article. You should take this into consideration before acting on any advice given in this article. If this makes you uncomfortable, then do not listen to our thoughts and opinions. The contents of this article do not take into consideration your individual investment objectives so consult with your own financial adviser before making an investment decision. Investing includes certain risks including loss of principal.