This article covers our analysis of the big news and price moves in the basic materials sector last week, evaluating them for buy and sell ideas.
Overall, the basic materials sector SPDR Fund (NYSEARCA:XLB) ended up 0.4% for the week, the only sector SPDR that managed a gain amid the market onslaught last week. However, the relatively unchanged index for the week masked a volatile week in which the $XLB made 5% up and down daily moves for three of the five days.
Buy Molycorp Inc. (MCP): MCP is engaged in the mining and processing of rare earth ores at the mountain pass facility near the CA/NV border. The rare earths are critical inputs in existing and emerging applications, including: clean energy technologies, such as hybrid and electric vehicles and wind power turbines; multiple high-tech uses, including fiber optics, lasers and hard disk drives; numerous defense applications, such as guidance and control systems and global positioning systems; and advanced water treatment technology for use in industrial, military and outdoor recreation applications. It was among the strongest net gainers, up 8.8% in a very volatile week, after reporting a blockbuster June quarter report on Thursday after the market closed.
If you thought MCP was a buy before, as we did, you should be flocking to it after Thursday's June quarter report. Profits jumped to 52c, trouncing analyst estimates of 39c, on the back of a 212% year-over-year increase in production volume at its Mountain Pass facility, a 314% year-over-year increase in rare earth alloy prices, and the inclusion of two new subsidiaries that MCP acquired last quarter.
While in the long-term, rare earth prices should stabilize as more production worldwide comes online, in the short-term prices are squeezing upward based on the stranglehold that China, the largest producer and consumer of rare earths, has on production and exports. Furthermore, during the conference call on Thursday after the market closed, the company announced that it signed a three-year major supply agreement with Hitachi Metals that significantly increases the volume committed to Hitachi than under the previous agreement.
Subsequent to the quarter report last Thursday, analysts have already bumped up their earnings estimates for 2012 to $4.41 from $3.86, so that at Friday's closing price of $58.90, MCP trades at a very cheap 13 forward P/E, while profits are projected to explode from 54c loss in 2010 to $1.80 earnings in 2011 to $4.41 in 2012. We believe that MCP is an attractive buy here based on its compelling valuation, astounding growth, and the outperformance relative to estimates that it exhibited in the June quarter.
Sell Avalon Rare Metals Inc. (NYSEMKT:AVL) and Rare Element Resources (NYSEMKT:REE): AVL is a Canadian company engaged in the exploration and development of rare metals and minerals. Its primary asset is the Nechalacho Rare Earth Element Deposit located in the Northwest Territories, Canada. REE is a Canadian company engaged in the acquisition and exploration of gold and rare-earth elements in North America. AVL shares rose 7.0% during the week, after a 21.8% plunge the prior week; REE shares rose 6.1% during the week, after a 14.7% fall the prior week.
The fall in AVL shares during the prior week was on account of the company selling 7.1 million shares, at 7% dilution, and a poor earnings report in which they missed estimates. We believe the rise last week in AVL as well as its peer REE was just in sympathy to the strong report from fellow rare earth producer MCP. While there is some logic to the move as the price increase in rare earths also translates to a higher value of the assets of AVL and REE, both of these are still in development stage and with the outlook for rare earth prices more uncertain in the longer-term we see no reason to load up on AVL and REE at this time, and would sell them here and instead load up on MCP.
Buy Patriot Coal Corp. (PCX): PCX is a leading coal exploration and production company in the Eastern United States, with 14 active mining operations in Appalachia and the Illinois Basin. Its customers include electric utilities, industrial users and metallurgical coal customers, and it controls approximately 1.9 billion tons of proven and probable coal reserves. Its shares were down strongly on Monday and Tuesday, and then rebounded to close up 0.6% for the week.
The slide in PCX started after the company reported a disappointing June quarter almost three weeks ago on July 26th in which it missed analyst earnings estimates (14c loss versus 7c profit), and guided down for the September quarter. The slide was exacerbated, and I would add unreasonably, on fears of global recession, the dreaded second-dip, and the effect that would have on worldwide energy demand.
Well, as we now know, the sky did not fall, the U.S. did not go into default, and other than the S&P downgrade of the US credit rating, there was no other meaningful impact of the drama in Washington last month. We are back where we started, and still need to solve our entitlement and revenue problems, but it is doubtful that it will push us into a double-dip recession or even a meaningfully slower recovery (more than a rounding error in GDP numbers) than what would have happened without the crisis last month.
Indeed, one can argue that with the attention squarely focused on resolving our debt crisis, we are closer to solving it and should be more optimistic about the long-term health of the U.S. economy than we were before.
Whatever your belief maybe, it is difficult to make an argument for a global recession based on the crisis in Washington last month, and as a result the catastrophic drop in the price of PCX over the last two weeks seems overdone. PCX now trades at a forward 8 P/E while the coal industry is at the beginning of a long-term super-cycle driven by economic growth in China and India that should move forward regardless of the crisis in Washington. That should lead to higher demand, prices and profits for PCX and its peers, especially those also involved in metallurgical or "met" coal. We continue to stand behind our earlier recommendation for a buy on PCX.
Buy Peabody Energy Corp. (BTU): BTU is largest private-sector coal Company, and provides 2% of the worldwide and 10% of U.S. electricity. It is engaged in coal production and sale through 28 operations in the U.S. and Australia. Its shares were up 2.9% for the week, after suffering a crippling 10.5% loss on Monday on top of an 18.4% plunge the prior week.
We believe that like in the case of PCX, shares of BTU have over-reacted to the downside on fears of another global recession. In the latest quarter reported on July 19th, BTU beat earnings ($1.11 versus $1.06) and guided in-line for 2011. It trades a forward 8 P/E, at the bottom third of its historic P/E range, while earnings are projected to increase from $3.09 in 2010 to $5.86 in 2012 at a compounded 38% growth rate.
We believe that fears of the dreaded double-dip are overblown, that demand for coal worldwide and especially from China and India will continue to be strong upside drivers to coal prices, that we are at the beginning of a long-term super-cycle in coal, and the impact of this on BTU, PCX and their peers will continue to be positive going forward. We would be buyers here, adding in stages as the price dips back to the low- and mid-$40s.
Buy Arch Coal Inc. (ACI): ACI is one of the largest coal producers in the U.S., engaged in the production of steam and metallurgical coal from surface and underground mines. Its shares dropped 14.8% on Monday on top of a 16.8% plunge last week, but closed the week down by only 4.6%. There was no company-specific news recently that could have accounted for the decline; rather, its shares were weak in the last two weeks due to the same global recessionary fears as explained above in the case of peers PCX and BTU. We believe that shares have over-reacted to the downside, and are getting set up for a strong rebound.
At Friday's closing price of $20.32, ACI trades at forward 5-6 P/E, at the bottom of its historic P/E range just as earnings are set to explode upwards from $1.14 in 2010 to $3.76 by 2012 at a compound growth rate of 82% as we are at the beginning stages of a long-term super-cycle in coal based on worldwide demand, especially from the emerging economies of China and India. It seems that Wall Street analysts would agree with us as they have a mean price target of $37 on the stock, well above the current $20.32 price; and of 25 analysts that cover ACI, fifteen rate it a buy/strong buy, nine rate it at hold, and one rates it at underperform.
Yamana Gold Inc. (NYSE:AUY): AUY is a Canadian company engaged in the exploration and development of gold properties in South America and Mexico. It was up a strong 12.2% last week, as the price of both gold and many of its peer in the gold mining industry shot up as the market went through a highly-volatile period over the last two weeks due to uncertainty on how the debt negotiations in Washington would affect the overall U.S. as well as the global economy.
AUY recently reported its June quarter report about a week and a half ago on August 3rd, in which earnings beat estimates (25c versus 24c), and revenue also came in above estimates ($573 million versus $560 million). Its shares initially fell on the report, but are up strongly in the last six trading days.
At Friday's closing price of $14.83, it trades at forward 13 P/E, about mid-range based on its historic P/E range while profits are expected to jump at a 39% compounded growth rate from 59c in 2010 to a projected $1.14 in 2012. Furthermore, analysts have a price target of $17; and of the eighteen analysts that cover the company, sixteen rate it at buy/strong buy and two at hold.
General Note
This article is part of our daily and weekly coverage analyzing the top movers for top buy and sell ideas. You can access the rest of our daily, weekly and quarterly mover series from our author page, and if interested, you can also click on the "Follow" button in the left pane to receive notification of our future articles on this and other topics.
Table (click to enlarge image):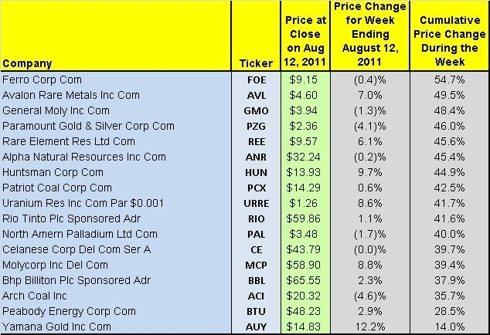 Please note that the cumulative price change referred to in the last column of the Table above is used here as a measure of volatility to determine big movers in the group. It equals the sum of the absolute value of the change in daily prices. So, for example, if a security had price moves of 2%, -3%, 4%, -6% and 1% during the five days of the week, the cumulative price change during the week would be the sum of the absolute values of the daily price changes, which in this case would be 16%.
Credit: Historical fundamentals including operating metrics and stock ownership information were derived using SEC filings data, I-Metrix® by Edgar Online®, Zacks Investment Research, Thomson Reuters and Briefing.com. The information and data is believed to be accurate, but no guarantees or representations are made.
Disclosure: I have no positions in any stocks mentioned, and no plans to initiate any positions within the next 72 hours.
Disclaimer: Material presented here is for informational purposes only. Nothing in this article should be taken as a solicitation to purchase or sell securities. Before buying or selling any stock you should do your own research and reach your own conclusion. Further, these are our 'opinions' and we may be wrong. We may have positions in securities mentioned in this article. You should take this into consideration before acting on any advice given in this article. If this makes you uncomfortable, then do not listen to our thoughts and opinions. The contents of this article do not take into consideration your individual investment objectives so consult with your own financial adviser before making an investment decision. Investing includes certain risks including loss of principal.