The following analysis is a valuation of St. Jude Medical (NYSE:STJ) using an economic profit model, a primer on which can be found here.
To begin, the company's operating segments are detailed while also analyzing recent operating performance.
Next, the company's adjusted financial accounts and market capitalization are presented leading to a reference valuation scenario. A number of alternate scenarios are considered given variations in assumptions about growth, returns on capital and liabilities.
After integrating a forward looking view of the company's position, an investment conclusion is formed.
Corporate Description and Operating Performance
St. Jude operates in four business segments, which the company combines into two for reporting operating income as shown in the table below:
click on image to enlarge

Cardiac rhythm management (CRM) is St Jude's largest operating segment and the most mature piece of the portfolio. Products include implantable cardioverter defibrillators (ICDs) and pacemakers. Overall market growth in terms of volume is mid-single digits, while prices are falling high single digits leading to a slightly declining market. St. Jude reports that it is taking a small amount of share currently.
Grouped with CRM is the neuromodulation business due to the similarity of the technology. These devices send electrical signals to control pain in spinal and other injuries. A number of other proposed uses for the devices are undergoing trials and the underlying growth rate is high single digits.
The cardiovascular segment has grown through a number of acquisitions in recent years including the acquisition of AGA Medical in late 2010. The segment contains a large number of products such as vascular closure devices, heart valves and pressure management guidewires. The company is also developing imaging technology to analyze the heart and vascular system more effectively which is an area of future growth. The segment currently is showing strong results for St. Jude with over 20% growth.
Similarly, the atrial fibrillation business is also growing strongly for St. Jude at over 15%, with the company taking several points of share. Products include electrophysiology introducers and catheters, navigation and recording systems and ablation systems. The segment is primarily geared toward selling products to perform ablation procedures which treat heart arrhythmia. Looking at the company's segments in whole, investors would be safe in tagging St. Jude as the "The Heart Company".
Gross Income
The following table lays out gross income assumptions for the reference valuation scenario: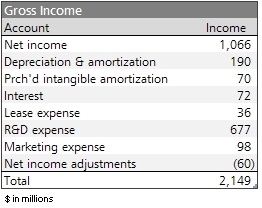 Net income of $1,066 million works out to $3.24 per basic share excluding interest income. The reference period is the twelve months starting Q2 2011 through Q1 2012and relies on management guidance for Q# 2011 and analyst estimates minus a couple cents for Q4 2011 and Q4 2012. The small deduction from analyst estimates is to control for asset additions – the object at this stage is to calculate what the company makes on its current asset base.
Two adjustments have been made to net income which are broken out separately at the bottom of the table. First is the impact of H.R. 4872 [111th]: Health Care and Education Reconciliation Act of 2010's 2.3% medical device excise tax coming into effect in 2013. A $25 million per year after income tax impact has been modeled based on the company's U.S. based revenue and an incidence of tax of 50% which contemplates that the company may be able to raise prices marginally in the wake of the excise tax.
In addition, it is likely that at least a portion of St. Jude's U.S. sales are not subject to the excise tax which serves as a buffer to the estimate. The second adjustment is a normalized restructuring expense of $35 million per year. St. Jude has a long history of such expenses and they should be considered a normal part of its operations.
The remaining elements of gross income are straightforward consisting of the cash flows which support various assets and liabilities including current R&D expense, depreciation and amortization and interest expense.
Invested Capital
As the table below highlights, the company's largest portion of invested capital is in technology development which includes R&D and the majority of purchased intangibles: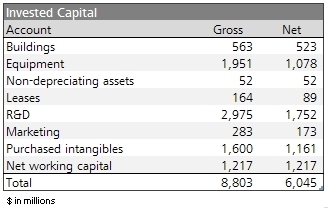 The most meaningful adjustments compared to the company's reported accounts are in the capitalization of R&D and marketing, which also impacts purchased intangibles because some of those expenses are used to recapitalize the purchased intangibles account in the model.
Market Capitalization
The table below shows the current market capitalization of the company, with the equity trading at $41.96: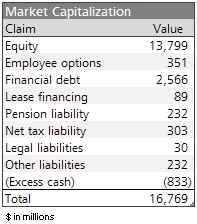 Non-traded obligations (pensions, tax, etc.) are a relatively small piece of firm value and very few adjustments have been made. The company does have some $400 million of other unidentified long-term liabilities. The model estimates half of these are obligations worth considering in firm value and they show up in other liabilities in the table along with warranty accruals.
Valuation and Scenario Analysis
The following table details the internal rate of return (IRR) calculation used to determine the company's returns on capital: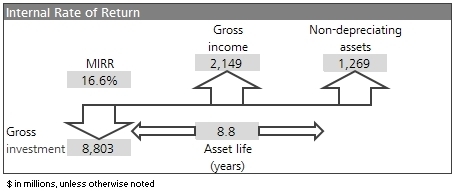 The company's IRR is 20.1% with a reinvestment rate of 13.6% which assumes about half the company's gross cash flow can be reinvested at the IRR. That leads to a modified IRR (MIRR) of 16.1%. A 20% IRR is relatively high compared to the cost of capital and over the long-term it would be expected that returns would fade somewhat. This is a company where internal investment performance must be monitored closely.
The following table summarizes a number of scenarios with further explanation following:

Reference Case
Due to large increases in investment over the past several years, particularly in R&D, the company's reference valuation is reliant on some amount of growth in income. For returns on capital to remain stable, and hence the valuation to remain the same, income will need to grow by about $50 million per year for at least the next few years based on increasing capital invested in R&D alone. Adding increased investment in other parts of the business, the growth expectations are likely higher by another $10-20 million. If this growth does not materialize, it's likely that St. Jude would pare back R&D and other spending and therefore the valuation impact could be lessened.
Additional Growth
If the company can grow in excess of the embedded growth assumptions described in the reference case, the shares will warrant a higher fair value as shown in the table above.
Sharp Decline in R&D Productivity
With the embedded growth expectation in the valuation of the stock highlighted in the reference case, it is worth looking at a hypothetical valuation where income does not increase to support all the recent investment. It is very unlikely that no additional income will be created and that should additional income not materialize that the company will not make adjustments to its cost structure; however, it is useful to detail the hypothetical nonetheless. The value in the table above assumes the company adds $1.5 billion of gross capital with no increase of income. This should be viewed as more than a worst case scenario for declining returns on capital, but does highlight the importance of growth for St. Jude.
Product Liability Contingency
To be clear from the outset, there is no indication that St. Jude has any current product liability issues. However, the lesson of Boston Scientific (NYSE:BSX) is that the medical device business has litigation risk and ignoring it in valuation won't make it go away. Given a potential cost of $2.5 billion and a probability of 20% over the company's asset life, a hypothetical $500 million current liability is applied to the company implying a slight reduction of value as shown in the scenario table above.
Repeal of Medical Device Excess Tax
Given today's large budget deficits and the recent downgrade of the U.S. sovereign debt rating, it looks increasingly unlikely that the medical device makers will gain relief from new taxes scheduled to begin in 2013. However, in the event of repeal, the company will be able to avoid at least $25 million of new taxes and should enjoy a slightly higher equity valuation as shown in the table above.
Market Implied Economic Profits
With the stock trading under fair value it's useful to look at what the market may be implying about the future of St. Jude. Typically, in a case of undervaluation either the market expects income to fall or investment to rise without a compensating increase in income. It is more likely in this case that the market is discounting a fall in returns on capital due to increased investment leading to a reduction of about one percentage point in the MIRR from 16.6% to 15.5%.
Sensitivity Analysis
The following table shows the value of equity at various net income levels (excluding net income adjustments):

Investment Conclusion
Given the scenarios laid out, I am comfortable with the stock right around the reference valuation level. This leaves some upside for additional growth while realizing that the company has some hurdles in front of it in terms of realizing returns on recent investments with some of the company's markets showing very slow or even slightly negative growth. It also leaves some room for error in the case of a mishap on the product liability front.
I am constructive on the markets the company operates in due to the aging of the population and the ability to apply technology to increase lifespan. I think the developed world population puts a high priority on quality and quantity of life and will petition governments through the ballot box to continue to support medical spending as well as spending their own dollars. In addition, the developing markets will increasingly be able to pay for advanced medical technology.
I would not consider St. Jude's stock cheap although it is trading at about a 5% discount to fair value. No valuation process can be precise enough to peg value within 5%. However, I do believe St. Jude is fairly valued which implies it should provide equity-like returns in the future.
Disclosure: I am long STJ.