With the recent panic selling, there were a myriad of companies that fell below their 200-day moving averages, but one value name that shines among them all is Walter Energy (NYSE: WLT). This is not your typical coal company; it is a metallurgical coal company, although it does produce steam coal as well.
After snagging up Western Coal Corp for $3.3 billion, Walter Energy became the 5th largest metallurgical coal producer as the global shortage for the commodity had substantially increased. Investing in coal companies that are exposed to the infrastructure arena is a great way to hedge against volatile price swings in the energy sector.
Investors dumped shares of WLT relentlessly on August 4th after the company missed its earnings followed by an analyst downgrade at Keybanc. Honestly, I do not understand what valuation methods they have used to justify the downgrade, but I can tell you that my discounted cash flow analysis model shows a valuation of at least $95 a share. Walter Energy is a no-brainer at these oversold levels. Take a look at the relative strength index which actually hit 20 (oversold level) few days ago. This hasn't happened since 2009.
click to enlarge image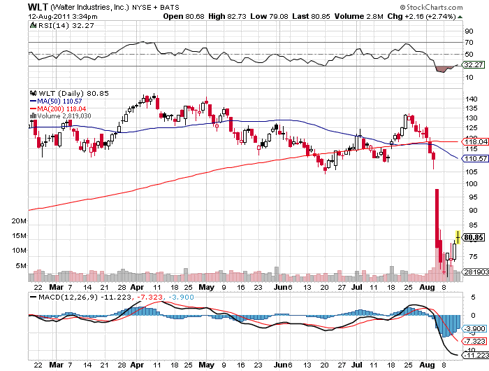 I'm not big on technical analysis, but I do know that hedge funds keep a close eye on the 50-day moving average, which right now stands at $110.59. WLT is currently trading at $81.47 (+3.55%), which is still a significant amount below its 200-day moving average of $118.05. When the 50-day moving average ($110.59) crosses below its 200-day moving average ($118.05), then I look at that as an indication of increased volatility in the short term (not necessarily a bearish one). As I am finishing this article, I noticed the RSI creeping up towards 33 (still oversold), as traders are slowly dipping their toes into the stock again.
My long term outlook on the company is very bullish, as I see the steel demand in China and Brazil reaching new heights as well as the metallurgical coal shortage that both countries are experiencing. Analysts have a "HOLD" on the stock, but I'm expecting that rating to change to a "BUY" very soon.
Disclosure: I have no positions in any stocks mentioned, and no plans to initiate any positions within the next 72 hours.