Outlook: Many pundits are proclaiming we're heading for a "double dip" recession. For many Americans the first one never really ended. The National Bureau of Economic Research which is the official arbiter of economic cycles dates the most recent trough as June '09.
Back-to-Back: The last back-to-back recessions were the recessions of 1980 and 1981-82. The peak of the first recession was in Jan '80 and the trough was six months later in July '80. The subsequent peak was in July '81 with the economy bottoming in Nov '82, 16 months later.
Stock Market Response: The stock market peaked in Nov '80 and it continued to decline through the first recovery only to bottom in August '82—a full 21 months from its previous peak. It appeared to have ignored the 2nd half recovery of '80.
With history as a guide, the peak-to-trough economic declines average 11 months. The most recent stock market trough was in March '09, preceding the economic trough by four months. Currently high yield bond spreads are flashing a warning sign regarding the economic outlook. If a recession is in our future, we'll likely get your typical difficult September and October period (albeit, last year was different) and possibly a happier spring for investors in '12.
CEF Weekly Review: On average the 13 closed-end fund (CEF) types registered a share price decrease of 0.8% for the week ending 8/12/11. The high-low spread registered this week was +5.3% versus an unusually wide 8.7% the previous week on an average price change of -0.8% versus -3.0%, respectively. On an aggregate unweighted basis, the weekly average price change for the 600 plus CEFs in the GrowthIncome database was down 0.5%.
The PowerShares CEF Income Composite (NYSEARCA:PCEF), an ETF that invests in taxable income CEFs, slipped 0.5% for the week. The S&P 500 experienced its wildest week since the financial crisis in '08 but managed to end down only 1.7% after experiencing a 7.2% loss last week. Despite two back-to-back winning sessions ending the week, the twin concerns of a double-dip US recession and the continuing eurozone debt crises haunts global the equities markets. The S&P 500 is now solidly in the red YTD with a 6.3% decline.
The Eqcome CEF Fear Index eased for the week on the downside. The average CEF unweighted price declined 0.5% and the related NAV decreased 1.7%. The VIX continued to tack on increase after two weeks of surges. The VIX increased 11.6% to 36.69.
CEF Weekly Fund Type Performance: Fund type dispersion was evident in the price performance of CEFs this week reflecting the extreme volatility in the equity markets and reflective of investor confusion.
[Click to enlarge]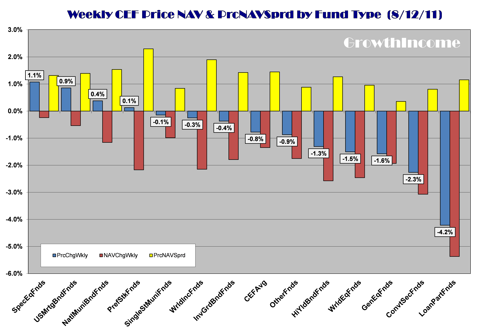 The downgrade of the U.S. credit rating by S&P the previous Friday sent the Treasury yield down but it didn't necessarily flow-over to the lower yields fixed income yields off the treasury curve. In fact, junk bond spreads over treasuries is now in the 700-to-750 basis point range compared to 20 basis points or below in the most previous recessions.
The mistake most investors made, including this one, is assuming that treasuries were investments as opposed to an insurance policy in times of distress. Consequently, normal considerations of spreads off the treasury have less time-series comparability.
One of the more interesting observations in the fund type price movement is the divergence in performance of SpecEqFnds versus GenEqFnds. SpecEqFnds benefited from price appreciation in energy/natural gas CEFs ( Kayne Anderson MLP Investment Company(NYSE:KYN), Kayne Anderson Energy Total Return Fund, Inc. (NYSE:KYE), Energy Income and Growth Fund (NYSEMKT:FEN) and The Cushing MLP Total Return Fund (NYSE:SRV)). On the face of it, this would appear counter-intuitive as such commodities would likely be negatively impacted by any economic slowdown. Both SRV and FEN will be going ex-dividend in the next two weeks.
Another curious phenomenon is that NAVs dropped greater than prices. This may signal a change in momentum as prices typically move more quickly than NAVs or that prices are not reflecting the underlying reality of the assets. Economic & Earnings Outlook: (Click here for next week's economic calendar; click here for earnings' announcements and estimates.)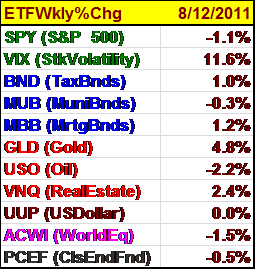 ETFs: For a more detailed EFT performance by sectors, click here.
Insider Trading: Insider trading in CEFs picked up materially during the first full week of August. There were 28 CEFs that reported insider trading activity up from 2 the previous week.
There were several large insider transactions in the CEFs. Ares Capital Corp (NASDAQ:ARCC) directors and officers purchased $2.6 million shares of stock. Michael J. Arougheti, president, purchased 100,000 shares at an average share price of $13.88 per share. This brings his total holdings up to 228,679 shares.
William H. Gates, III, of Microsoft fame, continued to buy shares of Western Asset/Claymore Inflation-linked Opportunities & Income Fund (NYSE:WIW). Mr. Gates, already a 10% owner of WIW, added another 203,036 shares at an average price of $12.62 per share increasing his combined holdings to 7,404,840 shares.
The CEO and a director, Charles M. Royce, of TICC Capital Corp (NASDAQ:TICC), acquired in the aggregate 87,078 shares at an average price of $8.59 per share. Mr. Royce accumulated 77,078 shares of that total and currently holds 338,432 shares. Robert M. Ettinger, The president of Flaherty & Crumrine/Claymore Total Return Fund (NYSE:FLC) purchased 28,400 shares reported in 19 SEC filings at an average share price of $15.92.
Daniel R. Omstead, president of both H&Q Life Sciences Investors (NYSE:HQL) and H&Q Healthcare Investors (NYSE:HQH) purchased approximately $100,000 shares of each.
CEF Distribution Announcements This Week: The following is a link to a table of CEF distribution announcements this week as well as the previous week's with yet expired ex-dividend dates. The list is not intended to be inclusive.
Joe Eqcome (Owns a diversified portfolio of CEFs and ETFs and is long stocks in the CEFBig10™, CEFMuni10™ and CEFDisc10™.)
The first is a balanced equity-income portfolio (CEFBig10™), the second a tax-exempt income portfolio (CEFMuni10™) and the third a portfolio whose objective is capital gains with a secondary objective of current income (CEFDisc10™).
---
[*] All things being equal, price and NAV should move in tandem. A price movement greater than the NAV generates a positive PrcNAVSprd and may be interpreted as negative on a near-term basis and indicate that the stock is overvalued relative to its NAV which in theory is the stock's intrinsic value. The opposite would be true for a negative PrcNAVSprd.
---