When people talked about penny stocks, I used to think about junior mining stocks. Now I think about green energy stock. A great example is the manufacturers of lithium batteries. Shares in lithium battery maker A123 Systems (AONE) were up 45% for the day. What' so exciting?

General Motors (GM) has awarded a production contract to A123 Systems for lithium ion batteries to be used in future GM electric vehicles to be sold in select global markets. How big is the contract? We don't know. What are the specifics? We don't have any idea. Quoting GM:
GM is committed to offering a full line of electrified vehicles - each of which calls for different battery specifications

[...]

We work with a variety of battery developers and A123's advanced Nanophosphate lithium ion technology offers ideal performance capabilities for a future electrified vehicle application.
At least with mining stocks you usually have an estimate of how much metal is in the ground, how much it is sold for, and how much it costs to extract it from the ground. With GM's announcement, we have no idea about the contract details. Nevertheless AONE's market cap jumped about 45% by noon.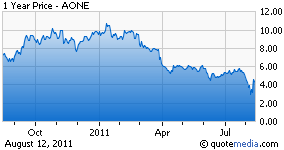 Is This Rational Behavior?
We mentioned in an earlier related article, that many people have no idea what price they should pay for a stock. Some rely on the "greater fool theory" in which they assume that no matter what they pay for a stock, someone else will come along and pay even more. This worked brilliantly in 1999, and in house prices until recently. Some look at simple metrics like P/E ratios, but companies like A123 have no earnings, and probably will not have any for the next couple of years.
Company Background
A123's revenue is mostly derived from the sale of batteries and battery systems. In the June, 2011 quarter A123 has an operating loss of $52.9 million on $36.3 million in revenue. For the six months ended June 30, 2010 and 2011, product revenue represented 75% and 83% total revenue, respectively.
For the six months ended June 30, 2010, our two largest customers during the period accounted for approximately 32% and 11% of our total revenue.
Growth
Per the company's SEC filing:
"We anticipate revenue for the full year 2011 will grow 100% from 2010 revenue, primarily related to two of our significant customers transitioning into production during 2011. Further, we anticipate the number of transportation programs in production to at least double over the next two years. However, for the foreseeable future, we expect a significant portion of our revenues will continue to come from a relatively small number of customers."
Financing
On the positive side A123 has had some remarkable levels of government support, plus some ability to raise new common share capital. For example, in December 2009, the Company entered into an agreement establishing the terms and conditions of a $249.1 million grant awarded under the U.S. Department of Energy ("DOE") Battery Initiative. Other funds are being made available to A123 under government loan agreements and forgivable loan agreements.

Valuation
At VineSecurityJournal, we like to focus on smaller technology companies that have the ability to grow rapidly and provide a big upside. We've developed a model that takes basic inputs: current revenue, revenue growth, net profits and we discount future profits based on a risk profile.
Most of the battery manufacturers have been beaten up badly in the past year. AONE's stock price has dropped from $9.86 to the $4.00 since the beginning of the year. Is the stock fairly priced now?
We've worked our usual stock valuation model backwards to find a scenario that would justify buying the stock at current prices.
Here are some rough assumptions we've made:
Revenue grows 75% per year for the next 2 years.
Revenue grows 25% per year for the next 10 years after that.
Net Income is -100% for the next 12 months, -50% for the year after that, and 10% of revenue for the long term.
Financing activities have a neutral effect (not dilutive).
If those assumptions were to come true, our model would say that the stock is worth about $5.50 But are those reasonable assumptions? If you are familiar with the phrase "priced to perfection", you might say that AONE's these assumptions fits that description. If sales do grow as assumed above, A123 will be about a $ 3 billion company in 12 years. Plus the company has to go from losing tons of money to making 10% of net profit (not easy for anyone in the auto components business).
This assumes that many things go swimmingly. There are some factors that make this a high risk stock.
They only have two customers, and the departure of one of them would severely impact their prospects
Production ramp up needs to be timely, efficient and effective
Electric vehicle demand may not live up to expectations
AONE's type of technology might become unpopular
Lithium price and availability could be an issue
The competition must be consistently beaten
The big automakers could beat up AONE too much on pricing.
With these risks, the assumptions sound very likely to happen. What does 12 years of 25%+ growth mean? For the next 12 year revenue needs to grow from current rates to about $3 billion per year. Also, is 10% net profit likely? It could be challenging given that AONE would be selling to a relatively small number of buyers who have strong negotiating power. Maybe none of these risks will end up being a showstopper, but what are the odds that things will be so perfect for 12 years?
The GM 45% uptick is history. Can you make money being the guy who comes in AFTER the uptick? You be the judge, but if I owned this stock, I'd be looking for that greater fool soon. If there was a lot more transparency about contracts, profitability, and timing, I might feel a lot more comfortable.
Summary
If you believe that 25% or higher future growth at 10% net profit is not just possible, but almost certain, then this is a stock for you. For our money, however, we don't believe in buying a stock that seems priced to perfection, particularly not in the skittish markets we have today. We'll pass this one up for the moment.
Disclosure: I am long OTCPK:ABAT, XIDE.