Things have been oddly quiet since Netflix's (NASDAQ:NFLX) post-price hike earnings report and conference call. It's anybody guess as to why silence emanates from Los Gatos, but there's certainly lots going on. Let's consider what's happening and what it means for Netflix, the company, and NFLX, the stock, going forward.
Forbes reported that content acquisition costs for Netflix "may increase." On the surface, that's some shockingly obvious analysis. However, it was nice to see Seeking Alpha's Trefis toss out some numbers:
Netflix's deal with Epix in 2010 has added additional $200 million of annual content acquisition expenses for the company for the next 5 years. Netflix has also signed deals with CBS for both national and international streaming. We expect that Netflix will sign many more similar deals over the course of the next few years that will add to expenses.

In addition to this, Netflix is stepping up and looking to acquire exclusive rights to new shows with the first and the only example so far being House of Cards. Exclusive acquisition will cost even more. Consequently we expect Netflix's content acquisition costs to increase past 30% of revenues by end of our forecast period. This is a necessary investment as streaming adoption has been very encouraging in the U.S. and Canada and will provide a strong base for further expansion.
As usual, it's pretty tough to piece together how all of the parts (various content deals) come together to form the whole (exponentially rising content acquisition expenses). What we know is that the magnitude of the costs is nothing short of profound. A multi-billion dollar juggernaut like CBS has been unable to stop itself
for months
from talking about how Netflix now provides
the ultimate kick to its bottom line
.
Price Hike Impact
In that Forbes piece, Trefis adds to the Netflix echo chamber:
On the surface this might look a huge jump but the increase in these costs will be accompanied by declines in DVD related costs such as the costs of revenue sharing, postage & packaging costs and DVD shipment center costs.
Before Netflix even expanded on the reasoning for its price hike past the blog post that served as the announcement, the media made the assumption that DVD shipments would decline as customers would move to streaming, despite the inferiority -- both in size and selection -- of the streaming offering versus DVD. The company later confirmed what it and everybody wants to believe so badly: DVD will take a backseat as customers flock, by and large, to streaming only and the streaming/DVD combo and a few stragglers go DVD-only.
[Click all to enlarge]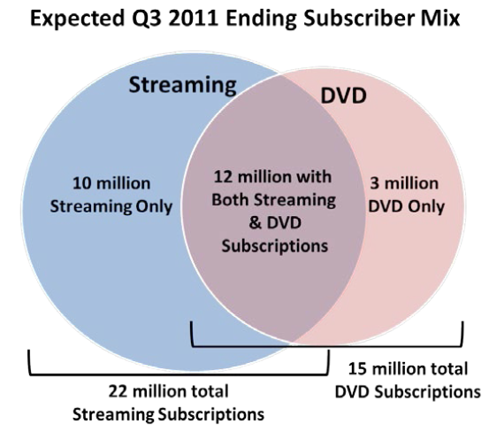 From the Netflix Q2 2011 Letter to Shareholders
I think everybody who uncritically accepts this projection as gospel as well as Netflix is in for a rude awakening. And Netflix is unclear on the subject as well. If the DVD side of the business will diminish further in significance, why is the company devoting a chunk of its workforce to DVD only? Despite the company's insistence, in the above-linked letter, that it will not divest the DVD unit, I still think I know the score.
In any event, if these projections are off and more people take to DVD shipments than Netlix anticipates, things could get very ugly very fast. In fact, I believe we are about to witness a Research in Motion (RIMM)-like implosion in Netflix stock.
What Netflix has going for it that RIM does not is a savvy and alert management team. Netflix CEO Reed Hastings tempered expectations yet again with the Q2 report. That said, he's taking the gamble of his career by staking the prediction of a $1 billion Q4 on what he anticipates as positive fallout, revenue-wise, from the price hike.
For the last couple of quarters, there's been pressure on Netflix's EPS. I expect the company to continue to temper or lower guidance. A Q4 2011 or Q1/Q2 2012 EPS miss seems inevitable. Remember, it's not only streaming content costs that stress the bottom line, the too much/too fast Webvan-like international expansion costs a ton with no guarantee of any return. Netflix has zero track record in international, even though, oddly, Hastings acts as if it does.
Consider this comment that went unchallenged during Hastings' interview with Kara Swisher at an All Things D conference in June:



And exactly what is Hastings basing this one-to-three international visibility on? It's all so absurd that it's somewhere south of dumbfounding. Put it together and you have a train wreck in the making.
I made the stupid mistake of not shorting RIM while I was doing the play-by-play of the company and the stock's demise. I do not intend to make the same mistake twice with NFLX. Because Q3 will only encompass one month of the impact of the price hike, I intend to proceed with caution. Additionally, because a rising tide tends to lift all boats, NFLX could benefit from the potential return of a bull market after the recent correction. Reality has only just started to catch up with Netflix. Hastings spent the last of his nine lives on the price hike and the effect he predicts it will have -- a record quarter in revenue come year end.
There's no way it's going down like Hastings says. The numbers, the logic and the story ... none of the above add up. RIMM was the short of 2011. That's relative small potatoes to what is shaping up to be the short of the century.
Disclosure: I have no positions in any stocks mentioned, and no plans to initiate any positions within the next 72 hours.
Additional disclosure: I intend to take up a position in NFLX deep out-of-the money March 2012 and/or January 2013 put options between now and the end of the year.