The simplest definition of a Bull Market is a primary uptrend. The primary uptrend that began on March 6th of 2009 is now over. I reported last week, that the Bull was in severe trouble and showed this chart of the Dow Jones Industrial Average (NYSEARCA:DIA) at that time:
[Click all images to enlarge]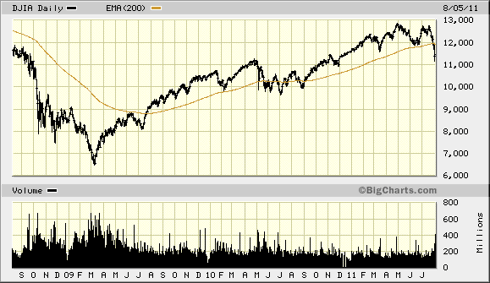 As you can see, the 30 month Bull Market was in severe jeopardy. I also commented on several inverse Exchange Traded Funds that were breaking out to the upside, while the market and many stocks were breaking down to the downside:
Inverse Financials 1:1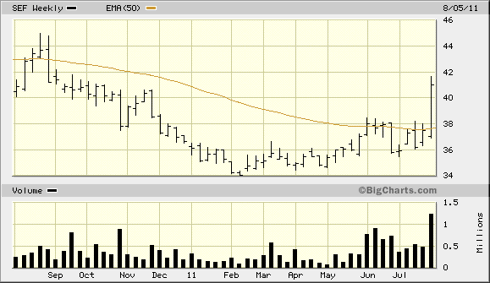 Inverse Emerging Markets 1:1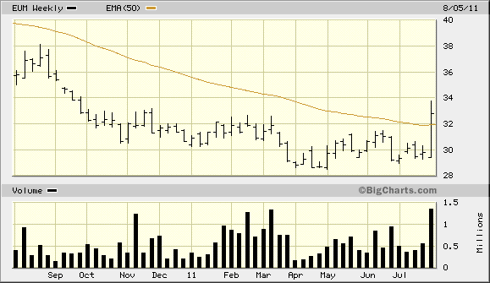 Inverse Europe 1:1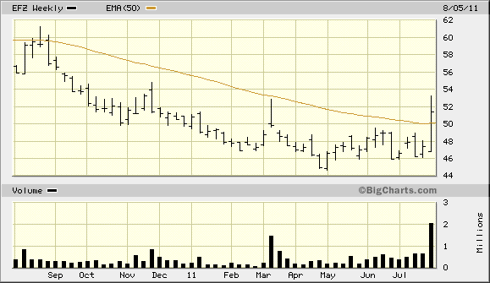 I added these inverse exchange traded funds over the last several weeks to the portfolios that I manage as a hedge against the positions that I owned.
At the same time, I held on to my "A" graded stocks (more on that later) that were holding up well. I was also trimming my holdings of stocks that were not holding up well and dropping from their "A" grades.
Let's now take a look at a chart of the DJIA as of this Friday's close (Aug.13th.):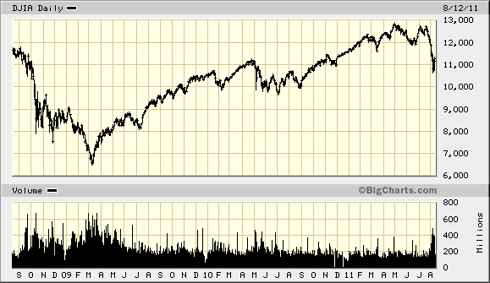 As you can see, after the 640 point drop on Monday and wild week that followed, the primary uptrend or Bull Market is now over. The trend has been broken. The simplest definition of a Bear Market is a primary downtrend. The good news is, that has not happened yet. In addition to this, the average forward PE ratio of the 2,3739 stocks that I follow is currently a relatively low 13.39. The market is fairly cheap right now and many individual stocks are even cheaper.
In my estimation a double-dip recession is about a 50/50 proposition at the current time. GDP has now slipped to 1.3% growth and Europe is also crawling along. Job growth remains anemic and I don't see any grand plans coming from Washington any time soon that will jolt hiring.
The sovereign debt crisis in Europe continues to be a big threat to the global markets and the global economy. It will be very hard for the Emerging Markets to get any traction with the world's economic leaders in trouble. I see a very choppy, sideways market probably until we approach the November 2012 elections. With all of this bad news, what is an investor to do at a time like this?
It would be most unusual for this current market to suddenly turn around and start a new Bull Market. Stranger things have happened, but right now I don't see that in the cards. If it does, I will celebrate and ride it for all it is worth, but let's wait for that to happen first.
I think that it is still prudent to be hedged at this time. I currently have about 15% of my portfolios hedged with the three exchange traded funds mentioned above. They sure eased the pain considerably during the big down days this past week. In addition to this, I am prepared to step up my buying of inversely correlated exchange traded funds, should the situation get worse and a bear market ensue.
What is wrong with making money on the way down? Inversely correlated funds are a wonderful, liquid tool for protecting yourself during uncertain times like these. It seems to me that the financials, the emerging markets, and Europe are still the most vulnerable areas in the global economy.
I would also continue to sell weak stocks, mutual funds, and exchange traded funds. Your big bell-weather stocks like General Electric (NYSE:GE), Cisco (NASDAQ:CSCO), Microsoft (NASDAQ:MSFT), Intel (NASDAQ:INTC), Pfizer (NYSE:PFE), Merck & Co (NYSE:MRK), Home Depot (NYSE:HD), Wall Mart (NYSE:WMT), etc. have performed miserably over the last many years and it does not seem logical that they would all of sudden wake up and become great performers at a time like this, nor at any time in the future.
I am always amazed at how long investors hang on to stocks that are years and years past their prime. Companies have life cycles and you want to own them while they are in the prime of their life. I included 53 stocks that are in the prime of their lives now in my book, Best Stocks Now. That portfolio is ahead of the market by 10% since being published in February of this year.
Plowing into U. S. Treasuries is what the herd continues to do right now. I have never seen the herd to be right yet. Remember, the herd was plowing into the housing market in 2006 and the herd has been avoiding the stock market over the last 2.5 years.
Hanging on to "A" rated stocks that are in the prime of their life and flourishing in this current economy makes perfect sense right now. Here are a few screen shots from my app Best Stocks Now, showing some of my current "A" rated stocks: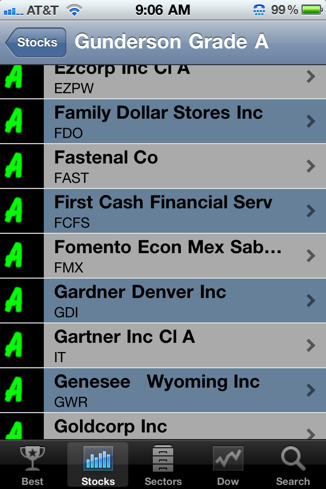 I track 2,739 stocks in my app database. About 8% of this database is currently A- rated or above. I have no interest in stocks that have grades less than this. These "A" rated stocks can remain at the top of the heap for weeks, months, even years.
To achieve an "A" grade they must have as close to 100% or more upside potential over the next five years, be superior performance companies over the last 1, 3, 5, and 10 years (where possible) and have some decent safety characteristics.
Examples of some current "A" graded stocks would be the best way to explain this concept. Let's drill down to several individual stocks listed above and examine why they currently possess an "A" grade: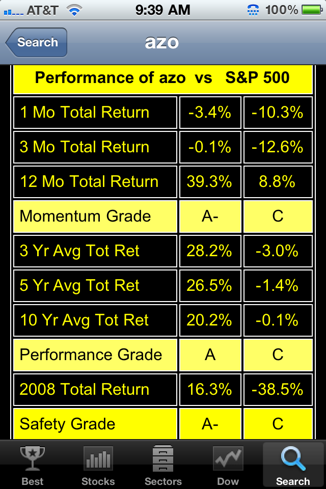 Autozone (NYSE:AZO) has been a magnificent performer over the last 1 year, 3 years, 5 years, and 10 years. It continues to flourish in a bad economy. Autozone was even up 16.3% in 2008! Autozone scores my highest performance grade possible as measured against over 2,738 other stocks.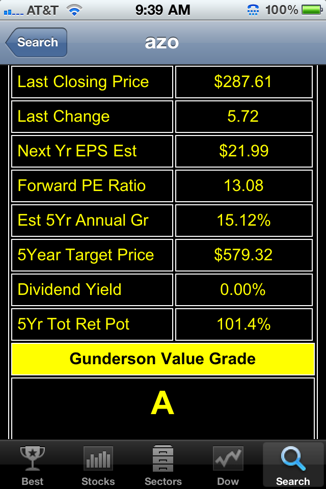 Using valuation formulas that I use as a stock research analyst and as outlined in my article last week, I still show that Autozone has over 100% upside potential over the next five years. This gives it a Value Grade of A. It is also currently ranked number 15 out 2,739 stocks.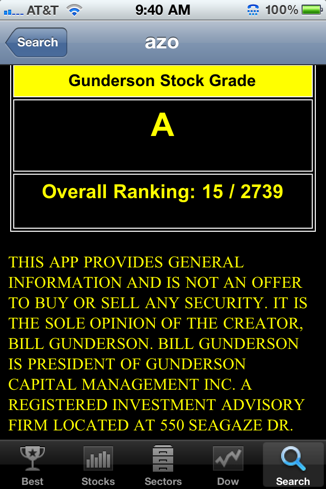 Let's now look at Dollar Tree (NASDAQ:DLTR).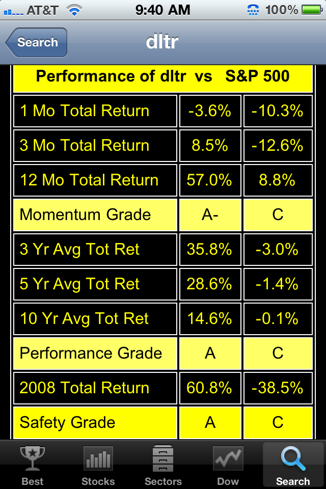 As you can see, Dollar Tree also continues to flourish in a bad economy. The stock has handily beaten the market over the short-term, intermediate-term, and long-term. Dollar Tree was up an astonishing 60.8% in 2008 as the economy weakened. Dollar Tree easily earns a performance grade of "A".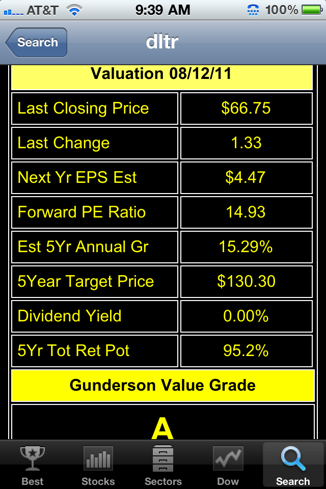 My calculations show that Dollar Tree has close enough to 100% upside potential to earn a Value Grade of A. As you can see, the stock is currently trading at just 14.93 forward earnings.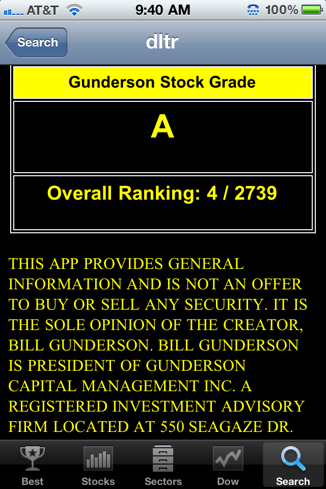 Dollar Tree easily earns an overall grade "A" and is currently ranked number four out of 2,739 stocks.
Let's look at one more, this time a nice dividend payer: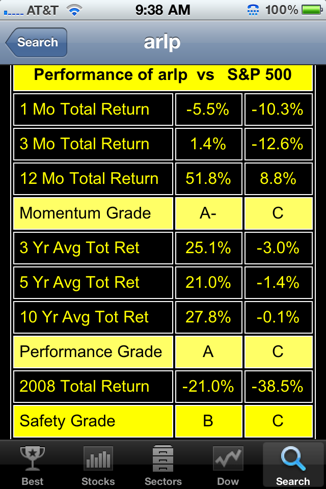 Alliance research partners (NASDAQ:ARLP) is a coal related master limited partnership. It does require a special tax return in a non-ira account. It has delivered great performance over the last 1, 3, 5, and 10 years, however. It easily deserves an "A" performance grade.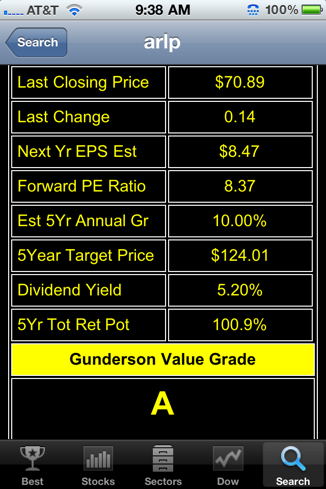 Alliance Resource Partners is trading at just 8.37 forward earnings and pays a nice 5.20% dividend. My calculations show 100% or more upside potential over the the next five years. ARLP easily achieves a Value Grade of A.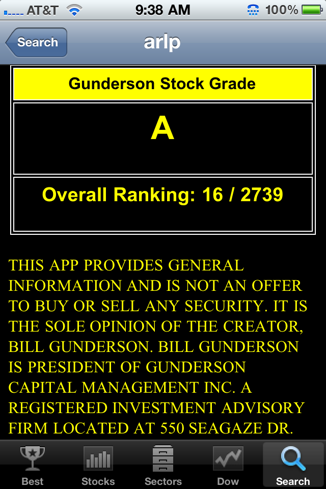 Alliance Resource Partners is another good example of one of the best stocks in the market at the current time. Now lets look at how the technicals of some of these leading stocks in the market have held up:
Autozone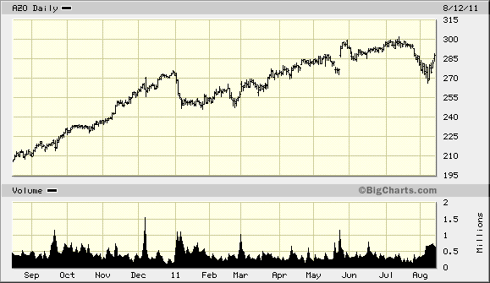 Dollar Tree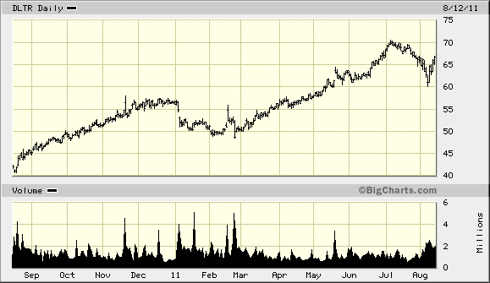 Alliance Resource Partners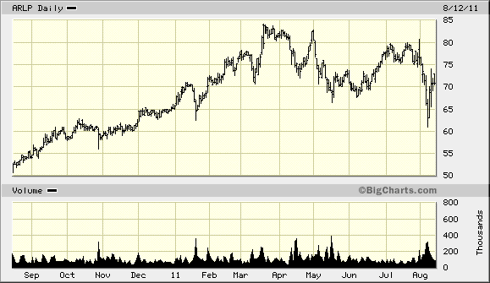 If the charts of the above mentioned leadership stocks begin to breakdown, the economy continue to break down, and the market continue to slide however, then my current opinion of these stocks is subject to change.
The stocks and charts above contrast with mediocre stocks like Goldman Sachs (NYSE:GS) (B-)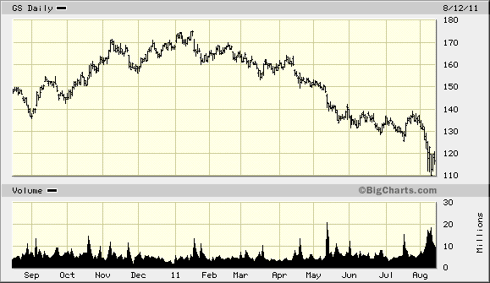 Cisco (B)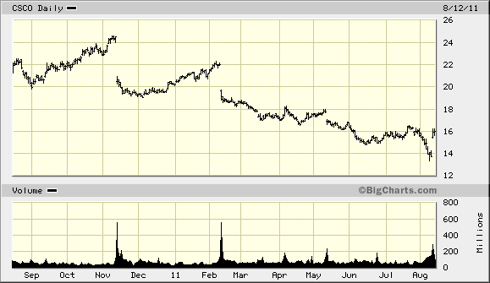 Bank of America (NYSE:BAC) (C+)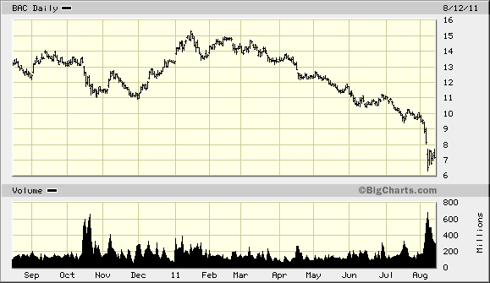 I am sure that the above examples will draw some ire from the pure value investors, but what is wrong with combining value with performance? For more on this subject read the article on the Value vs. Momentum debate that I published several weeks ago.
Trim, prune, hedge, and upgrade as the forecast for the market looks like choppy seas ahead.