Apple (NASDAQ:AAPL) is a unique company due its size ($350B), earnings growth rate (125%), and volatility (1.3β). I have recommended option strategies on Apple since 2010 with tremendous results. For reference, please view the first and other articles in the series to fully understand the strategy and its strong potential returns.
A brief recap of this week in Apple [Up $15.30 (4.2%)]:
The past fortnight was a wild ride for the world economy that saw Apple's stock price whipsaw down $24 then up $15. Yes the economy is uncertain but is there any question that Apple will falter in the long term? Setting aside the macroeconomic events of the week, it is hard to remember a better week of Apple specific news. Not only are Motorola (NYSE:MMI), Samsung (OTC:SSNLF), Google (NASDAQ:GOOG), Dell (NASDAQ:DELL), and Research in Motion (RIMM) lagging Apple but I cannot recall any industry in which there was one company that was so dominant without exerting monopoly power. Apple has the best selling tablet computer that is outselling the next closest rival (Samsung) four-to-one. I cannot stress enough that you need to use this as an opportunity to accumulate Apple at a discount and write calls against your holdings. You will look back later this year and kick yourself for not buying Apple in the 370s. There are also other tremendous trading opportunities that I will elaborate upon below.
Below I present three possible scenarios and the potential returns for the August 20 monthly options (Source: TD Ameritrade). The first scenario represents a negative outlook for Apple while the final two scenarios are more reasonable. These scenarios are just projections and there is no guarantee that they will come to fruition. As a general rule, selling calls with higher strike prices has greater potential return but additional risk of loss due to the lower (or lack of) downside protection. For more information on the fundamentals of covered calls, consult Investopedia.
Additionally, if you would like even more information, I have prepared a sensitivity analysis for absolute return and percent returns, respectively. After studying the information above, these two charts make it easy to pick a strike price based on where you believe Apple will close on Friday.
Due the extreme volatility of the past week I dug even deeper into my bag of tricks looking for a way to make money. It is possible to generate profits in any type of market and you just need to know what kind of trading tool to pursue. I analyzed the weekly performance of Apple for 2011 with a focus on the absolute price change and volatility experienced recently.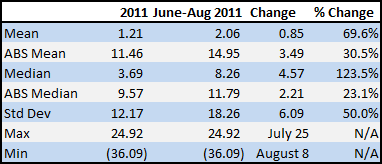 In 2011 the mean absolute value price change was over eleven points and that surged 30% to nearly fifteen points in the second half of 2011. The median absolute value also climbed 23% to almost twelve points. This extreme volatility is encompassed by the fact that only weeks apart Apple had its great weekly price appreciation (25 points in late July) and depreciation (36 points in early August). So how can investors take advantage of this volatility?
With this information, buying an AAPL August 20 (Monthly) 380 Call/375 Put Long Strangle is the optimal risk-return strategy to profit from these extreme price movements. If you are uncomfortable with this strategy I suggest an ordinary buy-write 380s, 375s, or 370s. An alternative approach is to sell out-of-the-money 375 puts and collect the premium without having to purchase the stock outright but even this is quite risky now. Note that if the stock declines to the strike price, you are obligated to buy the stock (or closeout the position).
Disclosure: Author is long AAPL and GOOG; plans to write AAPL August 20 385 Calls.