Giant Interactive (NYSE:GA), an online game developer and operator founded in November 2004, pioneered the free-to-play revenue model in China. The games are developed in the massively multiplayer online role playing game (MMORPG) genre. Its flagship game ZT Online, launched in January 2006, was promptly voted as the most popular online game in China that year. Active paying accounts (APA) for the game climbed steadily until the 3rd quarter of 2008, and then dropped by almost 50%. This precipitous drop in APA and revenue was attributed to the implementation of certain adjustments to the gaming structure that narrowed the scope of monetized features. ZT Online Classic Edition with the original monetization structure was relaunched to lure back some of the lost users. GA also underwent a couple of additional setbacks simultaneously:
Giant Interactive garnered exclusive rights to operate Empire of Sports in China, but the product developed by F4 Group (a French company) was never released. A demo of the product was done first in August 2007, but the reviews were mixed – sluggish interface and buggy.

King of Kings 3, a sequel of the original King of Kings game developed in Taiwan, was released with great fanfare, but the product failed to deliver. GA spun-off the franchise as a new company in late 2010, and sold 71% of the shares and the development team to Huayi Brothers.
Following is Giant Interactive's current product portfolio
ZT Online: Flagship, self-developed, Free-to-Play 2D MMORPG. Following its giddy success in China, the product has been made available in Vietnam and Russia.

ZT Online Classic: A variant of ZT Online released in 3rd quarter of 2008 targeting former ZT Online players.

ZT Online Green: Launched in the 4th quarter of 2009, as the 3rd piece of its flagship game segmentation strategy. This one is aimed at lower spending and non-paying players.

ZT Online II: Sequel to ZT Online, free-to-play 2D MMORPG with a revised economic system. The product is in closed beta testing as of 11/2010, with PCU approaching 200,000.

Giant Online: Launched in 2008, the game is an MMORPG with a modern military theme – time travel from 2060 to the Opium wars of 200 years ago – 14 specialists with futuristic weapons changing the course of history. It has 3D Graphics with intuitive controls, 14 different roles to select, casual game elements, and user-generated content.

XT Online: Launched in the 2nd quarter of 2009 as part of the Win@Giant program, the game is a 3D MMORPG based on the "Journey to the West" tale. It features rich gameplay revolving around the pet system, guild-level PvP (player vs player) activities, equipment upgrades by combining low-quality gears, immortality title, etc.

The Golden Land: The first webgame developed by GA entered first limited closed beta on July 8, 2009. The game features download-free online gaming, and game elements such as scrolling shooter, RPG (Roll Play Game), strategy battle, etc. The story revolves around a medieval knight and his adventures in the mysterious gold land of Europe. This game has a large following in Taiwan and Japan and is currently in internal testing of a localized Portuguese version in Brazil. Release in Korea and Thailand is also in the works.

Dragon Soul: A PvP centric 3D ancient Chinese PK MMORPG developed by R&D team in Chengu, Sichuan. The game features battles among kingdoms on a daily basis, pets and mounts, trade professions, achievement records, large scale battles to seize control of zones, etc. The game is licensed to Neonga AG for release in USA, Canada, and non-Russian speaking European countries.

Allods Online: An award-winning Russian 3D free-to-play fantasy MMORPG game with a science fiction twist. Exclusive operating rights in China were acquired in 2010. The product is under localization currently.

Elsword: 3D side-scrolling, advanced casual MMO game developed by KOG of South Korea. Exclusive operating rights in China were acquired in 2010.

My Sweetie: A pet-raising casual MMORPG that entered closed beta test on May 22, 2009. It features lifestyle elements such as pet raising, wealth management, virtual life, etc. Demographic is 70% female users for this game.
GA's CEO Shi Yuzhu recently fell out of favor among US investors when he defended Alibaba's (OTC:ALBCF) Jack Ma asking Yahoo to part with a large portion of its shares in Alibaba. The language used and the closing remark "… if Alibaba's major equity were still in the hands of Americans and Japanese, China's national secutiry would be affected. … I recommend Jack Ma to be a patriotic hooligan" were especially telling and implies animosity toward American companies. As a NYSE listed company, such remarks will almost certainly impact investor perception.
Business Issues
Giant Interactive (GA) has always been a high-margin and very profitable business with net margins almost always exceeding 60% in the last 5 years. Most of the operational metrics peaked in the 2nd quarter of 2008 with net margins approaching 70%. While the product segmentation strategy unveiled at that time resulted in an immediate dip in revenue of close to 50% it probably helped extend the lifecycle of its flagship game ZT Online. Even so, the choppy nature of Giant Interactive's operational metrics is an issue. Although the Compounded Annual Growth Rate (CAGR) since the company went public shows a healthy figure of 10.5%, the figures paint a dismal picture if the first three quarters are excluded. From the first quarter of 2007 to the first quarter of 2011, the company grew net income from $32.6M to $35M and the net margins declined from 78.2% to 62.8%. As a public company, GA is obligated to let shareholders know of business decisions that could cause disruption in the business, even if such disturbances are expected to be short-term in nature. It is better to manage business smoothly.
GA's business performance is heavily influenced by the performance of its flagship franchise ZT Online. Diversifying to other games, platforms, genres, etc., is mandatory for sustainable growth. The performance of the company's growth strategy is an issue as illustrated below:
Player segmentation: GA's efforts at segmentation have drawn mixed results as indicated by the operational performance of the company immediately following the segmentation initiative with ZT Online (game features and spending preferences were profiled to increase player loyalty and extend game lifecycles).
Launching games of different genres: GA suffered some setbacks during the launch of the games Empire of Sports and the King of Kings. Recently, the company introduced the Casual MMORPG game My Sweetie and the webgame The Golden Land. It also licensed an advanced casual game from KOM (South Korea) called Elsword – it is in localization and set for launch later in 2011. Diversifying into Q-style turn-based games and FPS games are also in the pipeline. This is a work-in-progress and the acceptance of the initiatives should be closely monitored.
Acquisitions and strategic joint ventures: Acquisitions and joint ventures have been only modestly successful for GA so far. It has a 25% stake in 51.com, a Chinese online social networking service provider (popular in smaller cities and rural areas) and plans to leverage the 350 million average daily page views the site receives. There was a time when 51.com enjoyed Facebook-like status in China but recently sites like RenRen (NYSE:RENN) have become popular.
The online gaming industry is rapidly shifting with SNS (Social Network Sites) games gaining popularity in recent times. The 51.com investment has the potential to give the company a foothold in this new area, but whether the management is willing to invest and expand into the area quickly is unclear. When it comes to investing in growth opportunities GA's management is extremely conservative. The upside with this approach is that GA has no liquidity problems – its cash position exceeded $900M in the latest report with no debt. The downside is the obvious risk of getting left behind, unless it aggressively invests some of the cash to get into innovative growth areas. The following growth rates of Chinese and Global game markets indicate a healthy trend:
(Click charts to enlarge)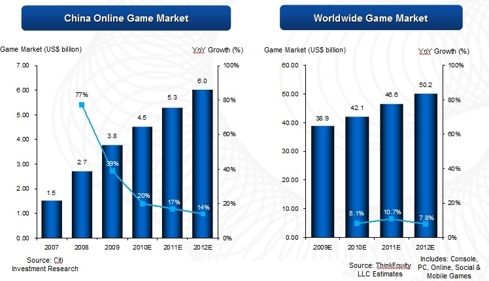 Although the growth rate in China has slowed from the groundbreaking pace of 2008, it is still almost double the growth rate of the world as a whole. It is of some concern that GA's business failed to demonstrate any growth during this period. It is possible that the MMORPG style games that GA specializes in have matured. The area has also become extremely crowded with major global players such as Activision Blizzard (World of Warcraft, Guitar Hero, Call of Duty) and Electronic Arts vying for market share, not to mention the 200-odd Chinese homegrown companies in the field.
Finances:
The table below summarizes Giant Interactive's financial position:
| | | | |
| --- | --- | --- | --- |
| Year | 2008 | 2009 | 2010 |
| Revenue | 231.7M | 190.9M | 198.4M |
| Net Income | 161.6M | 125.9M | 120.7M |
| Shares Outstanding | 247.9M | 234M | 234M |
| Earnings per Share (Normalized – one-time items removed) | 0.65 | 0.54 | 0.52 |
| YOY Earnings Growth | (13)% | (17)% | (3.7)% |
| YOY Revenue Growth | 0.1% | (17.6)% | 3.9% |
| Net Profit Margin | 69.7% | 65.95% | 60.84% |

Although Giant Interactive's financial position shows a declining trend by 2010 stabilization was on the horizon. The 1st quarter 2011 report showed good year-over-year growth numbers.
Quantitative Rating
The spreadsheet below shows our quantitative rating summary of Giant Interactive (click for an understanding of the ratings on this spreadsheet):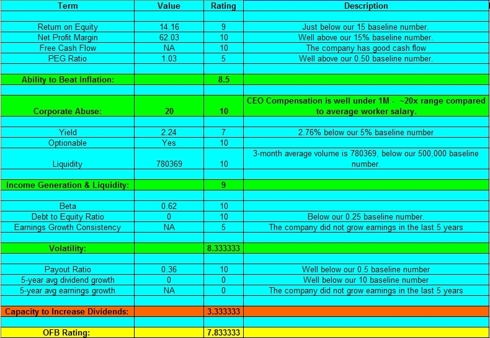 GA scores 8.5/10 on its ability to beat inflation: Return on equity, net profit margin, and free cash flow are all stellar. PEG ratio, a measure of valuation is average at 1.03, brought down by the low projected growth rates.

Corporate abuse rating is 10/10 as their executive compensation is outstanding: The CEO, its founder, makes well below $1 million and controls close to 60% of the outstanding shares.

Income generation and liquidity measure is almost perfect at 9/10: GA has a dividend of 2.24%. The stock is also optionable. Liquidity is good with an average of 780,369 in daily volume.

Volatility ranking is well above average at 8.33/10: With no debt, the Beta is outstanding, but earnings growth is the problem.
Capacity to increase dividends scored 3.33/10: While GA pays a decent dividend, it has not budged in the last 5 years. Also, the company has not grown earnings.
The overall quantitative rating or the 'OFB Factor' came in at 7.83/10, which is above average.
Summary
Giant Interactive has an enterprise value of $886M and a forward PE of 11. The PE is even more compelling when the $952M ($4.16 per share) in total cash in the balance sheet is taken out. The reason for such low valuation has to do with the -7.23% negative growth the company realized in the last 5 years. Analysts are expecting a turnaround in the business and earnings growth is expected to resume at a 12% clip going forward. If the company realizes anywhere close to that projected growth rate, the share price will have to play catch-up and increase at a faster pace.
The company has a pattern of reporting choppy results in the past. Although, a part of this is due to the company's dependency on its flagship product, business decisions also had an impact. The company has been investing in diversifying its revenue stream. Although, the road was rough earlier on, it is reasonable to expect that some of the investments would bear fruition in the future. Cash position is good, but management intends to do thorough due-diligence before investing in new growth areas.
Giant Interactive has a PEG ratio of 1.04, which indicates that the valuation is reasonable. Our quantitative analysis showed an above-average rating for the company. As the valuation is reasonable, and as the company stands a good chance to grow earnings in the future, the stock has promise.
Disclosure: I have no positions in any stocks mentioned, and no plans to initiate any positions within the next 72 hours.