Earnings season is slowing down, and we are continuing to update price targets, buy/sell ratings, etc. for companies that we currently cover in our EquityAnalytics department. Today, we have updated several more companies with these ratings. They include – Beazer Homes (NYSE:BZH), Frontier Communications (NYSE:FTR), General Motors (NYSE:GM), Giant Interactive (NYSE:GA), MDC Holdings (NYSE:MDC), MEMC Electronics (WFR), Nuance Communications (NASDAQ:NUAN), and Youku (NYSE:YOKU).

The chart below shows new ratings, price targets, and buy/sell ranges versus old ones:

(Click chart to expand)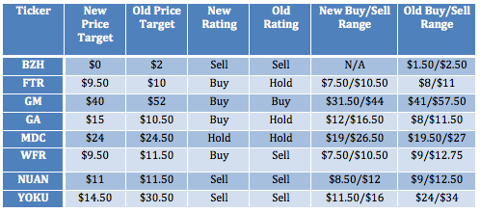 Click to enlarge

BZH – Maintain at Sell, Drop PT from $2 to $0

Beazer Homes (BZH) seems like a great Sell candidate, and the company is only getting closer and closer to what seems like inevitable bankruptcy. In the latest quarter, the company saw a 46% drop in revenue, a net loss of $60M, and the stock seems like it is worth about nothing. The company has a 6:1 debt-to-equity ratio, which is ridiculously high and much higher than even the rest of the housing industry. The monstrous debt load is not being worked off but continuing to get larger. The debt does not mature until 2015, but we do not see the company making money until 2014. There is no upside to this stock in the next couple years.

FTR – Upgrade from Hold to Buy, Drop PT from $10 to $9.50

Frontier Communications (FTR) is definitely not a very exciting stock that is going to increase drastically in price in the telecom sector, but this is a company that has solid upside in value as well as a significant dividend. The dividend has a 10% yield, which is very high. During tough times like this, Frontier has limited downside from these levels given that the stock seems discounted quite significantly and its hefty dividend is attractive. Further, we believe that the company's sour reception to the latest quarter will be limited. The company seems to have the Verizon (NYSE:VZ) integration in place, and it should start to see EPS increase at a more rapid race as those integration costs can be limited and lead to better margins.

GM – Maintain at Buy, Drop PT from $52 to $40

Despite the fact that General Motors (GM) is performing where we expected on operating income and continuing to reduce debts, the market seems to be pricing in a higher discount rate than we originally factored into GM's price target. Given its past and the fact that confidence among American automakers still is fractured despite the strides it has made, investors do not seem completely sold as of yet. We do believe this company is an amazing value and can continue to do very well in the future moving forward. Sitting at 5 P/E ratio, GM is grossly undervalued, and we believe a long-term investment in GM will pay off in the long run.

GA – Upgrade from Hold to Buy, Up PT from $10.50 to $15

Giant Interactive (GA) is starting to look like a very good Buy in the Chinese Internet industry. The company beat our expectations for the latest quarter, and it is looking very solid financially. The company has continued to increase cash on hand along with maintaining no debt outstanding on the balance sheet. We believe this company will continue to build on its wildly popular ZT Online game as well as releasing the ZT Online 2 game. Chinese gaming is much more powerful than American gaming, and the market share will only continue to get larger. We prefer Changyou (NASDAQ:CYOU) over Giant, but GA like CYOU has good growth in a popular game that it leveraged into other games as well as maintained top-notch balance sheets.

MDC – Maintain at Hold, Drop PT from $24.50 to $24

MDC Holdings (MDC) did just as expected in the latest quarter. We see this homebuilder as becoming profitable and 2013, and the housing market remains tough. It will probably to continue to struggle throughout the rest of this year, and we believe it is a Hold at this time.

WFR – Upgrade from Sell to Hold, Drop PT from $11.50 to $9.50

MEMC Electronics (WFR) is not one of our favorite solar companies, but the company has definitely become a Hold/Buy candidate. We will not recommended buying WFR because we see it as a low-tier solar company. We like Trina Solar (NYSE:TSL), GT Solar (SOLR), and JA Solar (NASDAQ:JASO) above WFR, but the company's value is something that has to be considered. We recommended Selling the stock from its valuations that were much too high as the company has more debt than cash and ranks weakly on our Profitability, Financial Health, and Management rankings. Despite the company's downgrade, we believe this company's move is a bit overdone now at this point. The company's future P/E ratio is around 6 as well as a P/B ratio below 1.

NUAN – Maintain at Sell, Drop PT from $11.50 to $11

YOKU – Maintain at Sell, Drop Pt from $30.50 to $14.59

We downgraded our expectations on YOKU from a combination of a massive increase in shares outstanding as well as the company's continued inability to make profits. While the company does appear to be moving toward profitability, we do not see any of it coming until mid-late 2012. We believe paying such a hefty price for no earnings is a bit mind boggling. This is not a growth stock and it is not a value stock. It is completely a speculation play. According to our analysis, the company is operating at a 1500 future P/E level. We see no reason to hold YOKU at this time.

Disclosure:
I am long
.