Whether you're a short-term trader or a mid- to long-term investor, sometimes a stock's chart tells you all you need to know about where it's headed for the foreseeable future.
During market corrections like the one we just experienced most charts appear broken. The key, however, lays in determining exactly when, why and how things took a technical turn for the worse.
Sirius XM (NASDAQ:SIRI) hit its 52-week high of $2.44 on May 31st, 2011. From there, it sank to an intraday low of $1.87 on June 17th. From there, the pre-earnings run many of us had almost taken for granted never materialized. SIRI topped out at an intraday high of $2.25 on July 15th, before tanking with the market to as low as $1.63 on August 8th. SIRI traded between $1.88-$1.93, as of this writing, midday Monday.
(Click images to enlarge; Charts courtesy of Schwab's StreetSmart Edge)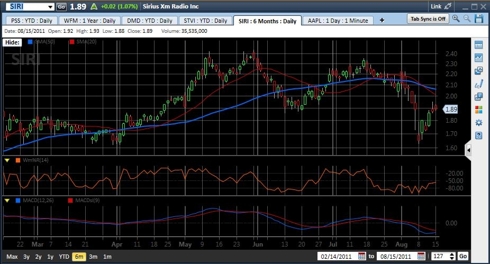 Click to enlarge
If you listen to the most ardent SIRI permabulls, you are led to believe that the company is not only stronger than ever, but is among the strongest Wall Street has to offer. These longs blame macro events for the company's fall from $2.44 and subsequent inability to retest that level. Now, with SIRI left to retest much more modest (and lower) highs at the psychological level of $2.00 and resistance at around $2.21, that's the story the bulls stick to.
You cannot spin, wish, hope, hyperbolize and use group therapy sessions on message boards to get your stock past those key levels. It takes sustained buying of the equity.
As the chart shows, SIRI is setting up to test key moving averages. If it breaks through, it likely crosses $2.00 and tests $2.21. If it does not break $2.21, I might consider shorting the stock or buying $2.00 put options. Another possibility - it waffles in its current range to just north of $2.00 for some time making the artificially-hyped story surrounding the stock little more than a non-event.
By comparison, the following charts further illustrate what we can take from the recent bounce off of broader market lows.
First, Apple (NASDAQ:AAPL) represents a stock actively leading the rally, not participating in it passively. Pay attention to the break through and bounce off of the 50-day moving average and the test of the 20-day.
Apple (AAPL)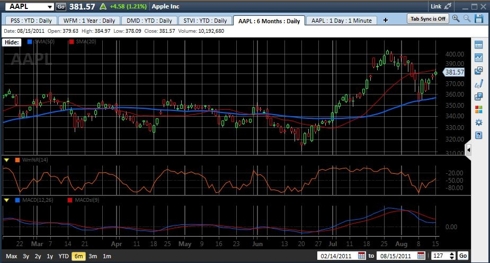 Click to enlarge
On the other end of the spectrum, Netflix's (NASDAQ:NFLX) chart looks as if it's in even worse shape than SIRI's.
Netflix (NFLX)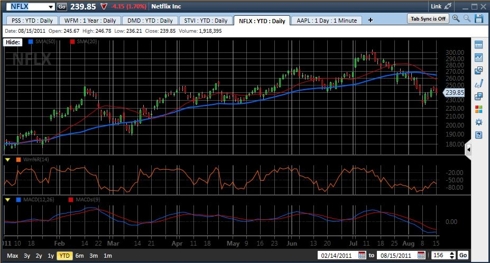 Click to enlarge
Of course, NFLX has defied all logic in the past, using out-of-this world momentum to power higher. It appears, however, that this time the party might actually be over.
Disclosure: I have no positions in any stocks mentioned, but may initiate a short position in NFLX over the next 72 hours.