Oil has crashed alongside the market, and this wasn't fully unexpected. For months after the Libyan crisis when oil was trading at excessively high levels (well above $110/bbl), there's been much waiting for bearish pressure on crude. It soon began to look as if banks were illegally manipulating oil markets en masse for their longs. It finally came in June as crude began dropping to the 90's, and now they've hit the 80's with the S&P downgrade, China GDP growth revisions and other bearish data.

Now that oil is trading much lower, it's reasonable to expect that bullish pressure may return in the near future if GDP data turns positive again and stocks rebound. If you want to make a bullish bet on oil but prefer to avoid funds like USO or DBO which have imperfections in tracking oil's price, you can buy companies that are very highly correlated to crude prices. This list obviously includes Halliburton (NYSE:HAL) and Schlumberger (NYSE:SLB) who depend on crude prices for profits.

Halliburton and Schlumberger are companies that primarily provide field services for other oil companies and governments. Whether it's oil exploration or construction of pipelines, these companies need high oil prices to make their businesses profitable. If oil is more expensive than usual, naturally drilling and refining operations will have a much larger payoff. This is where Halliburton and Schlumberger can make large economic profits relative to something like gas stations, which may have to keep tight margins. The stocks trade as more leveraged plays on oil, since a 10% increase in oil could easily have more than a 10% positive impact on these companies' profits. Proving this relationship below, I've compared how the two oil funds have been outperformed by SLB and HAL in an expensive oil environment. (Especially HAL since its dominant presence in the United States makes currency fluctuations less of an issue, and due to the fact that it has performed a little better this year in growth.)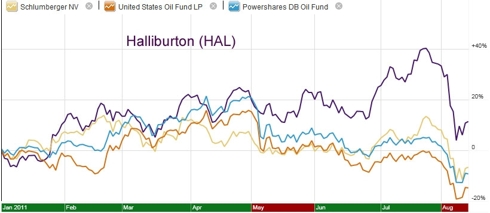 The dramatically higher oil prices that we've seen in 2011 relative to 2010 and 2009 have been strongly reflected in the revenues of HAL and SLB as shown in the graph below.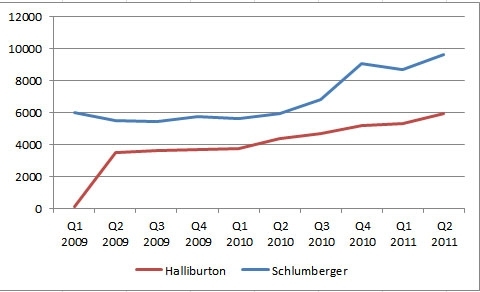 This effect is also shown in EPS, which does not show as clear a trend, but generally is correlated with crude prices (in this case the dotted lines show how S&P analysts believe that EPS is expected to continue its uptrend as oil futures go up).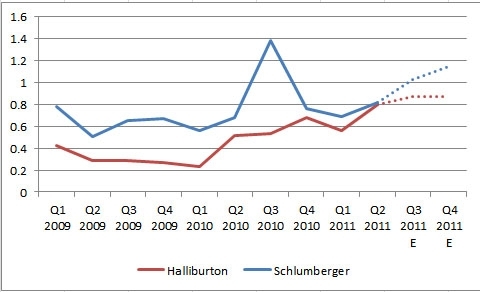 Boiling down the components of these two companies is also important before considering a position in one (or both). Some of the most notable differences between SLB and HAL have to do with where they get the most business. Halliburton makes the vast majority of its revenue from North America (about 72% to be exact). This makes Halliburton much more vulnerable to domestic corporate tax laws and exploration prospects in the area than its rival Schlumberger. In addition important operations for HAL exist in volatile regions in the Middle East and Africa (Libya was one of them). SLB has less exposure to the risk since it is more spread out.

SLB has a more balanced operating system. While its biggest component of income is North America as well (at about 32%), it is almost evenly spread across all the major regions of the globe. In overall revenue, Schlumberger has been outpacing Halliburton in the exploration and drilling subdivision in the last fiscal year. Latin America has had an explosive ~24% growth, which Halliburton is not as exposed to. This demonstrates the most important edge SLB has over HAL. The two firms are about even in terms of production and completion revenue, however.

Both firms are deeply undervalued by metrics used by analysts, and upon a large upswing in oil in addition to a likely inflow of investors returning after the rough beginning of the month, these two equities will give very strong performances. On the downside, BRIC nation growth has driven crude to a large degree lately, so by association HAL and SLB have huge exposure to headlines about China.

If deciding between SLB and HAL, conventional knowledge says that SLB is the safer bet with more diverse operations and larger market cap. Nonetheless, HAL is trading at a slight discount to compensate, and good news in American oil production will have immensely positive implications for shares of the stock.

Disclosure: I have no positions in any stocks mentioned, and no plans to initiate any positions within the next 72 hours.