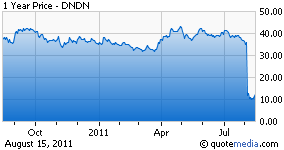 Dendreon (NASDAQ:DNDN) fell in value by more than two-thirds last Thursday (August 4) after its latest conference call revealed that quarterly revenues were below expectations and that full-year revenue would be well below previous guidance. After the vitriolic response to an April Seeking Alpha article, in which I suggested that Dendreon was not a good investment back when the price was just over $40 per share, I now ask: with Dendreon down 75% since then, and with increasing sales, has the market overreacted to the latest news?
Dendreon's only significant product is Provenge, the first FDA-approved autologous cellular immunotherapy. It is currently approved for use in some late-stage prostate cancers, of which about 30,000 new cases are diagnosed each year. I previously wrote about the maximum possible sales potential of Provenge as currently approved, in the range of $2.8 billion in annual revenues. Of course, it is unlikely to achieve 100% market penetration, as competing drugs such as Johnson & Johnson's (NYSE:JNJ) abiraterone have been approved since April. Provenge would be considered quite successful with only a 30-50% market penetration in the U.S., with perhaps equal international revenues, suggesting maximum annual sales of perhaps $1.5 - 3.0 billion.
How much would a company with one product with annual sales of $1.5 - 3.0 billion be worth? Before, I suggested a price to sales ratio of 2.0-2.5, matching other biotech or pharmaceutical companies with no new products in the pipeline. Remember, Provenge is Dendreon's only approved product, and has no other products in Phase III trials. Dendreon currently has a market cap around $1.5 billion, less than my estimate of its peak justified value of $3.0 - $7.5 billion if Dendreon is successful in its rollout of Provenge.
But is this still a valid estimate of final sales of Provenge? Abiraterone is now FDA approved under the trade name Zytiga®, and MDV3100 is another potential competitor in Phase 3 trials expected to last until early next year. Reports have circulated that doctors are unwilling to prescribe Provenge because of "reluctance to take a financial risk." More details can be found in a great Seeking Alpha interview with Dr. Leonard Liang, a practicing urologist who has prescribed Provenge to two of his patients.
What's more, there is significant risk that even if final Provenge sales reach the optimistic projections above, Dendreon will not be able to manage its sales ramp-up quickly enough to become profitable without partnering with a larger company. The company retracted its projection of $350-400 million in sales for the year, and now only expects modest quarter-over-quarter revenue growth from the second quarter's disappointing $50 million. The company currently has cash on hand to cover 6 quarters of operations based on the previous six months operations, though the company suggests the burn rate will decrease because of recent facility start-up costs.
The slower rollout to date certainly means fewer sales for Dendreon in 2011 and 2012, but I think the maximum possible sales figures remain the best reasonable case. However, if a conservative best case is a double in the stock over a period of years, the strong possibility that Dendreon will never reach that best possible sales figure suggests that this is still simply too high a risk for the possible reward. While it is true that a more aggressive best-case scenario (such as approval of Provenge for additional indications) could still result in a $7 billion or larger market cap, in my view the risk is too great when compared to much safer stocks that are currently on sale. Investors willing to wait several years and willing to put capital at risk may profit from holding Dendreon; I don't think it's nearly as risky to hold the stock here as it was back in April. That said, I haven't found sufficient cause to invest in Dendreon myself.
Disclosure: I have no positions in any stocks mentioned, and no plans to initiate any positions within the next 72 hours.