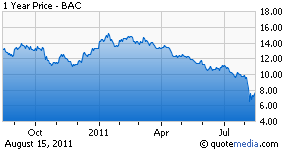 Bank of America (NYSE:BAC) is an especially interesting stock to watch when the 13F filings come out. There has been a lot of news regarding who has sold out of the name, who is standing firm, and who is buying more. The company did a conference call last week with mutual fund manager Bruce Berkowitz that I thought was confident and convincing. Valuation means little to the stock right now as the market trades on more macro news. Below are some of the BAC-specific highlights.
David Tepper: CNBC reported last week that Tepper had sold out of his entire Bank of America position since the end of Q2. He had been selling over the last two quarters as well. The one time Bank of America bull had once owned more than 47 million shares. He sold nearly 7.8 million shares in Q1 and 7.2 million shares in Q2. If the news reports are correct and he did liquidate his position, that means he sold his remaining 10 million shares sometime in the past six weeks. By the way, the CNBC report also said he was heavily selling his Wells Fargo (NYSE:WFC) and Citibank (NYSE:C) positions as well.
Leon Cooperman: Cooperman didn't own as many shares as Tepper, but he too has liquidated his shares. Cooperman did this in Q2 after buying about 2.5 million shares in Q1. Cooperman is the founder and chairman of Omega Advisors, a hedge fund with about $6 billion under management. Cooperman has been in and out of Bank of America since Q2 2009.
Michael Price: One hedge fund manager that did buy more Bank of America shares was Michael Price of MFP Investors. MFP has significantly less assets under management than Tepper or Cooperman's funds, but Price may be a savvier stock picker. I highlighted his top holdings last month. Price bought 100,000 shares of Bank of America in Q2 and now holds almost 850,000 shares. Not necessarily a huge position, but still measurable.
John Paulson: Paulson told clients at the end of June that he's been dumping his huge stake in Bank of America. I haven't seen his 13F filing yet, but it's expected that he significantly dumped shares in Q2. He's been selling since Q1 2010, at which point he owned nearly 168 million shares. What his 13F says may not be important though, since it appears he has been selling shares since the end of the reporting period, June 30, as well.
Richard Snow: Snow is the founder of Snow Capital Management. He's not as well known as the other investors listed here, but his long term performance has been very good. He's owned Bank of America for many, many years and typically trades around the position quarter to quarter. At the end of Q1 2011 he owned about 1.7 million shares. Before that he had sold more than 4 million shares in Q4 2010. In Q2 he ramped up ownership again. According to his firm's 13F filing, he bought about 3.5 million shares of Bank of America in Q2. Snow obviously knows the company very well and seems to have done a good job of selling shares high and buying them back low over the last few years. Snow also is a large holder of J.P. Morgan (NYSE:JPM), Wells Fargo, and Bank of New York Mellon (NYSE:BK).
Disclosure: I am long BAC.