A recent 4-part series of
Seeking Alpha
articles looked at investing in the Bakken –
here
,
here
,
here
and
here
. The series concluded that Brigham (
BEXP
), compared with other drillers - Continental (NYSE:
CLR
), Whiting (NYSE:
WLL
), Oasis (NYSE:
OAS
), Northern (NYSEMKT:
NOG
) and Kodiak (NYSE:
KOG
) - is the standout Bakken investment prospect. The conclusion remains valid and has since been supported by very good Q2 results and subsequent analyst upgrades.
However, BEXP is not at the top of the small/mid cap investment charts when one looks outside the Bakken. That honor goes to Carrizo (NASDAQ:
CRZO
).
At first look Carrizo appears to be a natural gas producer. But it is not. It is essentially a high growth oil & liquids driller with a profitable gas legacy business. Right now, in Q3 2011, Carrizo does generate more sales revenue from gas than from liquids but the company is at the inflection point and from Q4 2011, sales of liquids will dominate. The switch to liquids becomes pronounced in 2012 and this major transition is the reason for the outsized growth in analysts' sales and EPS estimates.
The following chart is useful in understanding how Carrizo's sales mix is changing from gas to liquids. The data for 2010, and up to Q2 2011, is from filed quarterly reports, and forecasts from Q3 2011, to end 2012, are based on analysts' published numbers. Figures for 2013 are indicative only, based on overall sales growth of 33%. All figures are $ millions.
(Click charts to enlarge)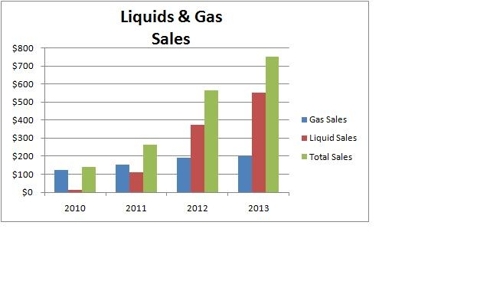 Business operations
Carrizo has a collection of valuable leases; Eagle Ford 33,000 acres within the oil and condensate windows; Niobrara 62,000 acres predominately oil; Marcellus gas shale 118,000 acres; Barnett gas shale 32,000 acres and Fayetteville gas shale 20,000 acres, and lastly a small stake in a North Sea field. All acreage figures are net.
Of the company's net $253 million 2011 capex plan, $225 million is targeted at Eagle Ford and Niobrara, being $195 million drilling and $30 million land acquisition. This $225 million represents 90% of the company's full year budget and the $195 million drilling plan is almost 5 times that of 2010.
Carrizo's Eagle Ford leases are primarily located in La Salle County, partly in the Hawksville field considered by many to be one of the hottest prospects within the Eagle Ford. Petrohawk (NYSE:
HK
), currently being acquired by BHP Billiton, is a major player in this area with 236,000 acres. According to Petrohawk, its average shale thickness is over 300 feet. This is several times thicker than that of formations such as the Bakken which, although not entirely uniform, is often cited as having a thickness of about 40 feet. With Eagle Ford's low porosity this should pave the way for multiple horizontal wells to be drilled at differing depths without experiencing meaningful well to well communication. This has obvious repercussions for volumes of oil capable of being extracted, value of leases owned, low cost of infrastructure, efficiency of production and overall profitability.
Although Carrizo has not (yet) published specific details about shale thickness in the Eagle Ford leases, the indications from competitors and from maps are that the leases contain shale in the 200-300 feet bracket.
Of Carrizo's $253 million net 2011 capital budget, a total of $160 million is being dedicated to drilling in Eagle Ford where the company has three dedicated rigs. The company estimates drilling cost per 5,000ft well is about $7-8 million. With EUR of 400 Mboe and NYMEX at $85 this gives a payback of 1.8 years. Based on 115 acre spacing, Carrizo estimates it will drill 230 x 5,000ft laterals.
It is worth questioning the number of acres required for each well. There are reports that areas within the Eagle Ford region have multiple levels of oil bearing shale but we have no specific information from Carrizo. Nonetheless, 115 acre spacing looks comfortably conservative. Ultimately, drillers may be able to drill with 100 feet spacing or less. In theory, this would require as little as 500,000 square feet – equal to just over 11 acres - for a single 5,000ft lateral. Furthermore, given Carrizo's shale thickness of 200-300ft, it seems that more than one well can be drilled at a given location, thus multiplying the number of wells per acre. Today however, not even the most optimistic commentator would suggest that a single well will require an average as low as 10 acres. Suffice it to say that 115 acre spacing is conservative and that the ultimate inventory of prospective wells should be much greater than at present.
It is for economic reasons such as these mentioned that Eagle Ford acreage sells at over $20,000 per acre versus about $5,000 per acre for Bakken. Recall that in June 2011, Marathon (NYSE:
MRO
) paid $24,800 an acre for 141,000 Eagle Ford acres. Marathon knows a thing or two about the oil business, and presumably about Eagle Ford. BHP Billiton, in acquiring Petrohawk, is also showing awareness of Eagle Ford's potential as a valuable oil producing region. Whilst the popular press has typically described Petrohawk as a gas producer the fact is that it too is morphing into a shale oil producer.
The second area of focus for Carrizo is Niobrara, where the company plans to spend $35 million on drilling this year where Carrizo now has one dedicated rig. Here, each well costs $3.6 million to drill. With EUR of 300 Mboe and NYMEX of $75 (due to higher differential), the payback is 2.4 years. Assuming 320 acre spacing CRZO estimates it will drill 97 wells in Niobrara.
At the current spud rate, and using today's conservative well spacing number, Carrizo has over 10 years of drilling inventory between Eagle Ford and Niobrara. Over time this inventory number should increase by more intensive well drilling and also through further land acquisitions.
Natural gas production at Carrizo will receive less attention going forward but it remains a profitable and valuable business with some growth potential remaining. Evidence of the company's strategy was provided in Q2 2011, when Carrizo sold some non-core Barnett shale acreage to KKR for $104 million. Similar transactions can be expected in the future and during the Q2 earnings conference call Carrizo management conceded the company is looking to close a deal on additional Eagle Ford land in La Salle County, which is likely to be funded by disposal of other non-core assets.
Financials
Carrizo's financials are impressive. Sales were $173 million in 2010 and are on track to hit $273 million this year and then accelerate to $565 million in 2012. EPS growth, propelled by the switch of emphasis to oil from gas, is even better. EPS were $1.12 in 2010, and are forecast by analysts to reach $1.64 in 2011 and then $4.90 in 2012.
So, what might preliminary 2013 EPS look like? Sales in 2013 of $750 million, an increase of 33% over 2012, would produce 2013 EPS of about $7.00.
As to whether or not these 2012 analysts' estimates and the 2013 guesstimates are achievable - much depends on Carrizo's liquidity position and capex plans.
Carrizo's liquidity and funding positions are secure. During late 2010 and early 2011 the company wisely put in place advantageous long-term funding arrangements that have enabled it to fund growth through borrowings instead of via dilutive shareholder offerings. In particular in November 2010, it established $400 million unsecured notes due in 2018, and in January 2011, and entered into a $750 million revolving credit due 2016, with a borrowing base of $350 million. Looking back, these were clearly prescient moves and management is to be commended.
Cash from operations is an important driver of liquidity going forward. Forecast cash from operations is $135 million in 2011, rising to over $300 million in 2012 and then above $400 million in 2013. Once again, these are impressive numbers.
In 2012 and in 2013, with the help of the $300+ million and $400+ million cash from operations, and with the ongoing support from the $400 million 2018 notes and the $350 million credit facility availability, Carrizo should certainly have the scope to implement further large capex programs in order to continue the strong growth cycle into 2013.
Overall, the analysts' $4.90 EPS forecast for 2012 is manageable. And indicative EPS of $7.00 for 2013 also seems doable.
Investing in CRZO
Having traded at $44 in July the stock cratered to $26 during the August market blow-up. With the market looking to find its legs again, CRZO has only mustered a weak recovery to the $30 level. Meanwhile on August 9, the company reported in-line EPS for Q2 with revenue showing excellent growth but still a shade below estimates. Following the earnings release analysts tweaked their estimates ever so slightly with the average target prices for the stock remaining unchanged at $46. At this price the stock is now on a forward p/e of 6.2.
At the beginning of this article it was stated that Brigham (
BEXP
) is the standout investment prospect within the Bakken but that, overall, CRZO stock is a better buy. Here's what the respective analysts say:
BEXP CRZO
Number of analysts 21 15
High target price $46.00 $55.00
Low target price $27.50 $39.00
Mean target price $38.80 $46.20
Current stock price $28.69 $30.37
Upside % to mean 35% 52%
Note: CRZO stock is currently $9 below the lowest target by any of the 15 analysts following the company!
The bottom line
In spring 2012, now just 6 months away, analysts will post new next year EPS estimates for CRZO and these are likely to be in the region of $7.00. During this era of paltry economic growth (Pimco's 'new normal' if you prefer) it takes very little to cause a wobble in the summer, which seriously hurts confidence and share prices. The converse occurs around year-end and into the New Year as optimism about the future is pervasive. In such a springtime environment stocks of growth companies trade on much better forward P/Es than during the dog days of summer. Come spring 2012, CRZO stock is likely to trade on a next year P/E of 8-10 without pushing the envelope. That should value the shares at $56-$70. From today's $30 stock price this represents a double in 6 months.
This is why CRZO is one of the absolute best oil stocks out there, even better than BEXP, which itself is a great investment. And all that is without a word about acquisition premiums that will occur when more shale plays are taken out from time to time. There will be further acquisition deals, you can bank on it.
Let's be clear: To maximize returns buy now and sell in spring 2012 with a plan to repeat this entire exercise in mid 2012. There is no room for sentiment in today's markets.