I ran a selection of US-listed European stocks with a buy recommendation and a yield of 6% or more.
The following stocks appeared on my screen (click to enlarge).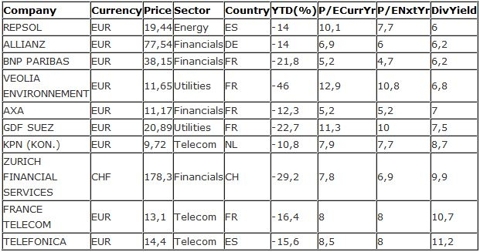 Repsol (OTCQX:REPYY)
Despite Repsol's strong Q2 profit beat at the net and operating level, the numbers itself are nothing to get overly excited about because consensus expectations had been drastically lowered before the earnings release. The negative impact of Repsol's 5% production exposure to Lybia became obvious in the steep production decline and output of YPF Argentina suffered from Argentinean strikes in Q2. Lost volumes (and profits) in Libya and Argentina accounted for a roughly EUR 500mln loss in operating profits. Beyond these specific negatives for Q2, Repsol's medium-term growth story based on exploration and appraisal drilling in Guyana, Liberia, and Brazil remains valid.
Allianz (OTCQX:AZSEY) Allianz reported results that were below expectations. Without the Greek loss, the results were slightly above expectations. Allianz is a solid name, with a strong balance and good capital ratios. Valuation is attractive with a P/E below 7x expected earnings for the coming twelve months and a Price to Book of 0.74x.
BNP Paribas (OTCQX:BNPQY) Sovereign debt issue should be manageable. BNP has a strong resilience to hard times thanks to its diversified profile and strong capital situation: Core Tier 1 ratio reached 9.6% (a sustainable level under Basel 3 thanks to strong cash generation, according to company). If a haircut were to be applied to Italy (10% vs 20% in Greece considering the different situations) it would represent around €2bn negative impact on P&L, still manageable for the company.
Veolia (VE) H1 results were burdened by the already announced impairments related to past acquisitions. The indicated actions are far more profound than expected. The restructuring and transformation plans are significant. The focus is on operational performance. Veolia wants a become a smaller but more profitable group and aims to exit/sell the problematic assets and scale back operations in low or unprofitable countries. This heavy restructuring is positive. Profitability should improve driven by cost savings as the sale of underperforming assets.
The main reason is the dividend statement, which disappointed and will lead to a sharp dividend cut. Last year's dividend per share of EUR 1.21 was paid when the stock was above EUR 20 and resulted in a dividend yield of 6%. A lower dividend is no surprise given the payout ratio and lower guidance. But even a harsh cut of 50% would equal a dividend yield of 5%.
AXA (OTCQX:AXAHY) Axa has been volatile in the markets thanks to its higher than average leverage, Italian bond portfolio and financial corporate debt portfolio. But its actual exposure to Greece, Ireland, and Portugal, is limited and the company has completed marked-to-market its peripheral bond portfolio. Operationally, increased focus on profitability is paying off, especially at the non-life business.
All in all, the trends are solid and AXA's increased focus on margins is positive. The growth markets are playing an increasingly important role in AXA's business mix. The balance sheet remains solid and the total exposure to peripheral European bonds remains minimal, and is marked to market value. The stock trades below 6x 2012 earnings, at a 7% dividend yield and 0.51x book value.
GDF Suez (GDFZY.PK) GDF Suez presented decent H1 results topping market expectations. Operational performance was mixed as France was burdened by unfavourable weather but most other activities performed solidly. In addition, results got help from consolidation effects. Guidance for 2011 was confirmed but excludes the negative weather effect (EUR 465 mln on EBITDA in H1) and French gas regulation. These impacts could affect pretax income by EUR 650-700 mln, but are already included in consensus estimates. Dividend projection was also maintained.
GDF Suez's operations are coping well with the partly difficult environment. Valuation and dividend yield (7.5%) are attractive.
KPN (OTCPK:KKPNY) The financial profile remains solid, with net debt/EBITDA at 2.4x, within the 2.0-2.5x company target range and the pension fund has a coverage ratio of 108%, which means there is no need for extra contributions by the company. A positive is that the management remains committed to its full year 2011 targets, calling for operating profit (EBITDA) of over EUR 5.3bln, free cash flow over EUR 2.4bln and a dividend of at least EUR 0.85 per share. This is expected to grow to EUR 0.90 in 2012, and 0.95 in 2013. The company will buyback EUR 300mln worth of shares this year, or 2% of the current market cap, on top of the 8.7% dividend yield. KPN trades at a P/E 2011 below 8.
Zurich Financial Services (OTC:ZFSVY) The balance sheet continues to be strong, with a Swiss solvency metric of above 220%. The book value dropped some 11% to CHF 180 thanks to currency shifts and bond market movements, but this was much less than feared as Zurich had tactically hedged a large part of its equity exposure and sold Italian bonds (before market concerns about Italy emerged).
Zurich's focus on operational improvements is paying off given the pricing trends. The stock trades around a 10% dividend yield, 7x 2012 earnings and 1x book value, which we consider too cheap for a company that delivered a 17.4% return on equity in the last quarter.
France Telecom (FTE) FT's H1 revenue and EBITDA figures met consensus. 40% of the EBITDA margin decline was related to Egypt/Cote d'Ivoire and the unfavourable impact of the VAT increase in France, which was only partially passed through to customers. Organic trends were a touch below that experienced in Q1. The environment in France remains tough but that was expected. French mobile performed solidly, while fixed was below expectations. Spain is doing well, while the rest of the world mainly suffered from the crisis in Egypt/Cote d'Ivoire. FT confirmed its full year guidance but it looks as if the margin target could be missed. Dividends however seem safe concerning high cash flow coverage. FT's intention to sell its Swiss unit is part of its review of its European asset portfolio and did not surprise after FT failed to merge its Swiss unit with a rival. The sale could be worth EUR 1.5 bln. In addition the operations in Portugal and Austria could be up for sale (value around EUR 500 mln).
Telefonica (NYSE:TEF) TEF's H1 results were a touch below consensus. Organic figures in Q2 slowed vs. Q1. Spain was in line with expectations and did not worsen, however it was pretty weak and growth in Latin America and Europe decelerated somewhat. Regionally, Brazil performed strongly and Germany was ahead of estimates, while Mexico and the UK underperformed. Overall trends in Q2 were relatively weak and improvements may be seen toward the end of the year. TEF is taking the right steps to fight competitive pressure and is reducing its cost base (20% job cuts in Spain).
Although current results are no trigger for the stock price, valuation is very attractive and the high dividend yield (11.2%) is not in danger.
Disclosure: I have no positions in any stocks mentioned, and no plans to initiate any positions within the next 72 hours.