This article covers our analysis of the big news and price moves in the healthcare sector last week, evaluating them for buy and sell ideas. Overall, the healthcare sector SPDR Fund (NYSEARCA:XLV) ended down 0.5% for the week. However, the relatively unchanged index masked a volatile week in which the SPDR made 3% to 5%+ up and down daily moves for three of the five days.
Sell Mannkind Corp. (NASDAQ:MNKD): MNKD develops treatments for cancer, diabetes, inflammatory and autoimmune diseases. Its lead product is the AFREZZA® dry powder insulin formulation and its proprietary light, discrete and easy-to-use AFREZZA® inhaler through which the powder is inhaled deep into the lungs. It is positive news on AFREZZA® that led to a 32.9% intra-day surge on Friday, before the stock settled down to $2.79 at the close of market, up 4.5% for the week.
Specifically, the company met with the FDA and confirmed the design of two phase 3 clinical trials to evaluate the efficacy and safety of AFREZZA® in type 1 and type 2 diabetes patients. This is a significant positive development for MNKD given that AFREZZA® is their only lead drug; all other drugs in their pipeline are in earlier stages of development. The company has already received two complete response letters (CRLs) regarding its insulin platform from the U.S. FDA, the first in March 2010 and the last in January 2011. Meanwhile, the company is bleeding cash to the tune of $30-$40 million per quarter, and it only has $25 million in cash on its balance sheet as of the latest June 2011 quarter. So reaching this agreement was critical, and the following 32.9% surge in its stock price made sense as it now brings them one step closer to FDA approval and commercialization.
However, this amounts to only a slight re-calibration upward in the value of the stock based on the improved chances for eventual approval as one hurdle is overcome. The company still has to conduct successful phase 3 trials, it still has to get FDA approval, and upon approval, it will most likely face stiff competition from the likes of Eli Lilly's (NYSE:LLY) Humalog. Furthermore, as we know from the study case of Pfizer (NYSE:PFE) that earlier discontinued sales of its inhaled insulin drug Exubera due to tepid sales, the success of an inhalation-device driven insulin drug has yet to be proven in the marketplace. With all these potential obstacles on the horizon, we would not get too exuberant over MNKD's trial design confirmation with the FDA. Furthermore, MNKD may need to raise more cash to fund the trials which will further dilute existing shareholders. While AFREZZA® may indeed prove to be a blockbuster drug, its success is far from certain as of right now. We would be sellers into any rally in the $3.50s.
Buy Dendreon Corp. (NASDAQ:DNDN): DNDN develops targeted therapeutics to treat cancer using active immunotherapies, monoclonal antibodies and small molecules. Among investor circles, it is probably best known as the maker of Provenge® for Prostate Cancer. The stock was down 17.4% during the week, on the back of a 66.0% plunge in the prior week on slower than expected growth in Provenge sales. Revenue came in at $49.6 million versus the $58.2 million estimate, and losses were 57c versus the estimate of a 68c loss. However, the most damaging part of their earnings report was that they withdrew their previous guidance of $350-400 million in revenue for 2011, instead suggesting modest quarter over quarter revenue growth for the remainder of 2011.
We continue to stand behind our earlier buy recommendation on DNDN, based on our belief that the recent plunge was an over-reaction. We believe that the miss last quarter was a sales and marketing failure that is part of the growing pains of going from a research and development to a commercialization stage. While it is pretty evident that DNDN management did a poor job in making that transition, there is no reason to believe that they cannot rectify what appears to be a manageable issue. They may need to revamp their marketing department to work on the end-consumer patient demand so that patients ask for Provenge®, and they need to re-train their sales force so that they are in close tab with physician concerns and help them resolve them before they show up on the quarterly report and in the stock price.
While we cannot be sure that DNDN management will successfully turn this around, the market seems to be pricing in failure, which creates a buying opportunity. Generally, biotech companies trade at three to five-times peak sales, so at $1.6 billion, the market is assuming that Provenge® annual sales will peak at $300-$500 million. With $49.6 million in sales in the latest June quarter, up 76% quarter-over-quarter, it seems that even if growth moderates significantly, DNDN should have little difficulty in exceeding those targets.
Buy Amarin Corp. Plc Adr (NASDAQ:AMRN): AMRN is a clinical stage Ireland-based global pharmaceutical group, which develops novel drugs for the treatment of cardiovascular diseases using its proprietary advanced oral and trans-dermal drug delivery technologies. It was among the strongest gainers in the healthcare sector last week, rising 14.5% during the week, after announcing that it had a reached agreement with the FDA on a Special Protocol Assessment (NYSE:SPA) for the design of the previously described cardiovascular outcomes study of AMR101 formally titled REDUCE-IT (for Reduction of Cardiovascular Events with EPA – Intervention Trial). This was significant because with REDUCE-IT substantially underway, AMRN has now met all the requirements to request approval for AMR101 as the first drug in lowering triglycerides in patients with mixed dyslipidemia (two or more lipid disorder) who are taking statins. Furthermore, and most importantly, if the REDUCE-IT trial is successful, AMRN will have a huge blockbuster on its hands, as it will be able to market AMR101 as a treatment to reduce cardiovascular events, which is a huge market, including heart attacks, stroke, and other cardiovascular events caused by atherosclerosis (or thickening of the arterial walls).
We first recommended a buy on AMRN on July 20th in our coverage of second quarter healthcare sector big winners, based on the twin possibilities of AMRN either successfully launching AMR101 with peak sales in the $1.25 billion range, which makes it very undervalued at current $1.7 billion market-cap (typically biotech companies sell at three to five-times peak sales); or of AMRN getting bought out by big pharma at a premium. Last week's news on reaching an SPA with the FDA on the cardiovascular outcomes study lends even more positives to the story, so we continue to stand behind our earlier call that AMRN is in buy territory.
XOMA Ltd. (NASDAQ:XOMA): XOMA develops antibodies and recombinant proteins to treat infections, immunological and inflammatory diseases and cancer. Its shares were among the strongest gainers in the healthcare sector, up 17.0% last week, but that masks a volatile week in which they were initially down 15.2% to Wednesday's close, before rebounding almost 50% to the close on Friday. The only news last week was when the company announced on Wednesday after the market closed that on August 17th (this Wednesday), they would present a business overview at the Wedbush Securities Life Sciences Management Access Conference.
Sell HCA Holdings Inc. (NYSE:HCA), Tenet Healthcare Corp. (NYSE:THC), UnitedHealth Group Inc. (NYSE:UNH), and Skilled Healthcare Group (NYSE:SKH): HCA is an owner and operator of 151 acute care hospitals in the U.S. and England; THC is an operator of 49 general hospitals and a critical access hospital in urban and rural communities in eleven states; UNH is a provider of managed healthcare services through HMO and government contracts to over 75 million members in the U.S.; and SKH operates skilled nursing facilities and assisted living facilities, as well as a rehabilitation therapy and a hospice business. With the exception of SKH, the rest of the four fell further last week, with HCA falling 3.5%, on top of a 17.6% fall the prior week, and a 22.9% plunge in the week prior to that, for a total peak to trough fall of 47.0% before rebounding in the latter part of the week.
As we discussed in our earlier coverage of this group on August 8th, the entire group is weak on account of the debt/budget negotiations in Washington and the potential impact it will have on Medicare spending. At the present moment, with hard-liners from the left and the right sitting on the Super 6 Debt Committee, it seems increasingly likely that we may have no deal at the end of three months of negotiations, in which case, there will automatic deep cuts split evenly between defense and non-discretionary spending such as Medicare payments to healthcare providers such as HCA, THC, and UNH, as well as skilled nursing facility providers such as SKH. While shares appear cheap at present, with the guillotine of automated deep cuts hanging in the balance, the environment is too uncertain and risky to hold them right now.
General Note
This article is part of our daily and weekly coverage analyzing the top movers for top buy and sell ideas. You can access the rest of our daily, weekly and quarterly mover series from our author page, and if interested, you can also click on the "Follow" button in the left pane to receive notification of my future articles on this and other topics.
Table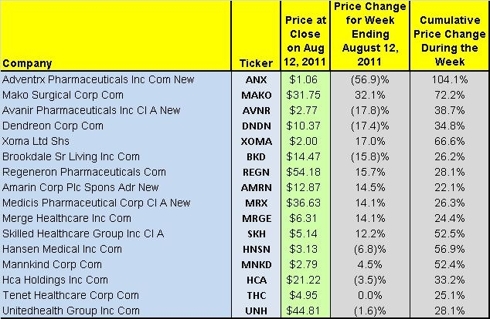 Click to enlarge
(Click to enlarge)
Please note that the cumulative price change referred to in the last column of the Table above is used here as a measure of volatility to determine big movers in the group. It equals the sum of the absolute value of the change in daily prices. So, for example, if a security had price moves of 2%, -3%, 4%, -6% and 1% during the five days of the week, the cumulative price change during the week would be the sum of the absolute values of the daily price changes, which in this case would be 16%.
Credit: Historical fundamentals including operating metrics and stock ownership information were derived using SEC filings data, I-Metrix® by Edgar Online®, Zacks Investment Research, Thomson Reuters and Briefing.com. The information and data is believed to be accurate, but no guarantees or representations are made.
Disclaimer: Material presented here is for informational purposes only. Nothing in this article should be taken as a solicitation to purchase or sell securities. Before buying or selling any stock you should do your own research and reach your own conclusion. Further, these are our "opinions" and we may be wrong. We may have positions in securities mentioned in this article. You should take this into consideration before acting on any advice given in this article. If this makes you uncomfortable, then do not listen to our thoughts and opinions. The contents of this article do not take into consideration your individual investment objectives so consult with your own financial adviser before making an investment decision. Investing includes certain risks including loss of principal.
Disclosure: I have no positions in any stocks mentioned, and no plans to initiate any positions within the next 72 hours.