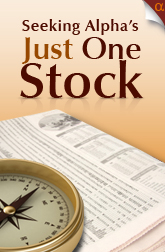 Seeking Alpha's Jason Aycock asks money managers about their single highest-conviction position - what they would own (or short) if they could choose just one stock.
---
Rob McIver is president and co-portfolio manager of Jensen Investment Management, a Portland, Ore.-based asset manager serving clients including corporate pension plans, foundations, endowments, public plans and high-net-worth individuals. He's spent 20 years in banking and investments.
If you could only hold one stock position in your portfolio, what would it be?
That's a hard question, but today it would be PepsiCo (NYSE:PEP).
Tell us more about the company behind the stock.
Incorporated in Delaware in 1919, Pepsi has grown into a global company which manufactures, markets and distributes a variety of convenient, sweet and savory snacks, carbonated and noncarbonated beverages.
Often referred to as the competitor to the Coca Cola Co. (NYSE:KO), today - with approximately 50% of net revenue generated from its growing food franchises - arguably, Pepsi is more appropriately considered a snacks and food business.
The company is a global market dominator and its brands are typically market leaders. In North America, its portfolio include Doritos, Sun Chips, Quaker Oats, Aquafina water, Lipton, Tropicana, and Gatorade, and in other countries it owns leading brands as diverse as Sabritas foods in Mexico, Sandora juices in the Ukraine and Kurkure snacks in the Middle East.
Pepsi owns 19 brands that generate sales of more than $1 billion a year, and in 2010 the company's daily sales and GAAP net income exceeded $158 Million and $17 Million respectively.
How does your choice reflect your firm's investment approach?
Jensen's quality growth strategy invests for long-term growth and in the belief that true growth investing requires the commitment to participate in the long-term success of first-class companies. Jensen's strategy emphasizes quality, consistency, discipline and risk control.
From an investment universe of fewer than 200 companies that have earned at least a 15% return on equity (as determined by Jensen) for each of the last 10 years, we invest in 25-30 quality growth businesses. In our opinion, these companies possess durable competitive advantages, generate business returns greater than their capital costs, enjoy strong balance sheets, benefit from growing free cash flow and are run by shareholder-friendly management. The free cash flow generated by these companies is available to reinvest in the business, for strategic acquisitions, to repurchase shares and generally pay increasing dividends - all ways that deliver shareholder value over time.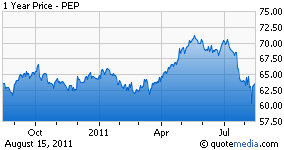 Investments are made when a company's shares can be purchased at a discount to our estimate of full value, providing important downside protection. We will remain invested in a business unless it fails to meet our minimum standard of a 15% ROE (typically indicating a loss of competitive advantage), becomes overpriced in the market, or can be replaced by a better investment opportunity. We believe that as these quality companies create value they will, over time, provide attractive returns with less risk than the overall market.
Pepsi displays all of the characteristics we prize in a high-quality growth business. It is a very profitable company, as evidenced by its 2010 year-end ROE of 34.3%. The management team has demonstrated a commitment to use excess earnings and cash flow to reinvest in the business for future growth both organically and through sensible, accretive acquisitions that more recently have favored the emerging markets, which now account for 31% of total sales.
Pepsi also has a consistent track record of rewarding shareholders through a combination of dividends (that have increased consecutively for 39 years) and share buybacks. From 2001 to the end of 2010, Pepsi returned about $47 billion of cash to shareholders through dividends and share buybacks. The company is currently enacting an additional $15 billion share repurchase program through 2015.
How much is your selection based on PepsiCo's industry, as opposed to a pure bottom-up pick?
Jensen is a bottom-up stock picker and as a high-conviction manager we seek to gain a deep and broad understanding of our portfolio companies' business models. We need to become comfortable that we fully grasp why a company has been successful in the past (Why has it been able to generate a 10-year track record of 15% or more ROE when so many others have not?) and why we believe that it will continue to generate the high business returns we require of all of our investments.
An important element of our analysis involves analyzing the competitive environment, but we are company-specific and do not try to make a call on sectors or industries that can, frankly, be very blunt and volatile investment tools.
How is PepsiCo positioned with regard to competitors?
Pepsi is not immune from the threats from competitors but, in our opinion, the company has several key competitive advantages that protect on the downside.
We believe it has an all-weather business model: For the calendar years 2007 through 2010 - a period that included the worst economic environment since the 1930s - Pepsi increased its earnings per share by 22%, from $3.37 to $4.13. Its diversification by business and geography and the cash flow it consistently generates separated it from many other companies that struggled and, in some cases, failed. The scale of the business (Pepsi accounts for 40% of the global market in salty snacks, making it 10 times larger than its next closest competitor) helps it negotiate favorable prices from suppliers and contributes to an impressive gross margin of 54%.
Pepsi has also evidenced a strong capacity to reinvent itself by divesting slower-growing businesses and developing or buying higher growth/higher margin businesses. The company first expanded overseas (into Europe) in the 1930s and today it generates about 50% of its sales from the international markets. In its competitive marketplaces, Pepsi has also shown the ability to innovate by extending brands to serve evolving customer tastes, for example the expanding the "good for you" range of more nutritious snacks. As part of its 2011 and beyond plans, the company has announced its intention to grow annual revenues from this source by 30% to $13 billion.
How do you view PEP's valuation?
At Jensen we believe that no one metric provides a definitive buy/sell signal, so we use a number of valuation tools in our assessment of a company's stock price . Our valuation "dashboard" is proprietary and we rely most heavily on an in-house produced discounted cash flow model to derive fair value that we supplement with other measures.
Typically, a quality growth company like Pepsi will trade at a P/E premium to the market as investors pay-up for the consistency and sustainability in its earnings and free cash flow growth. Pepsi is currently one of the largest positions in Jensen's quality growth strategy, reflecting our belief in the business and, to our mind, the undemanding valuation of the stock.
Does your view differ from the consensus sentiment on PepsiCo?
At Jensen we pay little attention to consensus views that can change frequently. We also recognize that there are times when a company's stock price can be disconnected from the fundamental business value being generated by the enterprise. We are much more comfortable in focusing our energy on ensuring that our conviction remains well placed. In Pepsi's case, over the last 12 months, the stock price has appreciated but underperformed the S&P 500 index. We are long-term investors (our average holding period for a stock is seven years), and provided Pepsi continues to generate the consistent and successful business performance we require and the shares do not become overpriced in the market, we will likely remain committed to the company.
We also recognize that there are times when our quality growth companies will underperform the market - typically during periods when the market experiences a sharp cyclical recovery or is driven by momentum-like characteristics. But an important residual of our discipline is that over a full economic cycle our companies' stock prices participate in the upside of bull markets but capture far less of the downside in bear markets. We believe that this patient approach is responsible for the investment performance our strategy has delivered, and with substantially lower volatility than the overall market.
Does PepsiCo management play a role in your selection?
An assessment of management is a critical component of our investment theses. We believe that one of the advantages that comes from being a high-conviction manager is a deep and broad understanding of the companies that we own. We also understand that the companies' management teams are the ultimate "insiders" and as investors, we have to have faith that the managers will act in an honorable and shareholder-friendly manner.
Consequently, as part of our process, we require an in-person meeting with senior management prior to making a new investment in a company, and periodic in-person updates in addition to the normal quarterly and annual reports and related press releases.
We have been impressed by the shrewd decisions taken by Pepsi's management that reflect their seasoned business experience - the senior executives have an average tenure of approximately 20 years with the company. In our view, the management team is compensated well but not egregiously and has substantial personal exposure to Pepsi stock, which helps align their interests with those of the company's broader shareholder base.
What catalysts, near-term or long-term, could move the stock significantly?
Given the strength of Pepsi's current franchises we would be surprised if the company announced a transformative deal - such transactions have a mixed track record of success and they tend to make us nervous.
Pepsi has a record of using its cash to lay additional foundations for future growth through acquisitions. We anticipate that as the company further develops its portfolio of businesses it will repeat the generally successful acquisition strategy it has pursued, such as the purchase of two of its largest bottlers in 2009 for $7.8 billion and the 2010 purchase of a controlling interest in the Russian juice maker WBD for $3.8 billion. To us, these sensible, well planned expansions are examples of accretive opportunities that will grow future efficiencies and profits that will be reflected in the stock price.
What could go wrong with your pick?
Mindful of earlier comments about the periodic disconnect between a company's stock price and business performance, I'll focus on the business. For a company like Pepsi, this risk centers on execution risk - that the company will slip up in carrying out its basic business operations.
Every company faces challenges, and the nature of those challenges can change over time. A recent example of a headwind for Pepsi is commodity price inflation, which has increased the company's costs of basic ingredients, plastic containers, aluminum cans and fuel needed for distribution. In May 2011 the company announced that commodity cost increases would add an additional $1.6 billion to its cost of goods sold. However, one of the company's competitive advantages is its pricing power, which we believe will allow it to gradually pass on the increased costs to consumers.
Another risk that an international company such as Pepsi faces is exchange rate risk. In 2010 the company announced a charge of $125 million to reflect the devaluation of the Venezuelan Bolivar. Despite this charge, the company's 2010 full-year EPS was $4.13, an 11.3% increase on the prior year's EPS and in line with its average 11% annualized EPS increase over the decade ending December 2010.
Regulatory risk also poses a potential risk such as laws that require the publication of calorific counts or additional taxes on sodas such as those recently considered by New York City. The offset to these types of threat is the company's proactive move into promoting healthier snacks and beverages.
At Jensen, we prize consistency and sustainability in corporate earnings and free cash flow. Pepsi has been in business for nearly a century, and its 2010 revenues exceeded $57.8 billion. Although the law of large numbers would suggest that it will become more difficult to meaningfully increase sales and earnings, we are impressed with the company's ability to tailor its products to remain relevant to its customers and broaden and deepen its offerings to attract new sales. The company's portfolio of more healthy products is a good example of new avenues for growth that are offsetting the declining sales of carbonated soft drinks in the developed economies.
Pepsi has virtually all of the characteristics Jensen requires of a quality growth company. Over the course of nearly a century, it has demonstrated it can overcome the varying challenges that every business faces while remaining relevant to its customers, increasing revenues, earnings and free cash flow, maintaining a strong balance sheet and providing shareholders with an attractive return.
Thanks, Rob, for sharing your thesis with us today.
Disclosure: Long PEP.
Disclaimer: The information provided herein represents the opinions of Rob McIver, and is not intended to be a forecast of future events or a guarantee of future results, and does not constitute investment advice.