My daily routine is identifying new dividend sources. Here are a few ideas I am exploring further. In some cases I will be adding to positions with incoming dividend and MLP distribution proceeds.

My mindset is to focus, per Fed Chairman Ben's speech, upon the concept of a 0% Fed Funds rate for two years. Only certain entities will have access to the 0% liquidity. Debt-laden industries, such as the shipping industry, will pay junk yields for ongoing operations if they are operating in a deficit.

The two names, which for me personally have been my biggest winners so far include American Capital Agency Corp (NASDAQ:AGNC), and Annaly Capital Management, Inc (NYSE:NLY). Both are agency-mREITs with access to the capital markets for secondaries. Both pay significant dividends based upon historically low interest rates.

As the sun sets on this fine Monday evening, here are a few interest rates to note:
The Fed Funds Rate is 13 basis points (BPS).

The 1-month Libor is 21 BPS.

The 3-month Libor is 29 BPS.

The 30-year fixed is 4.25%.
AG Mortgage Investment Trust, I (NYSE:MITT)
AG Mortgage Investment Trust, Inc. focuses on investing, acquiring, and managing residential mortgage assets, real estate-related securities, and financial assets.

AG REIT Management, LLC is the external manager for AG Mortgage Investment Trust, I. AG REIT Management, LLC is a recently created subsidiary of Angelo, Gordon & Co. Angelo, Gordon is privately owned by managing partners. As per page 5 of the prospectus, Angelo, Gordon & Company is paying all but 1% of the IPO costs. This is unheard of with IPO's.

I decided to inquire about opening an account at Angelo, Gordon. I was turned down. This, in turn, convinced me to buy a token position inAG Mortgage. I want to be part of a business that does not want to me as a client. Reverse psychology does work on me! AG Mortgage has approximately $23 billion assets under management. I want to be associated with winners.

If the only way I can be associated with this group is via AG Mortgage, then so be it. Plus I am impressed that they are limiting the IPO cost to shareholders at 1%. This tells me that they aren't selling shares because of a hot mortgage market. I will ask for an Angelo, Gordon & Company coffee mug to show I am a quasi-insider.

Ares Capital Corporation (NASDAQ:ARCC)
In my opinion, Ares is a "must own" name if investing in the Business Development Corporation (BDC) space. The other "must own" BDC, in my opinion, is Main Street Capital Corporation (NYSE:MAIN).

Ares' stated mission is to provide positive shareholder returns during every type of economic setting. The fact that Ares survived on its feet during the 2008-2010 crisis is proof the company has effective risk controls in place.

Ares is currently trading at a discount to its book value of $15.28 as of June 30th, 2011. Ares invests primarily in senior secured loan originations. These holdings typically provide less interest to the BDC than less secure BDC investments in third parties.

The company's investments are various and clearly stated in the 10Q. Ares may experience a higher repayment of debt obligations due to the reduction in interest rates.
Click to enlarge: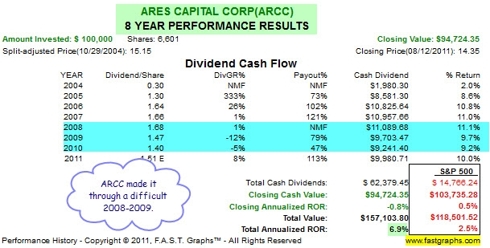 The 16-analysts covering Ares are very optimistic about its dividend growth. This is a reflection upon confidence in management. The growing investment portfolio has been strong.

On page 3 of Ares' investment presentation, investors can view the high growth rate in gross originations thru June 30th, 2011:




Click to enlarge: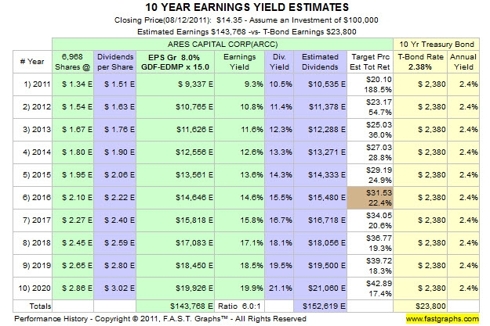 CPI Corp (NYSE:CPY)
CPI operates professional photography services. The company, per the April 30th SEC 10Q, predominantly licenses or leases 3,068 professional portrait studios. The locations are based in the U.S., Canada, Mexico and Puerto Rico. The lease and license terms are with Wal-Mart (NYSE:WMT). License agreements exist with Sears (NASDAQ:SHLD) and Toys "R" Us.

Although the company has been in existence for 60 years, it appears CPI has failed to provide shareholder adequate returns during the past 10-years. The 10-year total annualized rate of return was -.3% versus the SP500's 1.9% return.

There are a few points of optimism:
The company pays a quarterly dividend of 25-cents. This provides a 9.5% dividend yield, assuming the yield is sustainable.

The stock's price has fallen 66% in the past year. The 52-week high was $31 to Monday's price of $10.48. The 52-week lows have recently been established at $9.85.

The company has purchased 377,000 shares, as of June 6th, in a 1,000,000-share buyback plan. This buyback plan ends in August 2011.

The company is a micro-cap at $73-million. Place limit orders only. I personally am not long or planning to buy until I can substantiate business is improving.
Click to enlarge: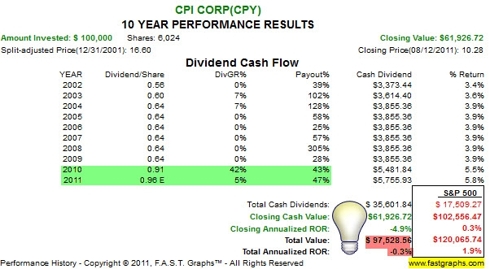 The company's first quarter, ending April 30th, has multiple elements of caution. The company has been ineffective with acquisitions and divestitures to create increasing revenue and profits. Renato Cataldo, President and Chief Executive Officer, is optimistic that cost savings will provide positive results going forward.

Two analysts covering the stock paint a rosy picture of future earnings and dividends. I, however, lack such conviction. I'll see if the company can reduce its expenditures, reduce its debt level as a percentage of shareholder equity, increase revenues, and sustain higher revenues. If it can show an inflection point, then I will consider a position.
Click to enlarge: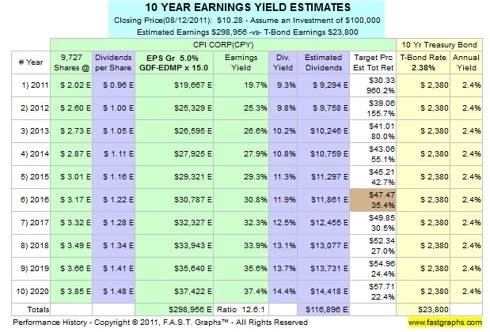 American Midstream Partners, LP (NYSE:AMID)
American Midstream is a recent IPO trading at an intriguing price. On page 8 of the prospectus, management states the natural gas midstream energy MLP plans to pay $1.65-annually in distributions. The yield is intriguing because it's high relative to its peers.

The company's business model is typical for a midstream energy MLP. American Midstream will perform gathering, treating, processing, marketing, and transporting natural gas to the Gulf and south east regions. The company does not have a strong parent to acquire new assets, so growth may be limited. The market cap is $165-million.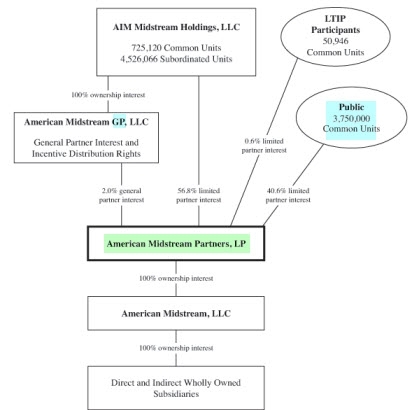 A negative issue is the 2% incentive distribution rights (IDP) that the GP holds. The lack of a strong partner also forces me to ask how the company will grow. I will see if the equity drops to the $16 range to assure a 10% yield. This assumes the MLP can fulfill their prospectus first year expectations.
| | | | |
| --- | --- | --- | --- |
| Company Name | Symbol | Dividend | Yield |
| AG Mortgage | MITT | recent IPO | n/a |
| American Capital Agency | AGNC | $5.60 | 18.80% |
| Ares Capital | ARCC | $1.40 | 9.8% |
| American Midstream Partners | AMID | $1.65 | 9.3% |
| CPI Corp. | CPY | $1.00 | 9.5% |
| Main Street Capital | MAIN | $1.62 | 9.0% |
| Annaly | NLY | $2.60 | 14.16% |