In the early 1940's war raged across the European continent as the major superpowers of the world once again collided in an epic struggle. As the cargo ships struck out across the Atlantic, U-Boats, grouped together in fighting units called "Wolfpacks", and the German Luftwaffe (Air Force) hunted them. As the battle for the North Atlantic raged the great cargo ships, and the shipping lanes they traveled, were decimated. Fast forward to the present and we find another epic struggle consuming the shipping sector. No longer are we dodging the torpedoes and bombs of a foreign navy, but now we are taking relentless fire from the global economy. While there is absolutely no comparison with the brave sailors of World War 2, it is not hard to see how it would take a brave income investor to deploy cash into the shipping sector.
Prior to the latest global economic meltdown, the shipping industry was the place for an income investor. Both oil and dry bulk shippers thrived in 2007 and 2008 on the back of the massive demand and need for all kinds of commodities. Needless to say, the main driver was the rapid growth of China. Trying to get out in front of this trend, the industry placed orders for a plethora of new vessels in anticipation that the demand for their services would continue for the foreseeable future.
Needless to say, all good things come to an end, and that end came fast as the U.S. sank into recession. As the U.S. is seen as the driver for the global economy, the rest of the world started down the same road. The final result was a huge slowdown in demand for the commodities that drove the sector. As the new ships came on-line, they quickly made an imbalance as now there were too many ships for too little demand. The rates that were charged on the ships sank quicker than an anchor being thrown overboard.
As a result, lots of vessels sit empty floating in the sea and waiting for the day for the demand to return, while costing the parent company a pretty penny in upkeep and financing. The question though is if there is any value left here for the income investor? Let's survey the carnage and see what remains.
DryShips, Inc. (NASDAQ:DRYS): DRYS is in the business of operating drybulk carriers and drilling rigs that are worldwide. The drybulk fleet principally carries various drybulk commodities, including bulk items comprising coal, iron ore, and grains; and minor bulk items, such as bauxite, phosphate, fertilizers, and steel products. The company owns and operates a fleet of 39 drybulk carriers consisting of 7 Capesize, 28 Panamax, 2 Supramax vessels, and 2 Panamax newbuilding vessels with a combined deadweight tonnage of approximately 3.5 million dwt; and 12 tankers comprising 6 Suezmax and 6 Aframax with a combined deadweight tonnage of approximately 1.6 million tons.
DRYS is a perfect example of what happened to the industry as a whole. During 2007-2008, DRYS was a very hot stock as the commodity trade was in full swing. Share reached lofty price tags in excess of $125 per share as the company could do no wrong. Eventually the company started to dabble into the offshore deep water oil drilling business. Acquiring ultra deepwater drilling ships and rigs is not cheap, and this cost was added to the orders already on the books for the new dry bulk ships. Most investors know what happens next as the global economy rolls over and the chart below is the best illustration.
Massive amounts of debt, several secondaries, and ever falling charter rates just decimated the stock price. Our once mighty king of the dry bulk was laid low, and so was the stock price which now trades around $2.72 a share. Now this stock price is valued more like a speculative play. But wait; there might be hope for this company in the form of the drilling units. DryShips through its subsidiary, Ocean Rig UDW, Inc., now owns and operates 6 offshore ultra deepwater drilling units comprising 2 ultra deepwater semisubmersible drilling rigs and 4 ultra deepwater drillships, of which 3 would be delivered to the company during 2011.
As drybulk and tanker revenues fall off, the drilling aspect of the business is showing some signs of life. For example, the offshore drilling segment revenues from drilling contracts increased by $29.0 million to $109.3 million for the three-month period ended March 31, 2011 as compared to $80.3 million for the same period in 2010.
DRYS also signed a contract with Petroleo Brasileiro (NYSE:PBR) for two drillships that will be completed in 2011, for 1,095 days of work and a combined value of $1.1 billion. On top of that, DRYS' Board of Directors approved the partial spin-off of the interest in the company's majority-owned subsidiary Ocean Rig UDW Inc. DRYS currently owns approximately 78% of the issued and outstanding common stock. DryShips will distribute approximately 2,967,359 shares of common stock, which will reduce DryShips' ownership interest by approximately 2%. The company also states that this dividend is the first step in delivering value to shareholders from the Ocean Rig investment and DRYS is considering further alternatives including regular dividends and stock buybacks. So, is DRYS dead in the water or on the verge of a comeback? It is too early to say.
Frontline Ltd. (NYSE:FRO): Frontline, through its subsidiaries, engages in the ownership and operation of oil tankers and oil/bulk/ore (OBO) carriers. The company primarily transports crude oil, as well as raw materials, such as coal and iron ore. The company's very large crude carriers (VLCCs) primarily transport crude oil from the Middle East Gulf to the Far East, Northern Europe, the Caribbean, and the Louisiana Offshore Oil Port. FRO used to be a much loved income stock by several income investors, but much like DRYS above FRO's stock chart looks like it took a torpedo right below the water line.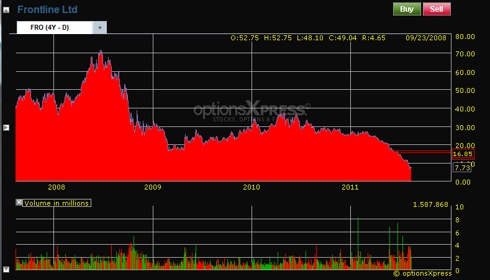 To boil it down for all to understand, the oil transportation fleet is growing faster than demand. This leaves companies like FRO and others in a tough spot as it makes it that much tougher when trying to negotiate rates for the ships. As a result, management is called to make tough choices between taking losses on each voyage and having the ship in operation or leave the tanker idle and incur basic upkeep costs. To sum up, take a look at the Consolidated Income Statements for the first quarter below.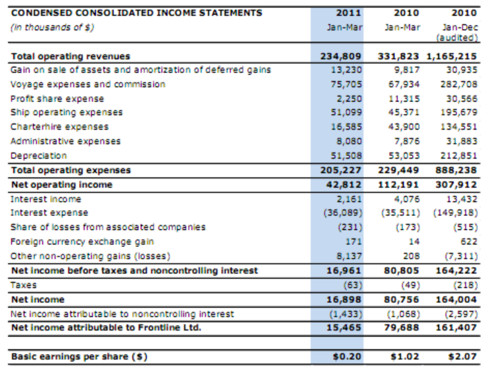 So is Frontline worth the risk right now for the income investor? That would depend on your view of the demand for oil and the global economy.
Diana Shipping (NYSE:DSX): Diana was another beloved drybulk shipping company by many income investors. Diana Shipping provides shipping transportation services that include moving such commodities as iron ore, coal, grain, and other materials along worldwide shipping routes. As of December 31, 2010, the company's fleet consisted of 23 dry bulk carriers, including 14 Panamax, 1 Post-Panamax, and 8 Capesize dry bulk carriers with a combined carrying capacity of approximately 2.5 million deadweight tonnage. The good news for DSX was that the company did not follow the expansion model that so many other companies did.
As a result, DSX was able to batten down the hatches much better than its competition. Also DSX pre-negotiated its rates quite a bit more than others who priced their business on the spot market. The bad news is that regardless of how well Diana was prepared for the downturn in the industry's business model, it will still succumb to the overall environment in which DSX has to exist in. Consider the graph below for the company as DSX moved through the global meltdown.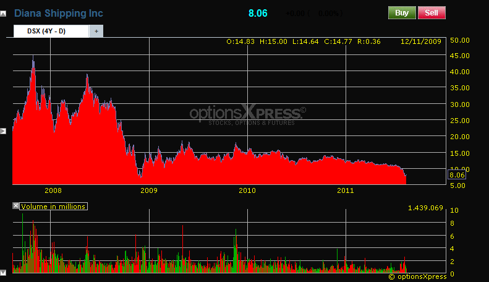 Diana Shipping reported a net income of $27.7 million for the second quarter of 2011, compared to a net income of $33.9 million reported in the second quarter of 2010. The time charter revenues were $64.6 million for the second quarter of 2011, compared to $68.7 million for the same period of 2010, mainly due to reduced average time charter rates and an increase in off hire days. Net income to Diana Shipping Inc. for the six months ended June 30, 2011 amounted to $60.8 million, compared to net income of $62.7 million for the same period of 2010. The stock trades at roughly $8 and looks to share the same sticky fate as its competition, unless the industry sees some sort of turnaround in the future.
The next victim of today's economy is Eagle Bulk Shipping (NASDAQ:EGLE). Eagle Bulk Shipping Inc. engages in the ocean transportation of bulk cargoes in the dry bulk industry. The company primarily transports iron ore, coal, grain, cement, and fertilizer along worldwide shipping routes. As of December 31, 2009, EGLE owned and operated a fleet of 27 oceangoing vessels with a combined carrying capacity of 1,412,535 deadweight tons. In the glory days of shipping, the stock traded up to $35 a share and provided the income investor with a nice dividend.
In late 2008, it looked as if the economy slammed a couple of torpedoes into the side of Eagle as the stock rolled over and has never looked back. The last dividend was paid out in late October 2008 and then dried up. Since then, Eagle's stock price has settled on the bottom and now trades around $1.86 a share.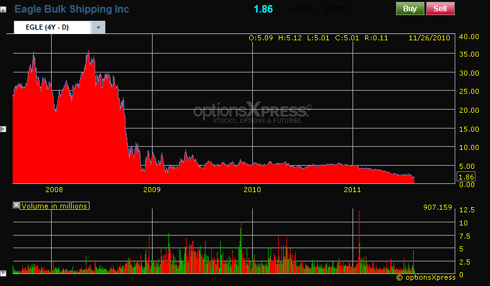 For the second quarter of 2011 the company reported a net loss of $1.4 million or $0.02 per share (based on a weighted average of 62,571,322 diluted shares outstanding for the quarter), compared to a net income of $11.0 million, or $0.18 per share, for the comparable quarter in 2010. Net revenues of $76.4 million, an increase of 16% compared to $65.6 million for the comparable quarter in 2010 was also reported. Times are tight for this company and all that EGLE can hope for is that the economy turns the corner and demand comes back online.
So far all we have is gloom and doom in this article. I would not blame anyone for just throwing in the towel at this point. The list of companies goes on and on. Much like the bottom of the Atlantic floor is littered with rusting hulks from the Second World War, the equity markets are also littered with this industry whose stocks are taking on water fast and survival is doubtful. In response, I tried make sure the last two entities at least have a fighting chance to buck the trend and provide some value for the income investor. Obviously there were some companies that fit the bill, but the ones I liked best came in the form of partnerships.
Navios Maritime Holdings (NYSE:NMM): Navios Maritime Partners L.P. owns and operates dry cargo vessels internationally. The company engages in the seaborne transportation services of a range of drybulk commodities, including iron ore, coal, grains, and fertilizers, as well as chartering of its vessels under medium to long-term charters. The fleet consists of 10 Panamax vessels, 5 Capesize vessels, and 1 Ultra-Handymax vessel. Navios GP L.L.C. serves as the general partner of the company.
The average term of their charter is approximately 4.3 years to a strong group business partners. NMM has currently contracted out 100.0% for 2011, 95.2% for 2012 and 75.1% for 2013, generating revenues of approximately $176.8 million, $170.7 million and $133.9 million. The average contractual daily charter-out rate for the fleet is $30,270, $30,601 and $32,560 for 2011, 2012 and 2013, respectively. The average daily charter-in rate for the active long-term charter-in vessels for 2011 is $13,513. That being the case, Navios Maritime Partners should have things under control for at least 2.5 more years as the company awaits a better economy. For the first quarter of 201, NMM declared a cash distribution of $0.43 per unit. Annualize that figure out, and one gets a $1.72 distribution for a yield of 11.13% at today's current price per share of $15.44.
It should also be pointed out that Navios Partners completed a public offering of 4,000,000 common units at $19.68 per unit and raised gross proceeds of approximately $78.7 million to fund its fleet expansion. This happened in April of 2011. As we wait for the second quarter figures, the first quarter numbers for 2011 were as follow:
45.6% increase in quarterly Revenues to $42.8 million
56.8% increase in quarterly Operating Surplus to $26.5 million
52.1% increase in quarterly EBITDA to $32.4 million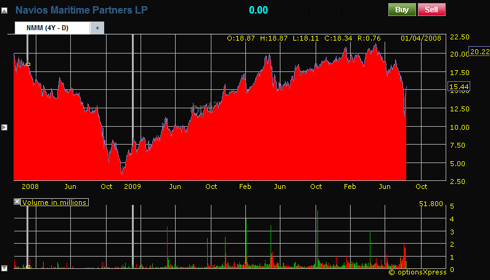 Teekay LNG Partners L.P (NYSE:TGP): Teekay LNG provides marine transportation services for liquefied natural gas, liquefied petroleum gas, and crude oil worldwide. The company charters its vessels on time and voyage basis. TGP operates a fleet of 15 LNG carriers and 3 LPG carriers; and 10 Suezmax-class crude oil tankers and 1 Handymax product tanker. Including projects currently warehoused by Teekay Corporation, Teekay LNG is the world's third-largest independent owner of LNG carriers.
So, unlike all the other shippers above, TGP is a partnership involved in the liquefied natural gas business.
According to the company, the Liquefied Natural Gas (LNG) industry remains a strong area for growth. Global demand for LNG is expected to increase by more than 50 percent by 2030 and TGP is trying to be in the right place at the right time. So, while most other shipping is failing, Teekay seems to have the right business model. Teekay LNG's business strategy is to increase distributions per unit by executing on the following:
Expand LNG fleet on a build-to-suit basis
Focus on fixed-rate contracts in excess of 10 years
Pursue industry consolidation through accretive acquisitions
Leverage Teekay's customer and supplier relationships
Provide superior vessel operations
Pursue specialized LNG project business
For the income investor, one of the key strategies of Teekay LNG Partners is fixed rate contracts which are long-term (typically 10-25 years) fixed-rate. This makes for a stable and predictable cash flow model to work from. Also TGP is pursuing industry consolidation where it makes sense through accretive acquisitions. In the first quarter of 2011, Teekay generated a distributable cash flow of $39.1 million, up 15% from $33.9 million in the first quarter of 2010. As a result, the partnership raised the quarterly distribution to $0.63 per unit which was an increase of $0.03 per unit or 5%.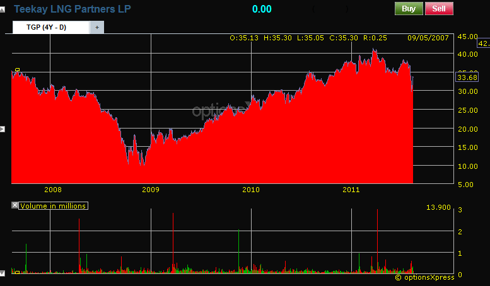 In conclusion, the shipping industry, whether it is drybulk or oil, has been a complete maritime disaster to any income investor who held onto the shares while the ships went down with the economy. The real question everyone is asking themselves now is; which of these companies will survive as the "Wolfpacks" of the financial crisis still lurk out there in the open waters of the global economy?
Disclaimer: Data and information are provided "as-is" for informational purposes only, and are not intended as investment advice, tax advice or legal advice. All data and information are provided by optionsXpress Holdings, Inc., and optionsXpress, Holdings Inc. does not endorse or warrant the validity or accuracy of such data and information. Nor is optionsXpress Holdings, Inc. liable for any errors or delays in the data and information, or for any actions taken in reliance thereon. optionsXpress makes no investment recommendations and does not provide financial, tax or legal advice. Information accessed through this website and any link contained therein does not constitute a recommendation to buy or sell a particular investment from optionsXpress. You are solely responsible for your investment decisions, and you should carefully evaluate the information to determine whether it is right for you and use of such information is suitable for your objectives.
Disclosure: I am long DRYS.