As long time readers know, I follow the ZYX Change Method. The method combines fundamental, quantitative, and technical analysis. From a fundamental and quantitative point of view, the stock market is not expensive and should move up. However, the sentiment component of the technical screen of the ZYX Change Method is flashing caution.
For us, sentiment is an important indicator. We use a proprietary sentiment indicator that is a composite of the following:
Emails from our subscribers and clients

AAII Survey

Option skews

Put call ratios

Put call open interests

Money flows
The following table describes how the sentiment is interpreted at The Arora Report (click to enlarge images):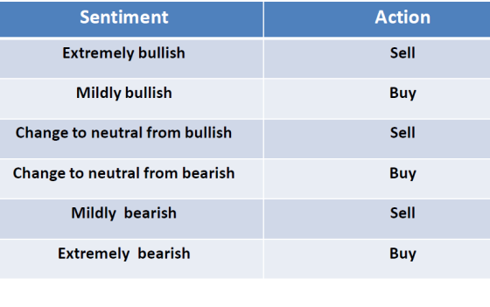 Bottoms are formed when sentiment gets extremely bearish. This is the point when all the weak hands have sold the stock. Once stocks get in the strong hands, markets rally.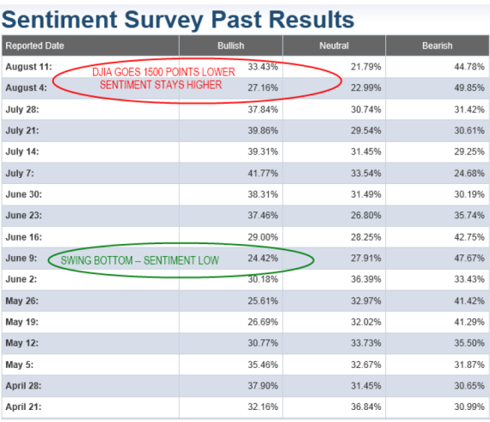 The American Association of Individual Investors weekly survey data is shown in the table below. The readers will notice that during the June 9, 2011 swing low, the bullish sentiment was lower than the point when the market went down 1500 points. This shows that during the recent sell off, bullish sentiment never got flushed.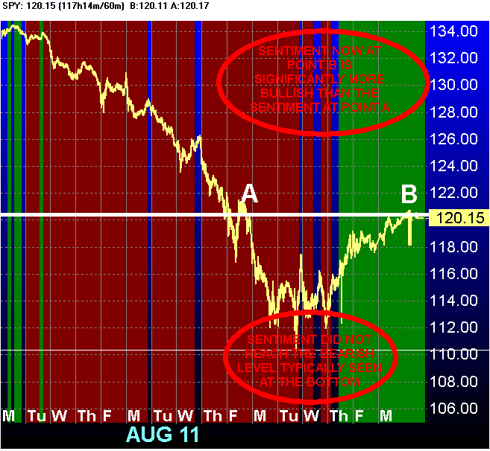 As shown in the chart, the proprietary sentiment indicator is now showing a much higher level of bullishness compared to the same market level before the recent drop.
This means that a lot of stock is still in weak hands. When a lot of stock is in weak hands, it pays to maintain a defensive posture.
I am long on QQQ and I have advised certain accounts to be long SPY and DIA. Our plan is to trim long positions as the market goes higher. For the most part, it is not prudent to initiate long positions here unless there is a compelling case for an individual stock.
Disclosure: I am long QQQ.