The last several SiriusXM earnings reports have shown the balance sheet improving and the conference calls have discussed the possibility of a share buyback. During the most recent conference call, Mel Karmazin noted the large cash balance that the company was building up and expressed a desire to return it in some form to shareholders. One way was to use it for acquisitions, although he noted that because of the company's "criteria and threshold for acquisitions, they are hard to come by." Then he went on, "So absent a compelling acquisition, shrinking our shares outstanding would be a great use of our free cash flow."
Ignoring the hotly debated topic by Seeking Alpha authors Spencer Osborne, Relmor Demitrius and others on whether or not a share buyback changes the ownership percentage of Liberty Capital, is a share buyback good for SiriusXM shareholders? Certainly the reactions expressed in comments by members of Seeking Alpha would seem to approve. Why wouldn't we approve? There will be fewer shares outstanding, our percentage ownership goes up, the earnings per share increase and the price of the shares should rise.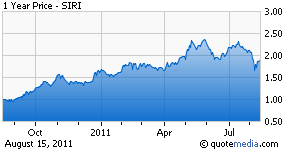 There is also a perception by the markets that share buybacks are good for the stock price and should be good for shareholders. This is reflected in the immediate spikes in share prices that take place when companies announce buybacks. But what happens over the longer term?
Last month, Christina Rexrode, AP Business Writer, wrote an article titled Use care buying into a company's buyback fever and poses the question "Companies are buying back shares and telling investors they're doing them a favor. Are they?" As you might be able to tell from the headline, she makes a case for caution. She notes:
The logic behind that is simple. If companies are buying, they must believe the share price is going to rise. Their confidence influences investors to bid the shares higher. Investors get higher returns and own more of the company because there are fewer shares circulating. And the company can later reissue shares at a higher price. Everyone ends up happy.
It makes sense. The company knows more about itself than any outsider. If they think the price is too low, they must be right. This point is similar to the logic on insider buying - if insiders, who know more than we do, are buying they must think the shares are cheap and likely to rise. She then notes that there is little evidence that the share prices remain high over the long term. The article gives many reasons the shares revert to their former levels. The most significant one from my perspective is that the fundamental problems that led to a low share price haven't gone away with a buyback.
There are other issues as well. Subsequent to the buyback many companies issue more shares for employee option programs or acquisitions. Here is another interesting point from the article. "TrimTabs Investment Research estimates that companies that announce buybacks outperform the market by 0.7 percent the next day, and by 1.2 percent in the first 100 days." However, Birinyi analyst Rob Leiphart notes that the stock of S&P 500 companies that did not announce buybacks in 2010 actually performed better than those that did.
From my perspective as an investor, I would rather not see a buyback. I have other preferences.
I would prefer the company use the cash to pay down debt.
I would prefer to see accretive acquisitions
I would prefer to see the company reinvest in the business, whether it is enhanced product, enhanced content or better Sales and Marketing
I would prefer to see a dividend indicating the company expects to have consistent earnings to maintain and grow payments to shareholders
Before having read the article, I was not particularly in favor of share buybacks. Now, I am even more opposed. I suggest that anyone interested in learning more about the topic read Christina Rexrode's article. Perhaps the SiriusXM investor should be careful what they wish for. One final note. All share buybacks aren't bad. The article ended with this upbeat comment:
Chipotle Mexican Grill Inc. (NYSE:CMG) is one of the few companies that got it right. The burrito maker began buying shares when they were trading around $40. The stock now trades at about $315. From the fourth quarter of 2008 through the first quarter of 2011, Chipotle spent $244 million, including fees, to buy back about 2.9 million shares. At today's prices, those shares are worth more than $913.5 million.
Disclosure: I have $3 January 2012 covered calls against most of my Sirius position. I may add to my long position of SIRI at any time and might close or open covered call positions at any time. I have no positions in the other stocks mentioned.