Now back from my whirlwind vacation trip of the deep South, I'm ready with another retail sales report for you, this time for July 2011. There was a lot of anticipation for this month's report for two reasons. One, because many had theorized that the the debt crisis was leading consumers to hoard money, and declining consumer spending is a usual recipe for a recession. Two, because June's report showed almost no increase in spending. Another month or so of that, and it could be a sign of a recession.
However, I'm happy to report, the results were quite positive, causing many to breathe a sigh of relief. First of all, June was revised up from an almost flat +0.1% to a slightly better +0.3%. And on top of that, July's headline number was up 0.5% from the revised June. So all in all, a nice upside surprise for a report many had been somewhat concerned about. Remember, at this stage of the expansion, we need to be watching consumer spending, wage growth, employment and inflation more so than ISM expansion. Real wage growth and employment contribute to consumer spending, and that's what drives the economy from here on out.
So let's dig a little into the individual numbers to see what investments we might consider.
[Click to enlarge]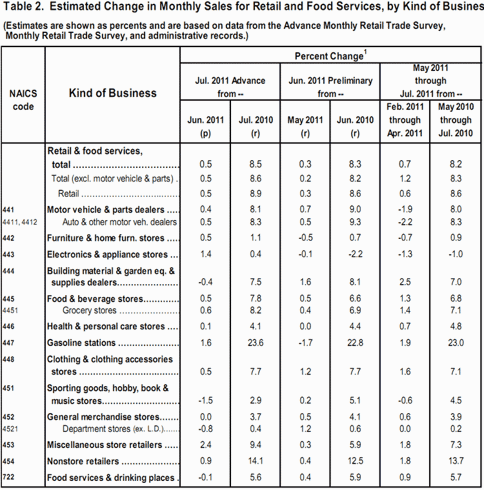 You'll notice a slight cause of concern in restaurants, declining at -0.1%. Restaurants are a nice leading indicator of consumer confidence. We'll have to keep an eye on this one.
Investor Watch: Be careful with any restaurant stocks at this stage.
Another surprise to me was gasoline, up 1.6% and 23.6% year on year! After a brief fall in prices, slight price increases and seasonal demand upped gasoline purchases. This one is always cause for trouble for the rest of consumer spending, so we need to watch where gasoline goes next month. My guess is it will be down, but will stay robust.
Investor Watch: Many excellent O&G companies have had a huge price hit, and are ripe for buying. These include Exxon (XOM), Hess (HES), Chevron (CVX), and EOG Resources (EOG).
Very important in general, but non issues due to little growth this time, include both food and auto. Big uncertainties here for the future, so we'll have to call pass on both these for now.
Appliance and electronics bust out with the Fourth of July weekend at +1.4%, but an anemic 0.4% year on year. Not seeing anything much happening in this area.
Investor Watch: Stay cautious on retailers like Best Buy (BBY) and Sears (SHLD) despite being at 52 week lows.
Non store retails (etailers) continue to steal from brick and mortar, up 14.1% year on year now.
Investor Watch: Despite an insane 81X earnings, Amazon (AMZN) continues to follow a step ladder chart. This pullback from 225 to 200, could be just what you Amazon fans are looking for.
And the one that has had held my interest the most for the last few months is building materials. Construction spending has really been improving based on the monthly report, mostly in commercial and industrial. Despite a monthly contraction at 0.4%, building materials are up 7.5% year on year! Any increase in construction could do wonders for the economy, as recoveries are often led by substantial gains in building. A slowdown in midsummer is quite normal, so let's check this next month as well.
Investor Watch: Huge pullbacks in steel manufacturer Nucor (NUE) and best in class retailer Home Depot (HD) have created some very interesting buying opportunities pending a construction rebound.
Overall a retail sales report of relief for the US economy! Thanks for reading and see you next month.