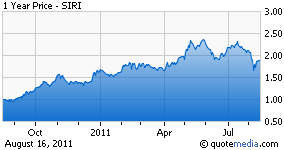 In another demonstration of just how far SiriusXM (NASDAQ:SIRI) radio has come since the woes of the economic crisis, when SIRI slipped to as low as a nickel, the company banked another quarter of record earnings and added an additional 450,000-plus subscriptions.
That puts the running total at just about 21 million at a time when SatRad is rolling out in 65 percent of all new cars on the road, and CEO Mel Karmazin raised guidance of full-year additions to 1.6 million. Previous estimates had that number at 1.4 mill.
Content and programming costs were also reduced, and the costs associated with adding a new subscription were also cut by just about five bucks/per.
Additionally, SiriusXM is free to raise its rates again with the expiration of an FCC regulatory stipulation. This will boost the company's bottom line while strengthening its position to pay down debt ahead of schedule, as has been the recent strategy.
The recent string of good news confirms that the SiriusXM recovery is in full steam, and although some headlines out there will look to dispel the quality developments by emphasizing an earnings "miss," there's little doubt that the long side of the story is starting win out over the short side - although heavy short interest and volatility has given both longs and shorts opportune time to bank some cash.
Trading earlier in the year took SIRI to the mid $2 range, and many predict that the stock can and will test those highs again. The market is on a swift and significant slide right now, so it's also quite possible that another trip to the south side of $2 is going to occur, but I'm willing to bet that there's quite a few longs who would love to take advantage of that opportunity.
SIRI is one of those stocks that's either loved or hated, so the shorts will claim victory as the stock drops, but the longs will look to claim an even bigger victory because they feel that there's a heck of a lot more upside, especially if the stock hits below two.
There's also the prospects of SiriusXM 2.0 hitting the market pretty soon. The new platform will give SiriusXM receivers access to more channels and comes with nifty new capabilities, such as on-demand and time-shifting services.
Investors believe that this platform will enable SatRad to more effectively compete with other services, such as Pandora (NYSE:P).
With all the good going on, is there risk involved with an investment in SIRI?
Of course, there's always risk. The economy still stinks, even though you'd never know it in Washington where all of our elected officials are boosting the local economy by going round-for-round on the Goose and mixers with high priced women, and a bad economy eventually slams new car sales, where this company sees its foundation of new subscriptions.
Services such as Pandora and the iPad will always compete, although this guy doesn't believe that they have - or ever will - attain the content package offered by SatRad.
The more SIRI drops in this downturn, the better it looks as a buy, in my opinion.
If nothing else, it's another opportunity for both the long-termers and the traders to bank on their games.
And that's what it's all about - a little bit for everybody.
VFC's Stock House is not compensated to cover SIRI.
Disclosure: I have no positions in any stocks mentioned, and no plans to initiate any positions within the next 72 hours.