New Gold (NYSEMKT:NGD) is a mid-tier gold producer with cash flow positive operations in the United States, Mexico and Australia and development projects in Canada and Chile. The company is well run and has a solid platform for profitable growth with a strong financial position. NGD is currently trading at 23 times earnings and has been a top performing gold mining stock over the last two years. It has made a tenfold price increase since its November 2008 low during the financial meltdown, and retraced all of its previous declines.
Financials
The company has aggressively grown production, and revenues are up over 370% over the last three years. NGD expects to produce between 380,000 and 400,000 ounces of gold in 2011, which will grow revenues anywhere between 25% and 30% this year.
click to enlarge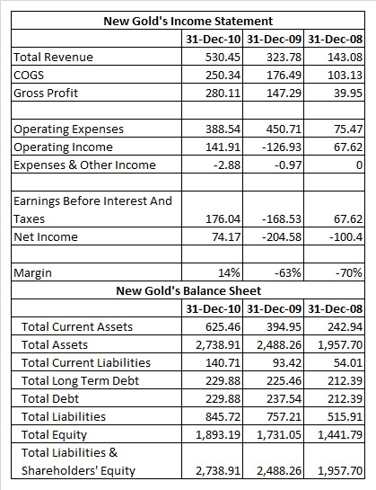 Click to enlarge
New gold continues to see favorable conditions for its operations. The price of gold has steadily been raising and its cash cost per ounce of gold and been going down, which is very bullish for the company. The cost per ounce is at a record low $354, down 35% from a year ago.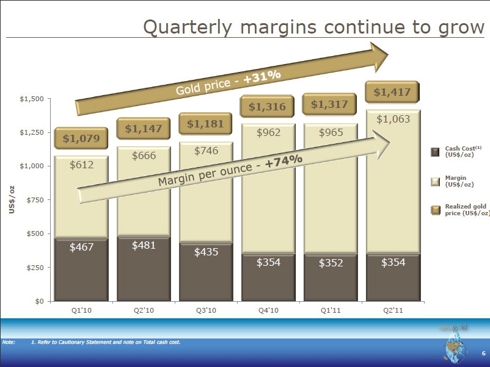 Click to enlarge
Source: New Gold
Mines and properties
New Gold has operating projects in the United States, Mexico and Australia and development projects in Canada and Chile. The table shows proven and probable reserves at its different properties.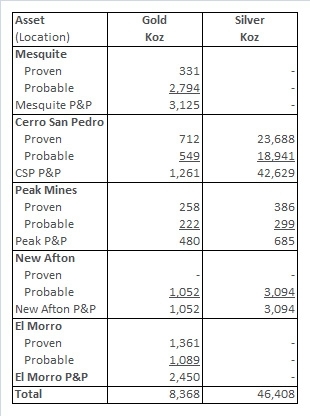 The chart compares NGD's market cap to its proven and probable reserves at different gold and silver price points. The value of its total reserves far exceeds its market cap and any increase in gold and silver prices will further increase the value of its reserves.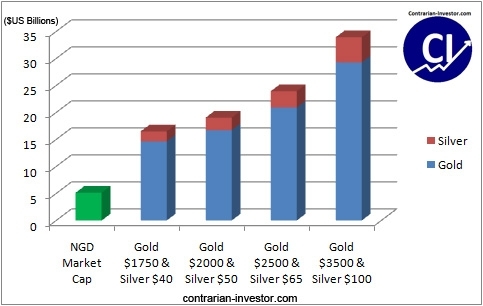 Production
NGD has grown production on average by 17% per year over the last 3 years and the company estimates that it will grow production by another twenty thousand ounces of gold in 2011. In 2010 the company generated $530 million in revenues and with gold and silver prices at current levels they expect to generate anywhere between $740 million to $775 million in earnings this year. The chart shows NGD's growth in revenue over the past three and its estimated revenues for 2011.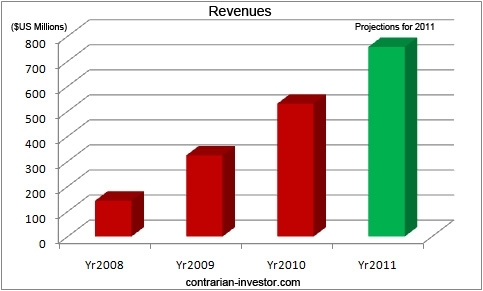 Risk
NGD finished the second quarter with a $490 million cash position. Its margins have been increasing substantially over the last year and the company is no longer in the red. New Gold is a well run company and has a modest amount of debt. The stock price held up well during the selloff in early august. Additional selloffs in the market could of course hurt its stock price but with gold trading at records highs and with stable production costs the fundamentals of the business should not be negatively impacted if such an event would occur.
New Projects
NGD acquired the Blackwater project in Canada in June of 2011 for $480 million. It issued 48.6 million new shares, 12% dilution, to fund the new purchase. The property has 1.8 million ounces of indicated gold and 2 million ounces of inferred gold in the ground, which at today gold prices is worth $6.65 billion. Blackwater is expected to start production around 2013 and add additional growth to the company.
Smart Money Invested in NGD
This stock is owned by the "smart money" in the industry including, Jean-Marie Eveillard, and Pierre Lassonde. Pierre Lassond, a living legend in the mining and resource world, and also the Co-Founder of the Franco-Nevada Mining Corporation and former President of Newmont Mining is heavily invested in NGD. He said at an interview on King World News that he expects the stock to be around $15-$18 in a year from now, and around $20-$30 within 18 to 24 months, when El Morro is getting close to production. Pierre Lassonde expects further upside potential if the new backwater project turns out to be successful. It is a new resource with relatively unknown assets, so additional discoveries could significantly boost its reserves and future cash flows.
Conclusion
NGD is a leading mid-tier mining company that has outstanding operational performance as well and good stock performance. With increasing gold (NYSEARCA:GLD) and silver (NYSEARCA:SLV) prices and low production costs the company is set out to delivery excellent returns for investors in the years to come.