By Brendan Gilmartin
Overview
Dell (NASDAQ:DELL) is scheduled to report 2Q 2012 earnings after the close of trading on Tuesday, August 16. The results are typically released immediately after the closing bell with a conference call slated to follow at 5:00 p.m. EST. Dell has made great strides in recent quarters transforming itself by expanding into the enterprise market, delivering high end server capability in the data center, along with cloud-computing and virtualization solutions.
Outliers & Strategy
Key Measures:

Non-GAAP Earnings Per Share (EPS): In the past five quarters, this value was comparable to consensus.
Revenues. Revenues tend to track close to consensus estimates.
Gross Margin: This is a critical measure for Dell. The "knee-jerk" reaction does not often take into account gross margins. As the results are digested, this measure typically gets close scrutiny.

Dell is expected to earn $0.49 per share (range is $0.41 to $0.57) on revenues of $15.76 bln, up 1.4% from the year-ago period. (Source: Yahoo! Finance).
According to Revere Data (www.reveredata.com), the following companies derive more than 10% of total revenues through supply agreements with Dell: CommVault Systems (NASDAQ:CVLT), SMART Modular Technologies (NASDAQ:SMOD), Xyratex Ltd. (NASDAQ:XRTX), Lexmark International (NYSE:LXK), and QLogic (NASDAQ:QLGC).
At a recent $15.50, Dell shares are down 8.66% over the past 30 days and now trade at just 9.3x earnings, a discount to the 5-year average of 15.6x, and a mere 0.5x sales. The company also has $7.68 per share in cash on its books, increasing the specter for more aggressive share repurchases and a possible dividend payout.
Recent News
08/15: UBS reiterated a Buy rating and raised the price target on Dell to $19 on diversification into services and enterprise demand. Citigroup says favorable component prices could boost margins. Barron's
08/12: Jefferies lowered its price target on Dell from $17 to $15 and maintained a Hold rating. Benzinga.com
08/10: Auriga Research maintained a Buy rating and a $25 price target on Dell, due in part to steady margin expansion, as the company transforms into a full-service enterprise vendor. Benzinga.com
07/20: Dell signed a definitive agreement to acquire Force10 Networks, Inc., a leader in high-performance datacenter networking.
05/25: Dell announced additions to its desktop virtualization solutions portfolio including an enhanced Dell Virtual Lab 2.0 solution and new Dell OptiPlex FX170 and FX130 thin client offerings.
Technical Review
Dell shares recently reclaimed the $15.50-level, a ley near-term support/resistance level going back to this past March. Note that the recent bounce off the low near $13.50 also represents a 50% retracement of the move downward off the July peak near $17.50 – a signal the bulls may be regaining control. Look for resistance in the $17 area in the event of an upside surprise, with support down near $14.25. (Chart courtesy of StockCharts.com).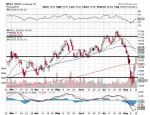 Summary
Dell shares were hit hard after reaching a 52-week high of $17.60 in July. Despite the macro concerns hitting the integrated IT giant, Dell is benefiting form a push into the server market, sustained enterprise demand, improved margins from lower component costs, and a more diverse service model, making it less vulnerable to economic shocks. Sentiment appears fairly mixed, while the technical signs are suggesting a sustained move higher in the event of an upbeat earnings release.
Disclaimer: By using this report, you acknowledge that Selerity, Inc. is in no way liable for losses or gains arising out of commentary, analysis, and or data in this report. Your investment decisions and recommendations are made entirely at your discretion. Selerity does not own securities in companies that they write about, is not an investment adviser, and the content contained herein is not an endorsement to buy or sell any securities. No content published as part of this report constitutes a recommendation that any particular investment, security, portfolio of securities, transaction or investment strategy is suitable for any specific person.