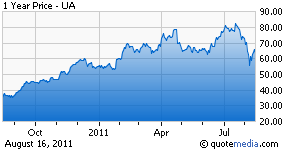 Under Armour (NYSE:UA) is one of the most intriguing stocks on the market. For lack of a better analogy, it is the Apple (NASDAQ:AAPL) of sports apparel. Where other companies have failed, UA has flourished by solving many of the problems plaguing the modern athlete. They invented a repertoire of athletic apparel with unparalleled comfort, flexibility, performance, and climate control. Eventually, they introduced their goods to the broader market, gaining market share while refusing to budge on prices.
UA is a blossoming company with excellent growth perspectives. However, external forces, such as the current secular bear market (2001-?), converging with a cyclical bear (5/2011-?), should not be taken lightly. Read my previous article for a greater understanding on the macro environment picture). On the contrary, back to school season and the holidays, the most profitable times of the year, are approaching rapidly. The aim of this article is simple; illuminate the pros and cons of initiating a position, long or short on UA, as of 8/15/11, with a price per share of 65.96.
When making a decision, or advising others on an important decision, I suggest making a simple pro/con chart, regardless of how elementary it may seem.
| | |
| --- | --- |
| Pros | Cons |
| Strong Demand (Quarterly yoy Revenue (42.3%) and Earnings (78.2%) Growth) | Secular Bear (2001-?) Cyclical (5/11-?) |
| Innovative | Trailing P/E of 44.9 / Forward P/E of 29.2 |
| Beat the Street (consensus) last 4 quarters | Weak Global Sales |
| Successful Expansion into footwear (new footsteps campaign, largest ever, 31% yoy growth) | Cash Flow Negative, as of Q2 (One of Buffet's guidelines) |
| Solid Balance Sheet (120 Million Cash/ 36.9 Million Debt) | Supply Chain Weakness, Input Cost Headwinds |
| Professional Exposure (Making gains in the 3 major sports leagues) | Beta 1.54 |
| Back to School/ Holiday season is upon us | Change in Business Model, Lower Margins |
The chart tells a conflicting story. While some may believe it is a great time to initiate a long position based on the pros, the broader market picture, coupled with negative fcf, high p/e, and change in business model, suggest the contrary. Therefore, now is not the time for the individual investor to step onto the playing field, IMHO, because the near and midterm picture is too cloudy. However, if you are a risk inclined bear like me, initiating a short position could see substantial gains in the turbulent months to follow. Conservative price target: 50.
*All Information gathered from etrade, yahoo finance, and UA's most recent conference call).
Disclosure: I have no positions in any stocks mentioned, but may initiate a short position in UA over the next 72 hours.