MEGA HEDGE FUND MAKES BIG BET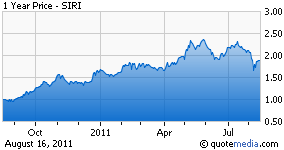 TPG-Axon Management is a New York based hedge fund with more than $2.9 billion in reported long equity positions in U.S. listed stocks. The fund operates a concentrated portfolio of diverse names, including Sprint Nextel Corp. (NYSE:S), Mosaic Co. (NYSE:MOS) and Coca-Cola Enterprises (NYSE:CCE). But according to their latest SEC Form 13F, the fund made a big 83,000,000 share wager on satellite radio company, Sirius XM Radio (NASDAQ:SIRI). At the end of last quarter, this stake represented the fund's third largest equity position. During the last quarter, the share price traded as low as $1.63 during the intra-day but also floated well above $2 per share. It is possible that the fund's cost basis is at or above current price levels.
TPG-Axon was founded in 2004 by Dinakar Singh after leaving Goldman Sachs' Principal Strategies Group. The fund launched with $5 billion and support from private equity firm Texas Pacific Group.
STOCK WITH UPSIDE AND UNIQUE OPPORTUNITY
Sirius XM trades at a trailing P/E of 46.34, a forward P/E of 23.75 and a PEG ratio of 0.89. We fully admit that the company's pricey stock valuation reduces margin of safety for potential investors, but SIRI is among "4 High P/E Stocks That Are Cheaper Than They Look." Their trailing earnings do not reflect the growing value of their satellite distribution and proprietary content in a world where consumer bandwidth costs are rising. In addition, the company's stock price does not incorporate the potential from pricing power raising subscription prices next year. The company agreed not to raise pricing this year as part of their Blessing v. Sirius XM settlement, but as we estimated, just a $1 monthly increase per customer could lead to a 20% increase in the stock price.
SHORT INTEREST CONTINUES TO PROVIDE FUTURE UPSIDE CATALYST
Despite TPG-Axon's bullish bet on the satellite radio provider, market sentiment remains bearish and skeptical of SIRI. This is most evident in the company's stagnating stock price and elevated short interest. As of July 29, 2011, the company had 295.98 million shares sold short. This is the highest level in a month and a half and likely grew during the most recent sell-off. While the short interest is a reflection of sentiment, structurally, it is a positive catalyst for shareholders because short sellers have a negative effect on the stock price when they initiate the position, but a positive effect thereafter because they are guaranteed future buyers of the stock. While they hope to purchase their borrowed shares at a lower future price, the net effect is still the same, they will still have to buy the stock sometime down the road.
Along with fundamental improvement and secular growth opportunities, we are optimistic that the short interest will provide a boost to the stock price in future periods.
Disclosure: I have no positions in any stocks mentioned, but may initiate a long position in SIRI over the next 72 hours.