One big reason we like trading options and exchange traded funds (ETFs) is that traders & investors can profit in both directions in the market — big volatility and trends in either direction can be a good thing.
Even with the big broad-based sell-off we've seen this month, there are a variety of sectors that are both outperforming and underperforing the S&P 500 Index (NYSEARCA:SPY) — so through the use of ETFs and leveraged instruments like options, one can make gains in both directions from the multitude of varied global trends.
Let's take a look at what single sector optionable ETFs are beating and lagging the market the most during this recent big move. We're ignoring the Inverse and Ultra ETFs here to get a clear picture — also taking just 1 ETF from a particular sector (the best or worst performing respectively):
Leaders:
(NYSEARCA:VXX) – iPath S&P 500 VIX Short-Term Futures
(NYSEARCA:GLD) – SPDR Gold Shares
(NYSEARCA:TLT) – iShares Barclays 20 Year Treasury Bond
(NYSEARCA:CORN) – Teucrium Corn
(NYSEARCA:FXF) – CurrencyShares Swiss Franc Trust
Losers:
(NYSEARCA:ITB) – Dow Jones US Home Construction
(NYSEARCA:SLX) – Market Vectors Steel
(NYSEARCA:KBE) – SPDR KBW Bank
(NYSEARCA:FBT) – First Trust NYSE Arca Biotech Index
(NYSEARCA:PXQ) – PowerShares Dynamic Networking
Here's the data in graphical form:

ETF Top Relative Performance In August - (click charts to enlarge)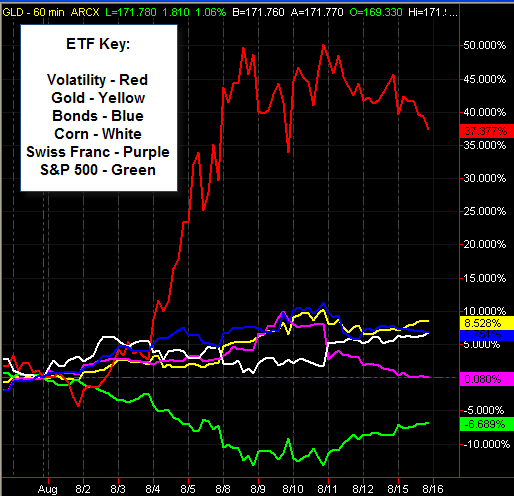 So here we see that with the broad market down near 7% this month, there have been gains made — mostly in 'safe havens' such as Gold, Long-Term Gov't Bonds, and the Swiss Franc. ETFs that track market volatility such as VXX have made huge gains. And surprisingly the Corn commodity ETF is flat on the month (relative market outperformance).
ETF Bottom Relative Performance In August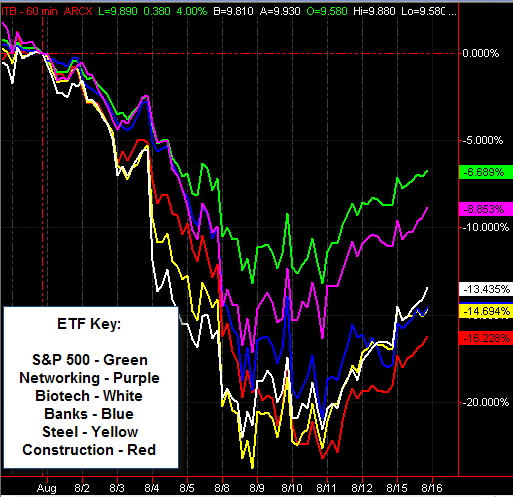 Of the biggest losers, we see economically sensitive areas such as Home Construction, Steel, and Banks. But also a couple of typically more growth-oriented groups such as Biotechnology and Networking Semiconductors. 4 of this group have nearly doubled the losses of the SPYders this month, which traders on the short side (through options, inverse ETFs, selling short, etc) could have profited from nicely.
There are always bull & bear markets going on, sometimes simultaneously within the vast scope of the global reach of sectors & ETFs. Using relative strength measures and charting techniques can help you pinpoint the relative winners & losers … and using leveraged instruments with small cash outlays can help you reap some gains (or offset losses in longer-term holdings).
Disclosure: I have no positions in any stocks mentioned, and no plans to initiate any positions within the next 72 hours.