"Change always comes bearing gifts." - Price Pritchett
I wrote in my article titled "Was that the Bottom? Beyond the Summer Crash of 2011" that "while a good chunk of the crash may now be over, the conditions for further weakness in risk asset prices appear to still be very much intact. Although equities may mount a bounce-back rally, I believe things will only truly improve if the bond market gives confirmation through rising and not falling yields."
In a following article, "the Bizarre Surprise in This Decline" I looked at some of the ETFs most hit in the recent decline relative to their own respective 20-day moving averages. Surprisingly, the iShares Dow Jones U.S. Home Construction Index (NYSEARCA:ITB), and Regional Banks (IAT/KRE) were among the top of the list.
What struck me about this is that these are largely domestic, U.S. plays, and in theory should not be as impacted by what's going on in Europe as other areas of the investable universe. So last night I began looking at dozens of relative price ratio charts to see if the markets were whispering something specific about U.S. markets.
Take a look below at the following price ratios. As a reminder, a rising price ratio means the numerator/sector is outperforming (up more/down less) the denominator. This is a relative way of looking at what is happening beneath the market's surface.
Regional Banks (KRE/IAT) – Below 2009 - (click charts to enlarge)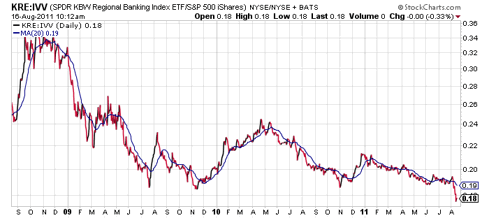 Comments: Regional Banks are...well...regional, and thus very dependent upon the U.S. economy and community lending. The fact that the above price ratio has broken to new multi-year lows despite this being the third year into the global "recovery" is perhaps sending an important message about the future prospects of domestic lending. Note that this ratio has been trending lower for some time.
Home Construction (ITB) – Severely Broken?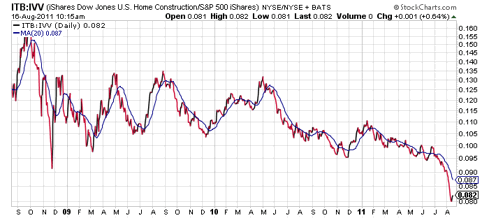 Comments: Same situation here as with Regional Banks. The ratio is at multi-year ratio lows despite incredibly low interest rates. This ETF includes homebuilders such as PulteGroup (NYSE:PHM), D.R. Horton (NYSE:DHI), Lennar (NYSE:LEN), and Toll Brothers (NYSE:TOL). Home Depot (NYSE:HD) is also in this ETF's top 10 holdings. The implication here is that despite the cost of money being cheap (i.e. interest rates), anything related to future expectations for homebuilding are still not good.
Consumer Discretionary (NYSEARCA:XLY) and Retailers (NYSEARCA:XRT) – Beware the Bear's Growl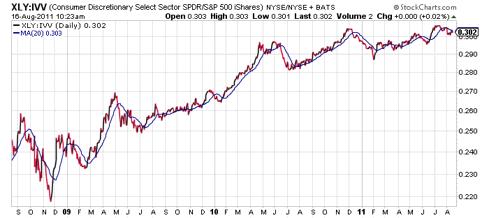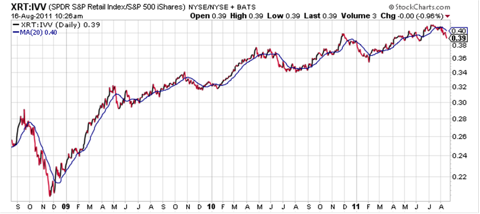 Comments: Showing the relative weakness of Regional Banks and Home Construction may not be a surprise at all to most given that everyone is aware of continued weakness in housing and the relative comparative disadvantage small banks have versus big banks. However, a significant warning signal may now be appearing in the performance of all things consumer-oriented.

There is academic research that suggests that the Consumer Discretionary sector (XLY), and in particular Retailers (XRT), tend to lead the markets months before an actual move in broader averages occurs. Effectively, and not to sound too nerdy, these studies argue that there is a gradual diffusion of information across sectors to the market, serving as an early signal for changes to beta direction.
There are two main things to point out about the above price ratios of Consumer Discretionary and Retailers. First, put yourself back in 2008, when the whole world looked like it was falling apart post-Lehman. Notice that the above price ratios bottomed out in mid-November 2008, and began a strong outperformance trend a little over three months before the March 2009 bottom. I remember speaking with a lot of different people during that time when I was making the case that markets would soon mount a substantial rally because of this. After all, if broader stock market averages like the S&P 500 (NYSEARCA:IVV) were going to go down to 0, shouldn't all things Consumer under that scenario get their faster?
Since then, the Consumer Discretionary sector has been on a tear, and has been a substantial leader of the markets since 2009. The ratio is actually at a multi-decade high (even though I am only showing three years here). However, since late July, the ratio has begun to roll-over in what could be a substantial shift out of the sector (particularly Retailers). The fact that this is just starting four and a half months before the Holiday season is in my opinion a real warning of weakness to come in the markets, the economy, and overall consumer spending power.
Should the ratio continue to trend lower in the coming weeks and months, it may be warning us a bear market is under way, with all-things Consumer most vulnerable.


Disclosure: Pension Partners, LLC, and/or its clients may hold positions in securities mentioned in this article at time of writing.