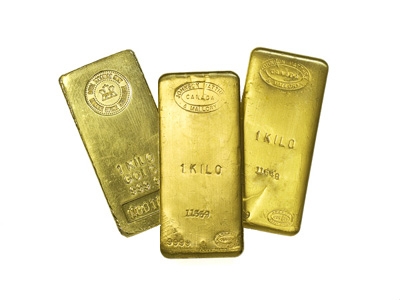 The volatile moves in gold prices are impacting exchange traded funds tracking single countries that are big producers and consumers of the precious metal, according to an ETF industry strategist.
"Investors interested in gaining exposure to gold, and expressing views on it, usually trade the commodity itself, or trade gold producers, which are the companies that operate gold mines," said Russ Koesterich, global chief investment strategist at BlackRock's iShares business.
"Investors, however, should be aware of less explicit gold exposures in their portfolios that come from trading funds tracking equity indices of countries that are consuming gold and of countries in which gold mines are located," Koesterich wrote in a blog post this week. "Possibly due to the strong sentiment that has supported the gold rally in recent months, the sensitivity of these country indices to gold price movements has become more pronounced."
ETFs that track physical gold prices moved higher Tuesday on worries over the Eurozone debt turmoil.
"The link between gold consuming countries and gold prices is pretty straightforward," Koesterich said. "The valuations of these countries tend to suffer when gold prices rise, as consumers in such countries face incremental pressure from rising gold prices."
Single-country ETFs tracking the largest net gold consumers include iShares S&P India Nifty 50 (NasdaqGM: INDY), iShares MSCI Germany (NYSEArca: EWG) and iShares MSCI Switzerland (NYSEArca: EWL).
Meanwhile, country funds indexed to the largest net producers include iShares MSCI Australia (NYSEArca: EWA), iShares MSCI South Africa (NYSEArca: EZA), iShares MSCI Russia (NYSE: ERUS) and iShares MSCI Peru (NYSEArca: EPU).
"Gold producer companies are often listed in countries other than where the mines are located, and any benefits of the mines to the local economy depend on highly idiosyncratic local leasing and labor contracts," Koesterich added. "But while the valuations of countries with gold mines may not always be fundamentally linked to gold prices, investor perception likely helped drive up the sensitivity of such countries' valuations to the metal."