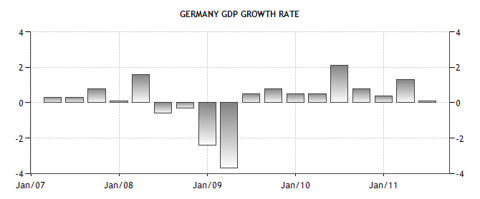 Click to enlargeThe market fell on Tuesday on a combination of weaker economic data along with refreshed fears over Europe as Germany GDP came in lower than expected and French and German leaders Sarkozy and Merkel, respectively, failed to impress with their plans to fix the Europe crisis. German GDP for Q2 came in at 0.1%, which is basically no growth whatsoever and puts Germany on the brink of a double-dip recession. Earnings from Home Depot (NYSE:HD) and Wal-Mart (NYSE:WMT) were strong, but they were not good enough to have an impact on the market as the macro-picture continues to outweigh micro.
Upgrades were also limited today after a big day of upgrades and M&A on Monday, which also helped to push the market a bit lower today. The only major upgrades a Stifel Nicolaus upgrade of Toll Brothers (NYSE:TOL) from Sell to Hold, which comes in line with our Hold rating. Barcalys Capital also upgraded VMWare (NYSE:VMW) from Equal Weight to Overweight. Neither are market-movers though. Downgrades were limited too with the only major downgrade from UBS on Motorola Mobility (NYSE:MMI).

Economic data was impactful as was seen with German GDP. At home, Housing Starts and Building Permits came in worse than expected while Industrial Production actually beat expectations, which was the first bullish news on manufacturing reported in quite some time. Housing Starts came in at 604K vs. expectations of 608K. Building Permits came in at 597K vs. 606K, and Industrial Production came in at 0.9% vs. 0.4%.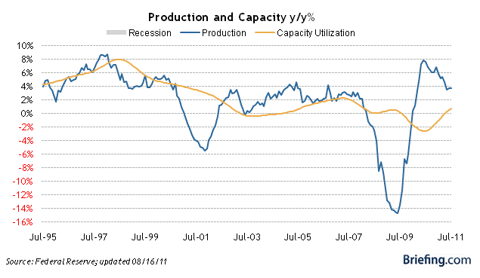 Click to enlarge
We had another good day in the market as we had positioned ourselves long and hedged. We were able to make over 1.5% on our trade shorting oil with Ultrashort Proshares DJ-UBS Oil ETF (NYSEARCA:SCO). We have kept 25% of the position on to continue to act as a short hedge. Our other positions that were long continued to act fairly well despite the pullback in the market. Our AAPL $355/$350 Bull Put Spread sold at 0.50 is doing well. We also went long on Dollar Tree (NASDAQ:DLTR) this morning as we had mentioned in our Watchlist from yesterday. We believe this stock is headed to $70 by earnings, and we believe it could break $75 by next week. We maintained a 1/3 position in Foot Locker (NYSE:FL) that held up well in the down day, and our sold puts in MCD are almost down to worthless.
We also initiated a Bull Put Spread on Nike (NYSE:NKE) today as we think the stock should hold $80 by the end of the week with an Aug. 20 $80/$77.50 Bull Put Spread. We also maintained a 25% position in RUTH, which suffered on the day, but this is a monthly position that we are looking for to snap back over time.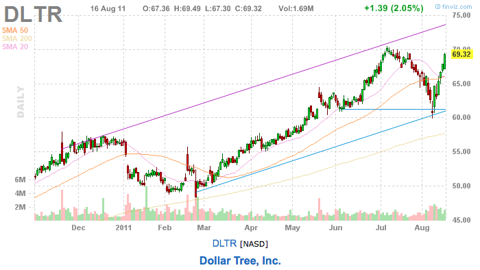 Click to enlarge
Currently, we are pretty cautious on oil, and we believe it is more likely to drop before rallying over $90. This week is expiration week for oil, so traders need to shed contracts quickly, and they will start to take any price to do so. We do not see oil being able to break the $90 level this week, and any weakness in the market could send oil roaring back down. The fundamental story of weaker demand has not changed in the short-term, and we should be looking at $88 as a possible top. Gold has steadied itself with a bottom at 1740 and continues to do well on dollar weakness (as does oil). Gold is starting to be a trade that just works... one you cannot ignore doing, and should most likely be bought on any weakness.
The market flopped a bit today on the European news, and that will most likely hurt the Asian and European markets tomorrow, which could weigh on the American exchanges. We do, however, have some reasons to bounce back tomorrow. For one, we have PPI, which can be a market mover. Additionally, speculation around QE3 may be back on the table tomorrow as we near the Jackson Hole meeting this month. Further, we are still holding onto Friday's close in Tuesday's session, and this move is actually pretty minute given our last couple weeks of trade.
Stocks that we think can make good buys are:
The Coca-Cola Company (NYSE:KO) - The number of companies that are not gold or a utility that have held up well in this market are not plentiful. One of them is Coca-Cola. KO is above its 20-day, 50-day, and 200-day MA, and the 20-day MA is well above the 50-day MA. While the immediate upside on KO is most likely limited in its upside to around $70 by the end of the month, but KO is a company that we are fairly confident can hold up in these tough times. It has upside from here as it is trading at its earnings level right now, and those earnings were not weak at all. We like going long on the stock and complementing that with selling the $62.50/$60 Bull Put Spread for just over 0.20, which gives an 8% gain on a fairly safe investment with probability at 84%.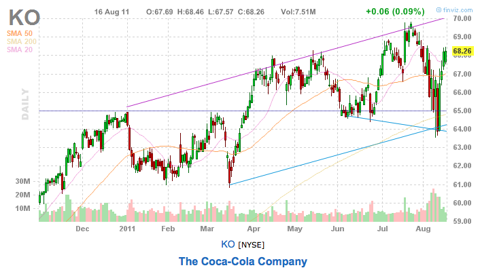 Click to enlarge
Stocks that we think can make good shorts:
Winnebago (NYSE:WGO) - I have to thank one of my clients for this one, but he is spot on with WGO. This is a habitual sell on any major rallies as this is a company destined for not much other than continued losses. We believe that WGO would be a very nice short on another 5% of upside as that would put it near its 20-day MA, and that has been a great shorting point for WGO. The company has not broken and held above its 20-day MA since the March rally, and that was very short-term. Look for a nice entry on this one as any rally is just another chance to load up the shorts.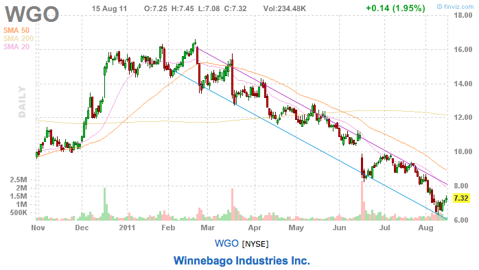 Click to enlarge
Bank of America (NYSE:BAC) - Much like WGO, BAC has become a habitual short. Whether its fair or even reasonable, it is something that has worked in this market, and we will look to short BAC if it closes in on its 20-day MA, which should hit with the stock at around 8.25 - 8.35. This area will be a nice place to load up on some shorts as well for the financial.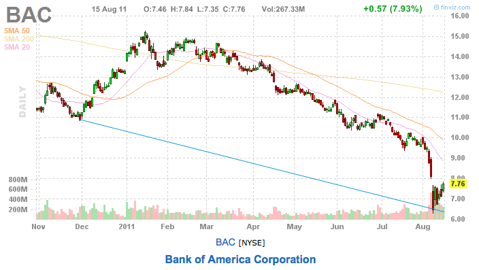 Click to enlarge