I think it is just a matter of time before investors wise up to the growing deep value appearing in gold stocks. How long? Well I don't know, but what I do know is if gold breaks above $2,000 an ounce and silver $50, then gold stocks will not be trading at their current levels; rather they will be trading materially higher.
All that one needs to establish is whether or not precious metals will move materially higher over the coming months. I think that they will for a number of reasons, namely a breakdown in confidence with government debt. But the point of this article is not so much to argue the case for precious metals but to point out my top three gold stocks picks. In essence, I am looking for the top three gold stocks with a market cap over $2 billion that show the best fundamental value, low financial risk, and relative performance. My criteria is as follows:
Forward P/E < 15x
Price to Book < 3x
Return on Assets > 5%
Debt to Equity < 0.5
Stock price trading above 50- and 200-day MAs
The three stocks that pass all five criteria are Newmont Mining (NYSE:NEM), Yamana Gold (NYSE:AUY) and AuRico Gold (NYSE:AUQ). Out of these three, Yamana was the top pick, and yes, it is now moving rapidly to the upside!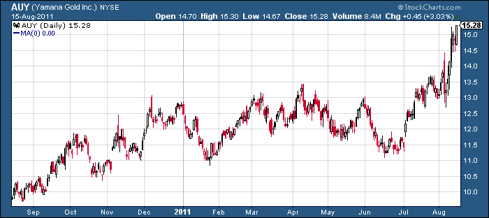 In our Global Macro we have about a 30% exposure to precious metals (platinum and silver) and gold stocks. In addition clients have a reasonable exposure to LEAPS calls on Yamana, and we will look at getting them into call options on Newmont over the coming days.
I think any long-term portfolio should have at least a 10% weighting to precious metals and gold stocks. It has been a long wait with respect to gold stocks, but I am sure it will be very rewarding over the coming weeks.
Disclosure: I am long GDX, NEM, AUY.